'He made us a better team': UNLV football players honor Ryan Keeler
Updated February 27, 2023 - 9:00 pm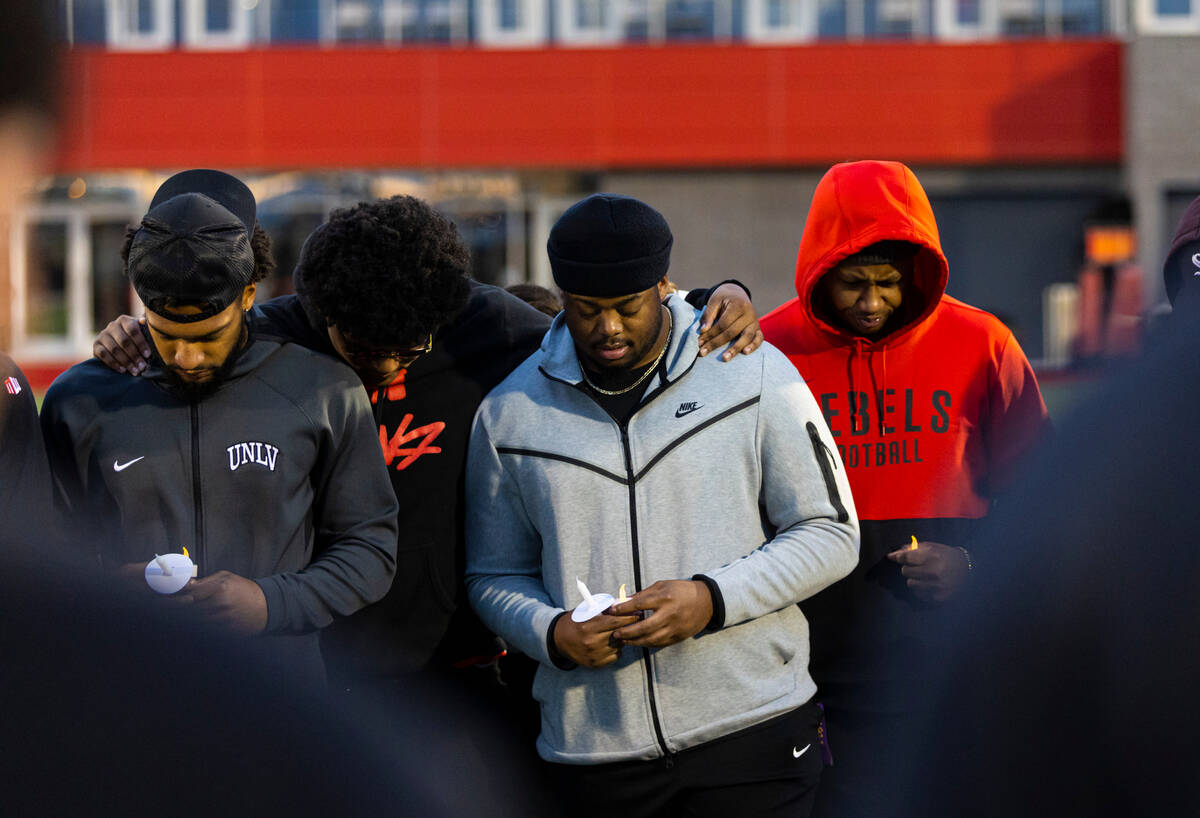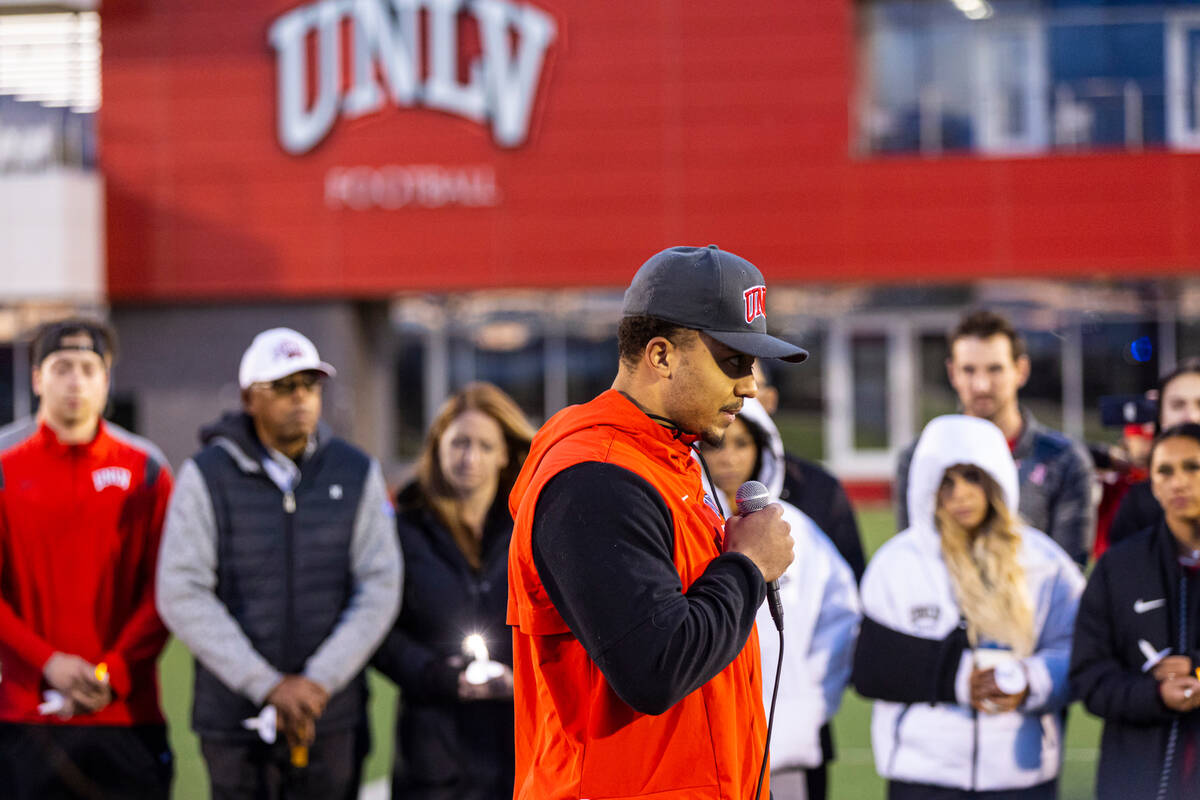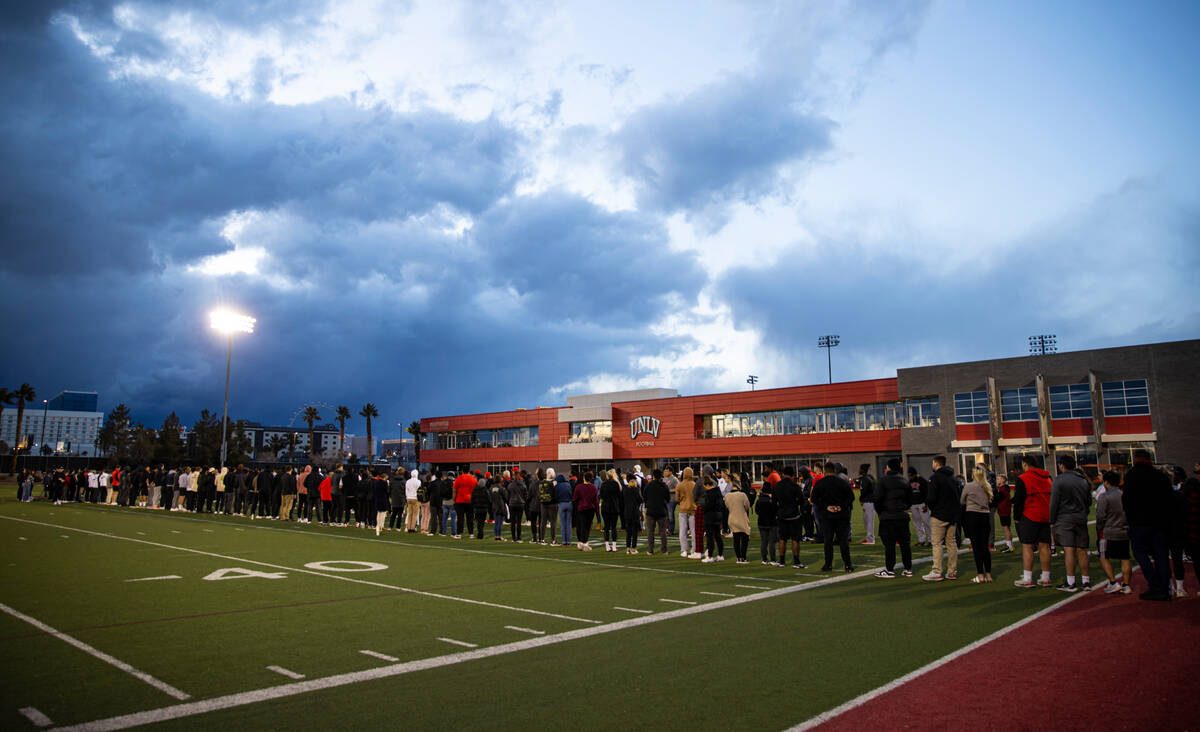 The sun was beginning to set behind the approaching clouds, and the wind whipped around Rebel Park on Monday as the UNLV football team emerged from the Fertitta Football Complex.
They weren't on the field for a late practice or conditioning session. They were there to honor the life and legacy of friend and teammate Ryan Keeler, who died Feb. 20 at age 20.
"Ryan was just one of those guys who put a smile on your face," former UNLV linebacker Austin Ajiake said. "Quirky personality, really funny, but he could also be serious. Not a lot of people in this building worked harder than Ryan."
Coaches, members of the athletic department, family and fans joined players on the field. The mourners gathered at the 47-yard-line to honor Keeler, a defensive lineman who wore No. 47, before a few players shared memories and stories about him. Coach Barry Odom and athletic director Erick Harper also attended.
The Rebels are scheduled to begin spring football practice Wednesday. Ajiake exhausted his eligibility last season, but said his teammates are a determined group. He understands it will be hard for them.
"It's difficult to talk X's and O's in football when your heart is hurting," he said.
The vigil began with a prayer led by cornerbacks coach Akeem Davis before Odom spoke. He called the amount of messages the program had received on Keeler's behalf "immeasurable."
"Whether we were around him for a long time or a short time, a little over a month, he made us a better person," Odom said. "And he made us a better team with the way that he lived and the things that he did.
"We will absolutely honor him, and he will forever be with us. His spirit will shine through in this program from now until the end of time."
Several players spoke, beginning with outside linebacker Elijah Shelton. He was joined by fifth-year wide receiver Jeff Weimer, who told stories about being Keeler's locker neighbor. Fifth-year defensive lineman Naki Fahina then dedicated the 2023 season to Keeler
David Wedley, director of student-athlete academic services, said when he would send long text messages to the players, he would occasionally ask questions to see who was reading them. After one particularly long text, Keeler was the first of just eight players to answer Wedley's hidden question about the players' favorite restaurant, naming a classic Chicago-style pizza joint.
Defensive lineman Darius Johnson, who hosted Keeler on his official visit, said the defensive line feels as if there's a piece missing. He said the coaching staff has made sure the players feel supported, and that they have worked extra hard because that's what Keeler would have wanted.
"All season, we're going to be repping No. 47, carrying on his legacy and playing for him," Johnson said. "He had such a bright future, both in football and in life in general."
Keeler, a Chicago native, was found in a bed in an apartment Feb. 20 in Las Vegas, according to the Clark County coroner's office. No cause of death has been given.
Contact reporter Andy Yamashita at ayamashita@reviewjournal.com. Follow @ANYamashita on Twitter.