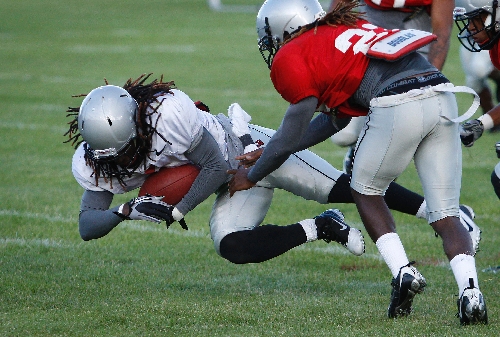 ELY — UNLV's football team practiced with an edge in Las Vegas last week, with tempers and fists flying among teammates.
That attitude carried over to the Rebels' first training session here.
The hitting was hard Sunday, and the hardest hit came from an offensive player.
Senior tight end Anthony Vidal laid out sophomore cornerback Sidney Hodge while blocking downfield, sending Hodge to the sideline in obvious pain.
Vidal downplayed the hit but acknowledged the edginess that has characterized this training camp.
"Coming off a season like we did last year (2-11), we really want to step up our game and be more physical and aggressive, like our coach teaches us," Vidal said. "We're all just getting after it, and it's getting competitive."
Second-year coach Bobby Hauck said he noticed the difference in this practice compared with last year's camp.
"The guys are excited to be here," Hauck said. "They're fired up about training camp, and it's great to see. I didn't sense that a year ago. I didn't sense that our guys were excited to go grind it out in training camp. If you love football, you'll love going away to training camp, and this is awesome. It's great for our football team."
Hauck said he didn't know if the difference was having more of his recruited players on the team, compared with last season's squad that had mostly holdovers from coach Mike Sanford's era.
"But I do know that that's a constant battle to develop attitude," Hauck said. "You have to have that toughness and that attitude in your football team if you're going to be a consistently good team. So probably priority one in our program over the last year has been developing attitude."
NOTABLE
Senior wide receiver Phillip Payne, who has been out with an injured right foot, did some light running. He also was out of his walking boot. Hauck said he still didn't know if Payne would be back by the Sept. 1 season opener at Wisconsin. Freshman cornerback Fred Wilson broke up a deep pass to freshman wide receiver Devante Davis, only to have Davis later come back and make a spectacular one-handed grab despite Wilson's tight coverage downfield. Senior tight end Austin Harrington made a nice catch while falling backward. Junior safety Dre Crawford intercepted a pass.