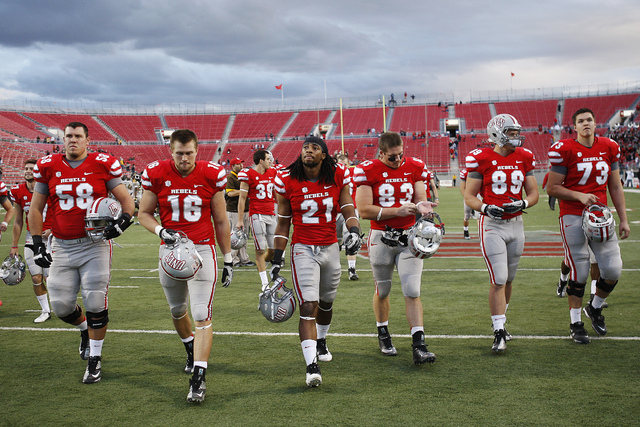 The second half proved unkind to UNLV, as the deficit in their game with Houston grew to 47-14 following a competitive first half.
UNLV got off to an early lead, but 13 unanswered points have put Houston ahead after the first quarter.
UNLV jumped out to an early 7-0 lead against Houston as Keith Whitely ran into the end zone on a third down less than four minutes into the game.
The Houston Cougars countered with a touchdown to tie the game at 7-7.
Houston's running game provided another big string of yardage en route to the Cougars' second touchdown of the game. The extra point, however, missed, as Houston took a 13-7 lead over UNLV.
Houston committed its second turnover of the game, but UNLV couldn't take advantage, as Houston retained its lead over the Rebels through a scoreless second quarter.
UNLV's Peni Vea was placed on a stretcher following a play in the second quarter of the Rebels' game vs. Houston.
Houston recorded a touchdown less than a minute into the second half to take a 20-7 lead against UNLV.
UNLV's attempt to counter Houston's early second-half touchdown led to an interception and eventually a touchdown for the Cougars. Houston's lead on UNLV extended to 30-7 after a field goal.
UNLV had to gamble on fourth and goal, but it paid off as George Naufahu helped the Rebels cut Houston's lead to 30-14. UNLV trailed 30-14 going into the fourth quarter.
Houston kicked a field goal early in the fourth quarter to extend the lead over UNLV to 33-14.
After a short UNLV drive, Houston drove down and scored again, pushing the score to 40-14 in favor of the Cougars.
Check our GameDay page for all the news leading up to the UNLV-Houston game.