Injuries, anxiety loom over BYU
November 13, 2014 - 7:24 pm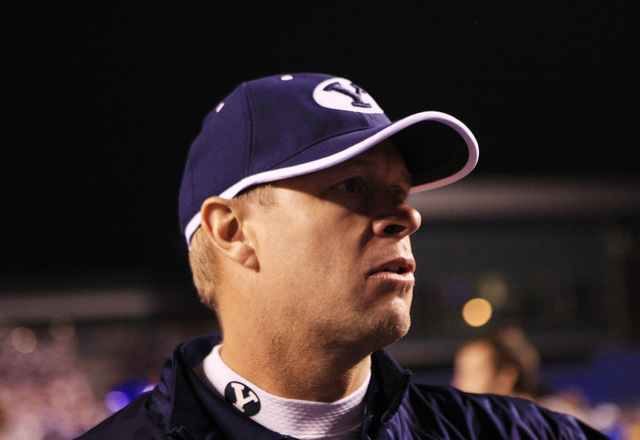 Rain and even snow could fall on LaVell Edwards Stadium when Brigham Young hosts UNLV this weekend.
Such inclement weather would be fitting since the Cougars have faced nothing but storm clouds since Oct. 3.
It was that Friday night the Cougars lost quarterback Taysom Hill to a broken leg. He was the Cougars' most notable player to go down, but according to this week's BYU's game release, far from the only one.
Hill was one of four players injured in that game against Utah State, bringing the injury total to that point to six. It reached 11 the two following weeks against Central Florida and UNR.
So it's little coincidence that after opening the season 4-0 and ranked No. 18, the Cougars then lost four in a row. They finally ended that skid with a 27-7 victory at Middle Tennessee on Nov. 1, and then took a week off to prepare for Saturday's 4 p.m. PST game against the Rebels.
"Anxious to get ready to play our next game," BYU coach Bronco Mendenhall said Monday at his news conference. "A lot of great work a week ago, not only in healing, but school and practice. I like our team's mindset right now. Anxious to have a strong finish to the season and to play well at home this next week. Looking forward to coaching a lot of eager and optimistic players that I think really had a nice bye week."
Not all the questions, however, about the Cougars have gone away.
Mendenhall and his staff have come under considerable criticism, the first time in his 10 years on the job he truly has been taken to task. That doesn't mean BYU will be looking for a new coach after this season, but the faithful are more on edge.
He was asked this week what defines success for him.
"To me, it's each game are we improving?" Mendenhall answered. "Are we getting better? I think I have a great gauge of that. Really an interesting dynamic — most teams have our next two games at the beginning of the season. As an independent, we're basically the opposite. We're switching basically our opponents that traditionally most people have at the beginning and as an independent, we have them at the end.
"I'm anxious to play well. We're certainly anxious to play postseason. We're anxious to win as many games as possible."
It used to be, when the Cougars were in the Western Athletic Conference and later the Mountain West, the goal was to win the league championship. To compete on a national level.
Conference titles are out of the question with independence, so going into the season, the goal was to compete at the national level. And for four games, the Cougars did that, creating the possibility of playing in one of the big-money bowls.
Then came that losing streak, and suddenly the goals became about getting better.
That's not what the BYU fan base wants to hear.
Recruits, though, haven't tuned out Mendenhall.
"We haven't lost a single player that was already committed, nor have we lost any interest from others that have," Mendenhall said. "BYU is a really unique choice. The kids that are interested, they know we're always going to win, which we have. They know that that will continue, which it will. And they know that there's only one BYU. There's only one school in the world that's owned by the (Mormon) church that plays football."
What effect being an independent has had on recruiting is difficult to gauge. The Cougars have continued to sign quality players but not as many as in years past. Perhaps part of that has to do with Utah competing in the Pac-12 Conference and taking players who otherwise would have gone to BYU.
Mendenhall made a public plea in June to join the Big 12 Conference, and he said this week he believed realignment wasn't finished. He knows what joining a power conference would mean for his program.
"There was an ESPN head coaches vote and the question was, 'Which team that's not currently one of those teams is deserving and belongs in the power five,' and BYU was the first choice," Mendenhall said. "I think it's been an oversight already to this point."
■ NOTE — UNLV's home game against BYU that was scheduled for next season instead will be played at Sam Boyd Stadium in 2016 or 2017. The Rebels instead will host a Football Championship Series school. No team has been scheduled yet, however.
Contact reporter Mark Anderson at manderson@reviewjournal.com or 702-387-2914. Follow him on Twitter:@markanderson65.
Check our GameDay page for all the news leading up to the UNLV-BYU game.