Injuries test Rebels' depth
September 26, 2014 - 11:37 am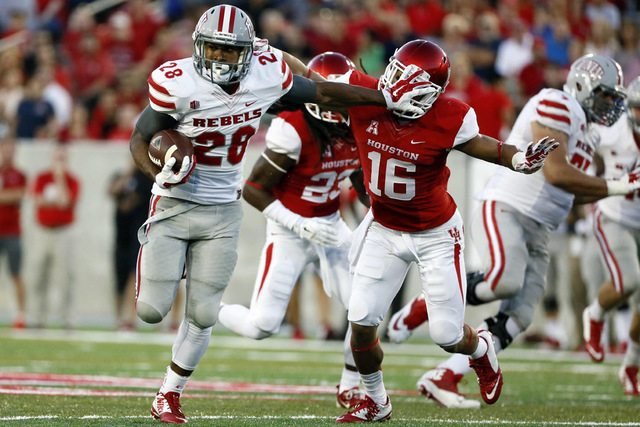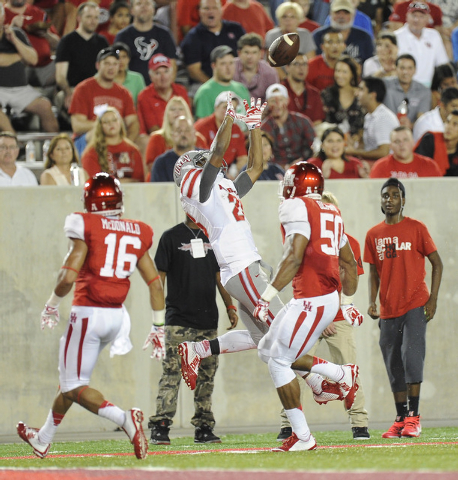 UNLV puts out its football game release on Mondays, and the depth chart is included almost every week.
Just not this Monday.
Coach Bobby Hauck wasn't trying to hide it from the media or this week's opponent, San Diego State. Because of injuries that have ravaged the lineup, he simply didn't know the two-deep.
"I couldn't produce one today that would have any hope of being at all accurate," Hauck said at his news conference that day. "I was working through the special teams' depth this morning, and I can't even produce one for our team. We've got a lot of nagging things."
UNLV released its injury report Tuesday, and 31 players were listed, including 14 who were ruled out for the game against San Diego State at 5 p.m. Saturday at Qualcomm Stadium.
Some notable names are among the 14, such as safeties Peni Vea (neck) and Mike Horsey (back), running back Shaquille Murray-Lawrence (leg) and wide receiver Marcus Sullivan (leg). Other key players are doubtful or questionable, such as star wide receiver Devante Davis, who is 50-50 with a hand injury.
What drove Hauck crazy were many of the injuries weren't the result of hard hits that are easier to prepare for in practice.
"We've got 10 guys with hand issues," Hauck said. "I think most of what we've got right now is misfortune. As far as being physical enough, I think we're physical enough to hold up. We got some bad breaks, I think."
UNLV finally produced a depth chart Thursday. But as it has been this entire week, the two-deep remains a work in progress that could change dramatically by kickoff.
It's a challenge for the coaches trying to fit the pieces together, not knowing exactly who will be available and not knowing how deep into the lineup they will have to go. Hauck, though, said plans are made every week to go far into the depth chart in the case of injuries.
But Tuesday night at Rebel Park highlighted the challenge coaches are facing this week. They were forced to put together the kind of light practice usually run on Fridays.
"We can't even go as physical as we need to," Hauck said, standing just off the practice field. "It was a lot like a walk-through practice."
He said chemistry shouldn't be a problem at most positions where backups will be called upon to be starters, the offensive line and secondary being the exceptions.
On the offensive line, Eric Noone (leg) is out at one guard position, and Nick Gstrein (leg) is questionable at the other.
In the secondary, the cornerbacks will have to get used to new starting safeties with Vea and Horsey out. Blake Richmond and probably Kenny Keys will step in for them.
"We work with a lot of different safeties, so we already have chemistry," Richmond said.
No position took a bigger hit than running back, where not only Murray-Lawrence is out, but so are David Greene (leg) and Jamal Overton (hand). George Naufahu (arm) is doubtful.
That means Keith Whitely might have to be a workhorse.
"And Keith is banged up," Hauck said of Whitely, who is listed as questionable with a leg injury. "Blake might have to go empty."
Quarterback Blake Decker is able to use his feet, having rushed for 140 yards on 43 carries, but Hauck truly hopes going with an empty backfield — meaning no running backs — won't be UNLV's base offense against the Aztecs.
Creating depth always has been a priority for Hauck and his staff every season, knowing they need capable backups when the starters get hurt or tired.
They need those reserves more than ever this week, and though Hauck once again espoused the "next man up" approach, he also acknowledged the front-line players are starters for a reason.
For a program such as UNLV, digging deep into the roster leaves even little less room for error than if a top school in a major conference was forced to play less-experienced players.
"When you're dealing with projections, you're not always right," Hauck said at his news conference, seated between Horsey and offensive tackle Brett Boyko. "Not everybody is one of these two."
Contact reporter Mark Anderson at manderson@reviewjournal.com or 702-387-2914. Follow @markanderson65 on Twitter.