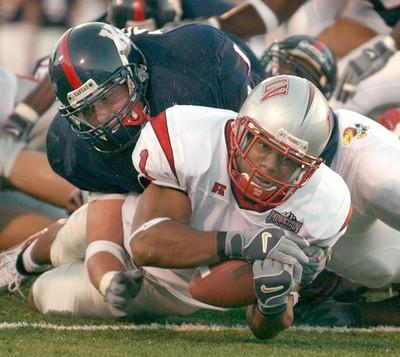 "I like the direction we're going. Like I've told everyone, the schedule for the football team, I just don't like it. You look at the big schools around the country, and their first three games aren't against big opponents. Tennessee isn't playing 'SC (Southern California) or Florida State. Usually, you play the smaller school to warm up to conference play. I know people don't look at it this way, but the Mountain West Conference is a really tough conference."
RANDY BLACK, SAFETY, 1997-2000
ASSISTANT ATHLETIC DIRECTOR AND SPORTS INFORMATION DIRECTOR AT THE HENDERSON INTERNATIONAL SCHOOL
"It's tough to continue to get top players because the Pac-10 seems to take all the good players. We're so close to the West Coast, it's a lot more exciting to go to a UCLA or a USC. It's a lot better weather. If you're a good player and they give you the opportunity, would you take UNLV or would you take USC? It's kind of difficult. If you go to UCLA, you see all the Hollywood hills and all that stuff, you're like, 'Why go to the desert when I can come out here and have perfect weather?' Historically, Nevada's not known for the top players in the nation anyway, so usually UNLV has to go outside the state to get good players."
AHMAD BRIGGS, DEFENSIVE END, 1999-2002
PROBATION OFFICER FOR THE CLARK COUNTY JUVENILE DETENTION CENTER
"There was always a discussion when I was here about why couldn't we get the guys who didn't go to USC, UCLA and Fresno (State)? That was the main question. 'Where do those guys go?' The big thing with (Rebels coach Mike) Sanford is he was supposed to be here to win championships. He was going to recruit a different kid. That's all media. He isn't doing anything different. He's getting the best he can get. Are we really recruiting different kids? I'm not sure."
RYAN CLARIDGE, LINEBACKER, 2000-04
PERFORMANCE COACH/RECRUITER OF THE PHILIPPI SPORTS INSTITUTE IN LAS VEGAS
"I think it's hard, first of all, to replace a guy like John Robinson. I was just on campus (in July), and they have new buildings and facilities that should attract recruits. The city of Las Vegas should help. So it's definitely on the up and up."
LARRY CROOM, RUNNING BACK, 2002-03
NOW IN TRAINING CAMP WITH THE NFL'S PITTSBURGH STEELERS
"It's headed in the right direction. They have quality coaches in, quality people in the right places and quality talent coming in. They're getting better players every year. With that offense they run, they should be successful."
TROY MASON, WIDE RECEIVER, 1999-2002
PLAYER FOR THE NEW ORLEANS VOODOO OF THE ARENA FOOTBALL LEAGUE
"The facilities compared to a lot of other schools are a little down. But it's only 50 years ago, and it's unfair to compare to schools that have been around 100 or 150 years. I know (coach Mike Sanford) is looking to build a football complex on the field, and that is going to be good. It's one of those things that will take time. I've always believed in UNLV football. It's a great place to go, and it needs athletes, tradition and support. They've got to win more games. That's the only way to judge a program is by wins and losses. It's sad but true."
ADAM SEWARD, LINEBACKER, 2001-04
PLAYER FOR THE NFL'S CAROLINA PANTHERS
"I'm really pulling for them. We didn't leave on the best circumstances in terms of the season (2-9), but I really like the school. I wish the stadium wasn't 10 or 15 miles away. You think, what difference does it make? It does make a difference. Every little thing makes a difference. … How many parents who want to raise their child right want them to spend a night on the Strip (on a recruiting trip)? There were some significant battles we fought. … It's roll-up-your-sleeves and pick-and-shovel work, I think."
BRUCE SNYDER, ASSISTANT COACH, 2003-04
RETIRED FROM COACHING, SNYDER ALSO WAS THE HEAD COACH AT ARIZONA STATE, CALIFORNIA AND UTAH STATE
"Sometimes you're very optimistic about the program, and then sometimes you hear stuff like they're trying to take the program away. You have to have patience to develop a program. If you run every coach out that doesn't win, you're never going to have a winner because you have to let someone go through the lumps to get to that point. If you don't have patience, you'll never develop a program, and in Vegas we don't have a lot of patience. We're looking at a slot machine and we're like, 'Tell us now.' We don't even want it to spin around. We just want 7-7-7. And we all come from other towns. We're used to our team having tradition, and we don't want to see that tradition being built. We want it to already be here. And that's the thing, to build a program, the tradition must be built. It's not just going to come out of the sky. Even 'SC had some rough years. I can remember when we were in a bowl game and 'SC wasn't."
JASON THOMAS, QUARTERBACK, 2000-02
PROBATION OFFICER FOR THE CLARK COUNTY JUVENILE DETENTION CENTER
UNLV Football