'It means a lot': UNLV cruises in coach Barry Odom's debut — PHOTOS
Updated September 2, 2023 - 7:09 pm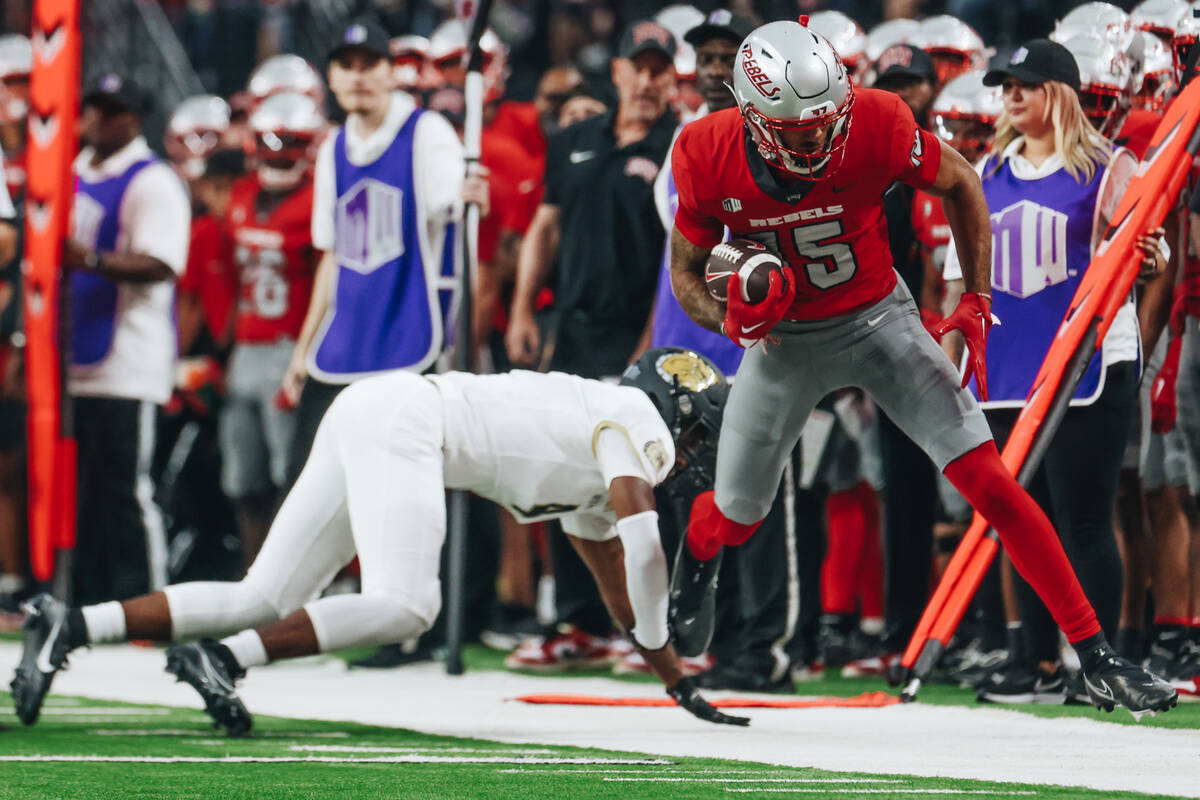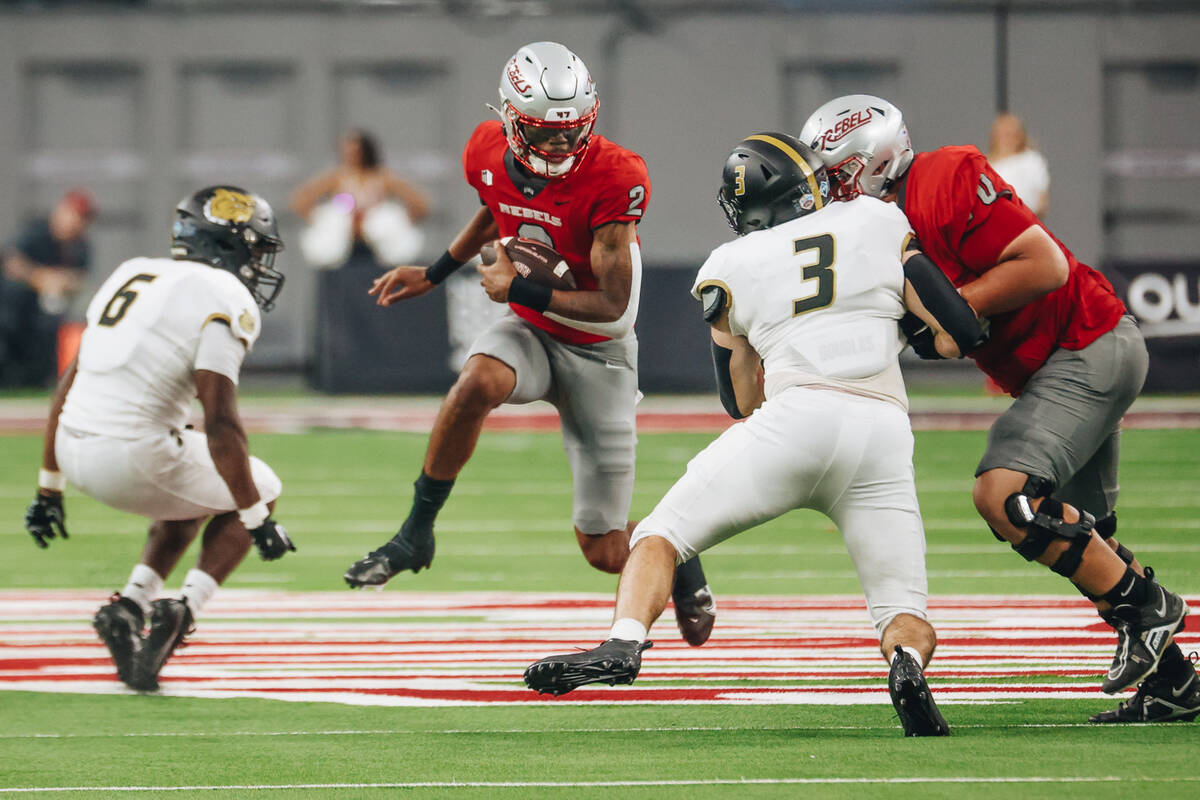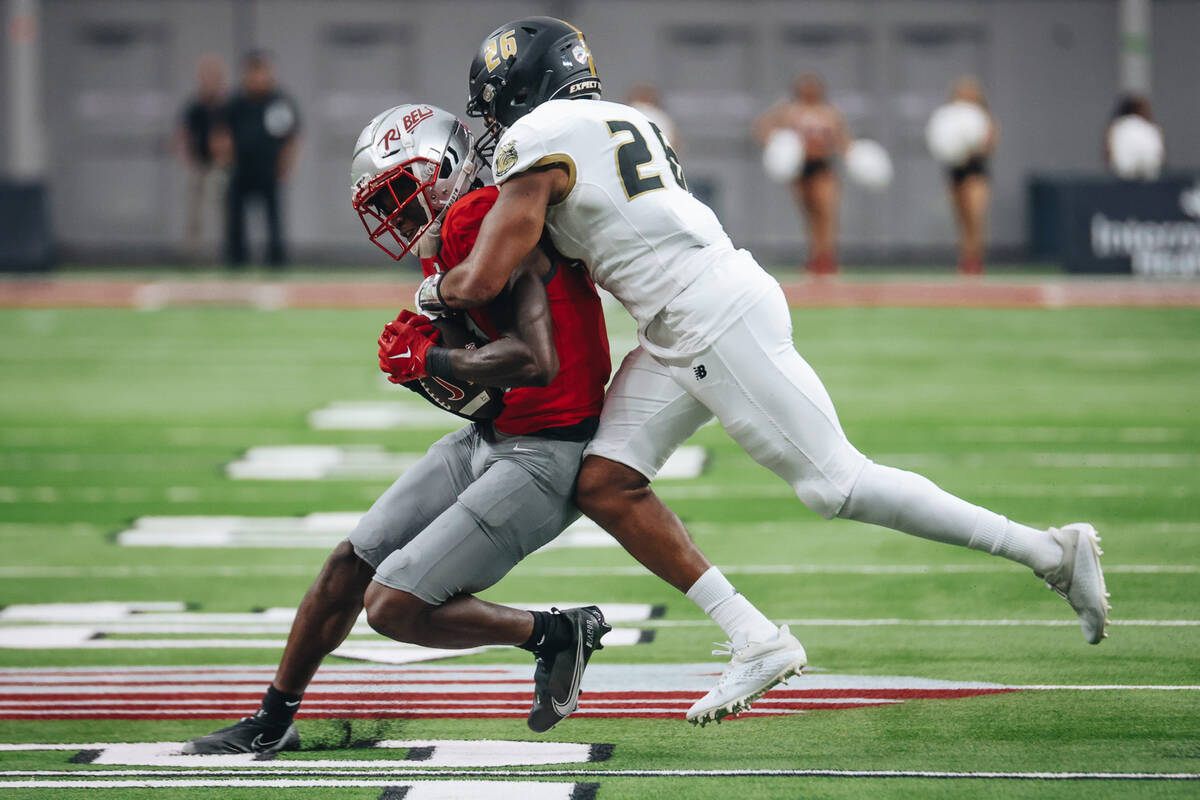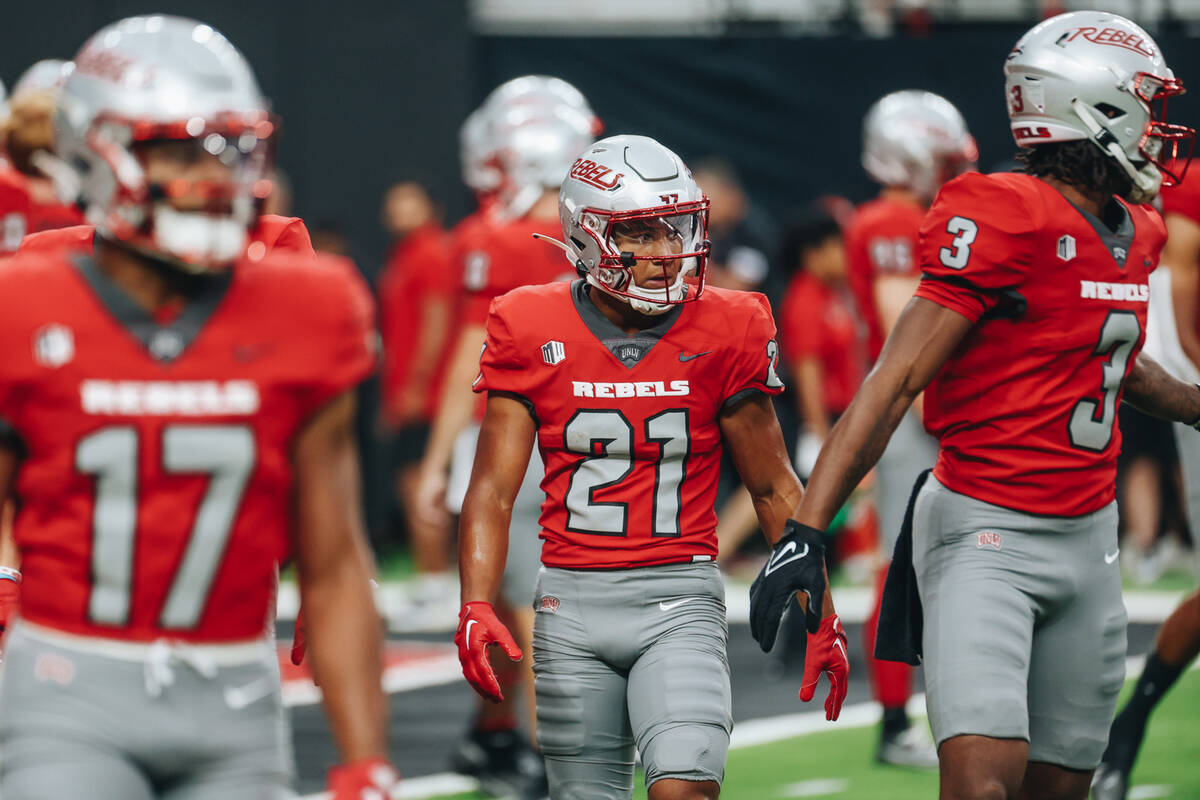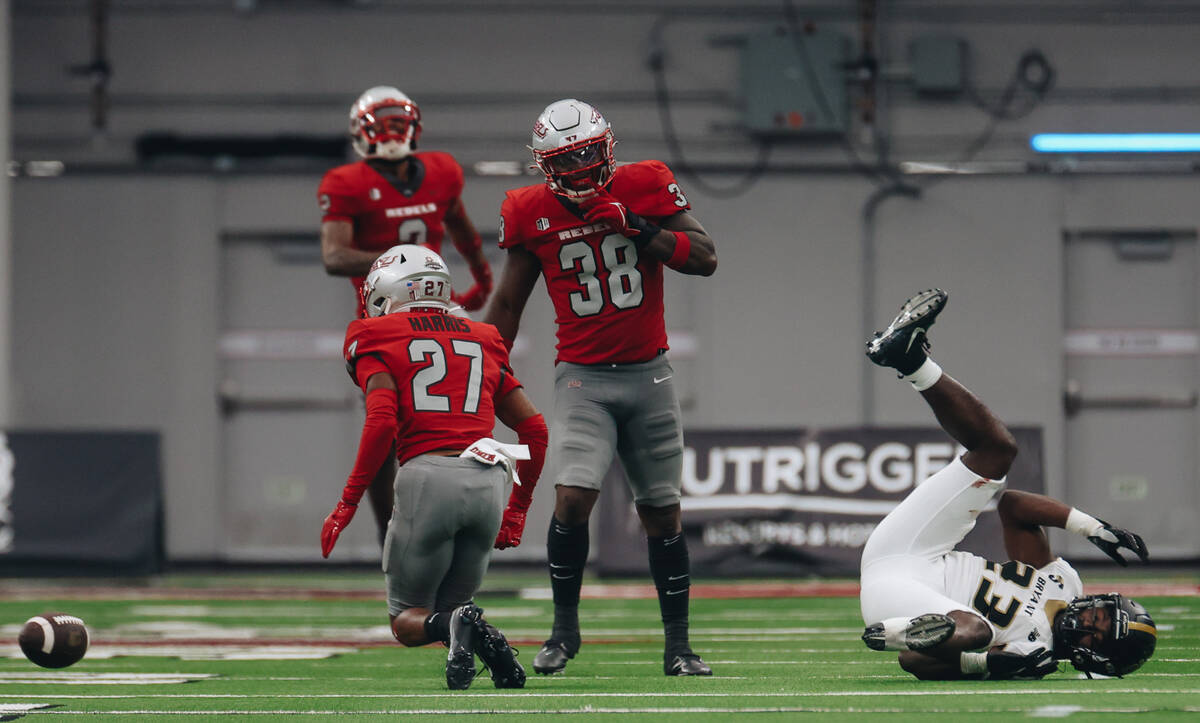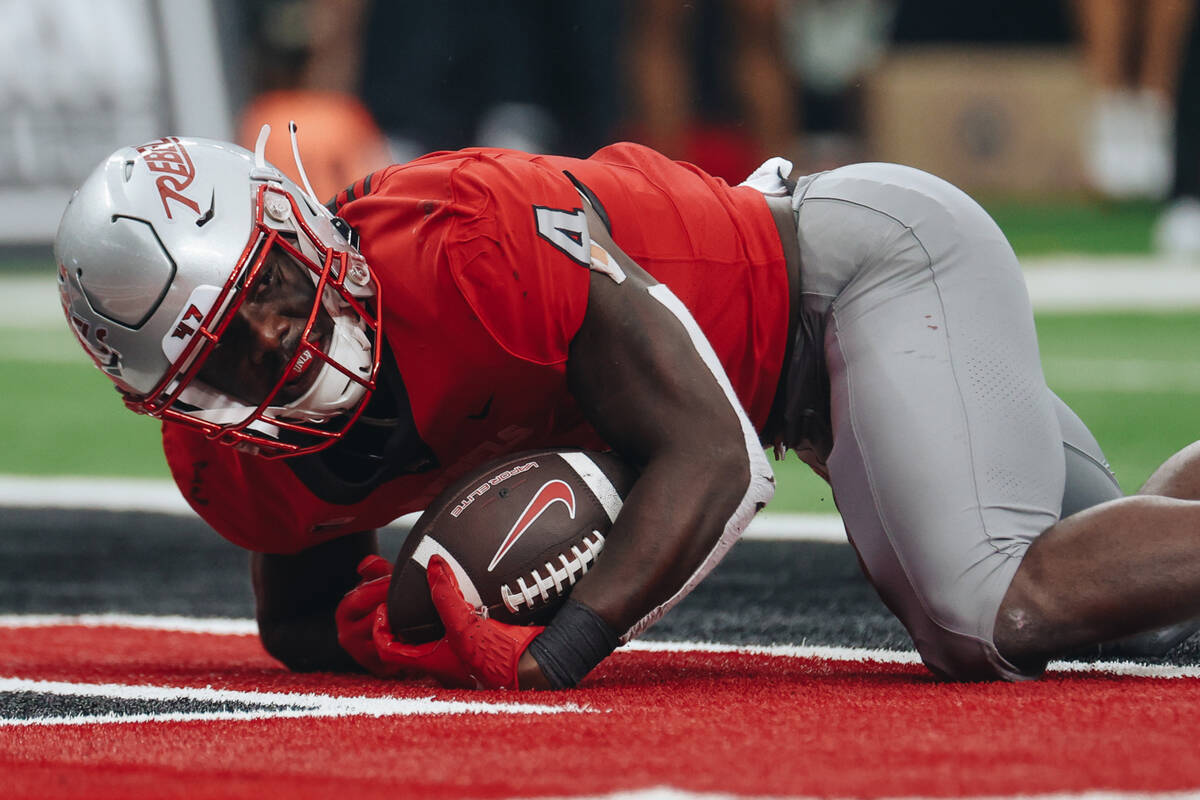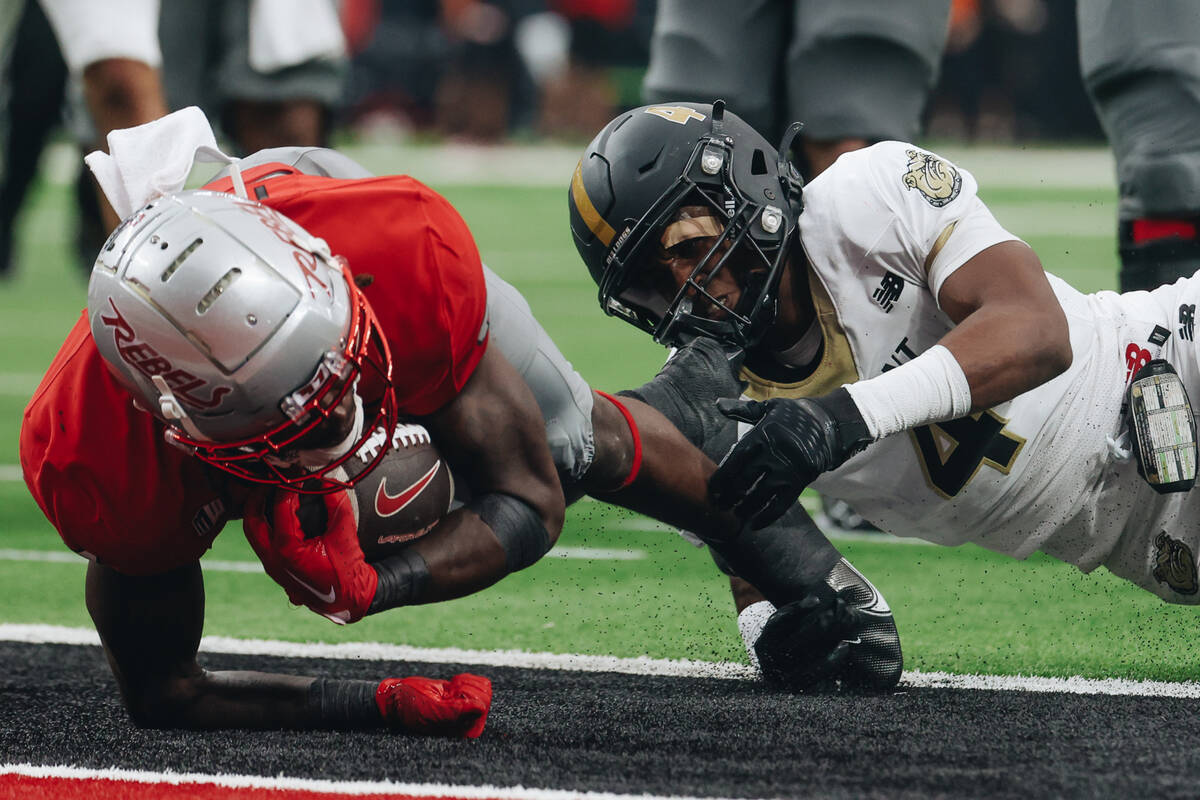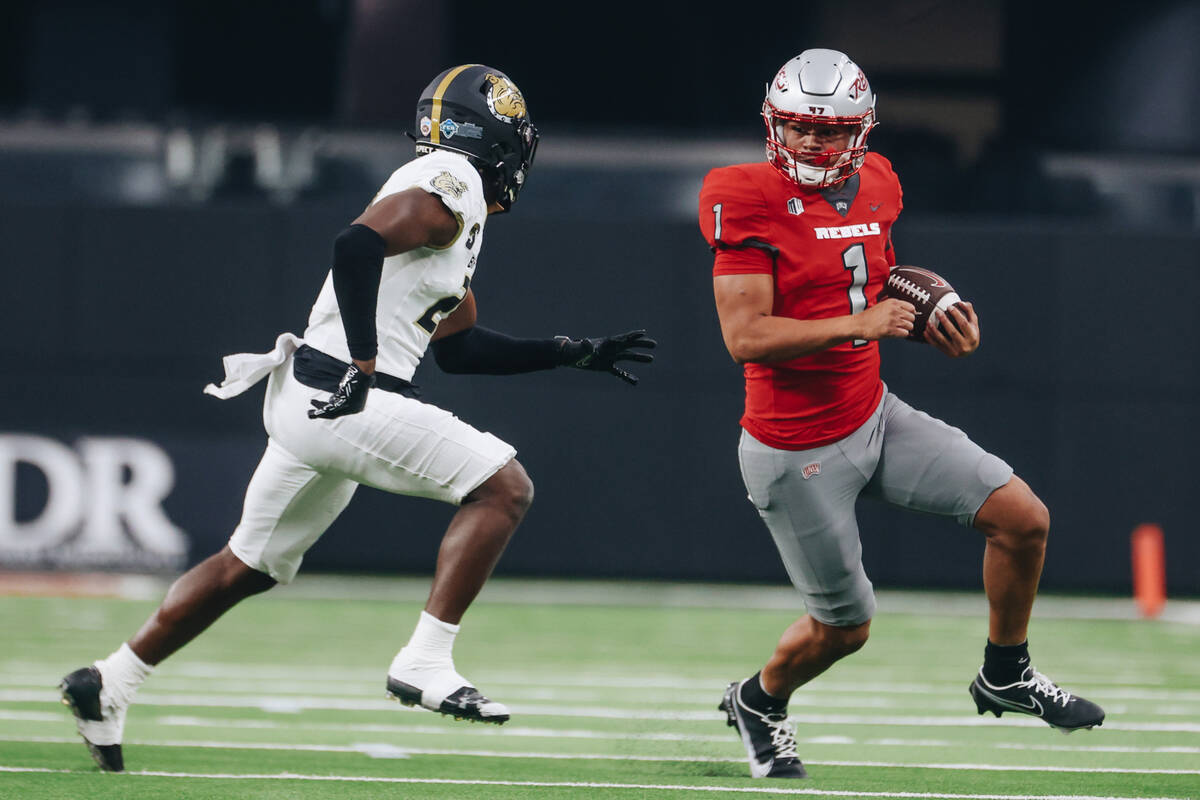 It would have been difficult to script a better beginning to the Barry Odom era for the UNLV football team Saturday at Allegiant Stadium
Vincent Davis Jr. took a handoff and raced 69 yards down the left sideline for a touchdown on the opening play from scrimmage, igniting the sidelines and settling the typical anxiety that accompanies the start of a new season.
"I definitely felt like it calmed me down a lot," receiver and kick returner Jacob De Jesus said. "This is my first game coming from junior college to this level and I definitely had a lot of nerves, but seeing him go off on that touchdown, it just made me feel confident that we'd have a great game."
It wasn't always pretty, but the Rebels pulled away for a comfortable 44-14 victory over Bryant in Odom's first game as the 13th coach in school history.
"It means a lot for me to be able to get to 1-0 today because I wanted it so bad for this group, our players, just to get started on the right foot," he said. "We have a long way to go. We understand that. We can play a lot cleaner in all three phases, but we're thrilled to be 1-0, and I look forward to getting back to work. Now it's a sprint to see how good we can get between Week 1 and 2."
The challenge gets much more difficult next week with a visit to No. 2 Michigan, and Odom knows his team got away with some things that may be far more costly against better competition. But he liked that his team understands that.
"The hunger that was there from our guys, the understanding that, yes, we won and won big, but how can we work to get to being the best version of ourself," Odom said. "To hear them talk and verbalize that about how can they get there, we're moving in the right direction for sure."
There were plenty of positives. UNLV was the far superior side on special teams, including a 96-yard kickoff return to the 2-yard line by De Jesus and a perfect debut for new kicker Jose Pizano.
The Rebels had five rushing touchdowns by four players, including two from Jai'Den Thomas.
One of those came from quarterback Doug Brumfield, whose seven carries for 71 yards included a highlight-reel 19-yard scramble for a touchdown as time expired in the first half to extend the lead to 24-0.
But Brumfield was just 11-for-18 as a passer for 86 yards and an interception while narrowly missing on a couple potential big plays.
"In terms of offense, we left a lot out there," Brumfield said. "I take ownership of that. It's the quarterback's job to get the offense going at the pace we want to be, but the defense played well. It's a great feeling to get out there and win for coach."
The defense surrendered 409 yards in the game, but limited the Bulldogs to 4 of 13 on third down and 1 of 4 on fourth down. Bryant didn't get on the scoreboard until late in the third quarter.
But the tone was set early on the big run by Davis, who made a cut in the backfield and found a hole before sneaking past two downfield defenders and keeping his feet to find the end zone.
"We'll go into each game with what we think openers are, scripting some of the things we want to see in the first couple drives," Odom said. "It was a play we felt good about, and I thought the offensive line did a great job. A lot of unknowns in every game, but especially the first one, and we executed at a high level and what a great run to finish."
Those unknowns included a bizarre rain delay inside Allegiant Stadium as torrential rains caused a leak in the roof. Odom said he tries to prepare his team for anything, which includes taking TV timeouts during practice to simulate how much downtime there can be in games and getting the players used to stopping and starting. That may have helped a bit as they waited out the bizarre circumstances.
Still, Odom joked that he was misled before taking the job.
"There are some folks who lied to me before I got here and told me it never rains in Vegas," he said.
His aspirations for the program, however, are far more serious.
"We can and will build this into an elite program and an elite college football team in the city of Las Vegas," he said. "I'm honored to have a chance to do that."
The Rebels took the first step Saturday, but they realize they have a long way to go.
Contact Adam Hill at ahill@reviewjournal.com. Follow @AdamHillLVRJ on Twitter.