Javin White's 2 interceptions help UNLV beat UNR
Updated November 25, 2018 - 8:42 pm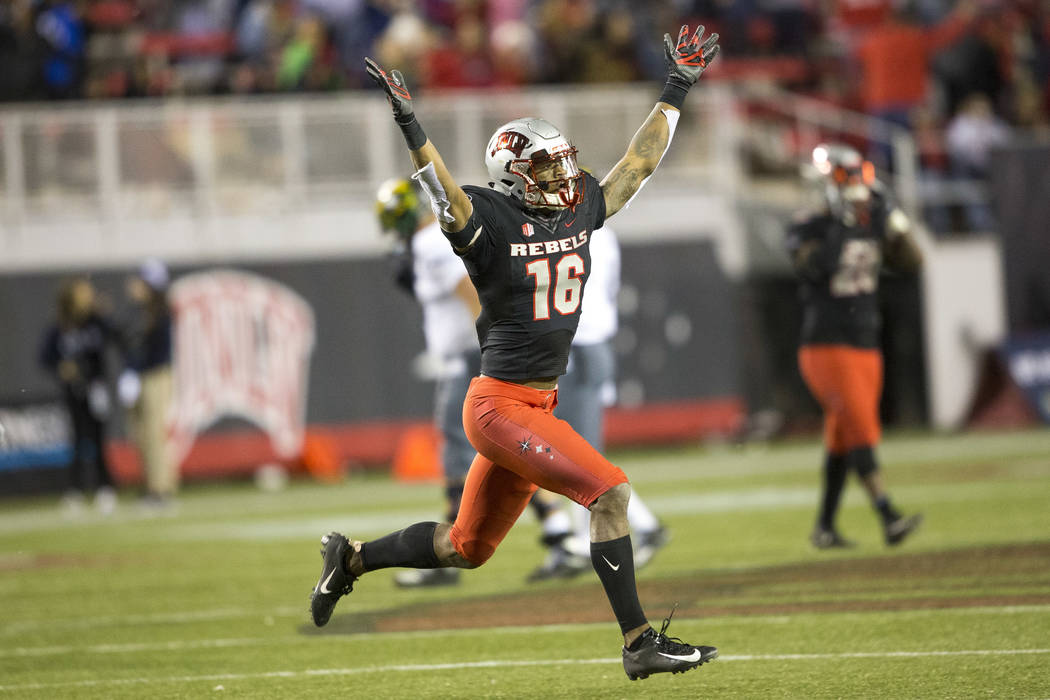 Javin White's first interception came as UNR was taking control.
The second came as the Wolf Pack were trying to rally to win the game.
As much as quarterback Armani Rogers' five touchdown passes or running ability shaped Saturday's outcome, White's two fourth-quarter interceptions enabled the Rebels to pull off their largest comeback victory and beat their most intense rival.
The 34-29 victory before the home crowd at Sam Boyd Stadium ended UNLV's season at 4-8 (2-6 Mountain West) and gave the Rebels two wins in their final three games after a difficult season that included injuries to Rogers and in the secondary. UNLV rallied from 23-0 down to beat the Wolf Pack, the largest comeback in school history by two points.
"You think of the history of UNLV football," coach Tony Sanchez said. "You go back to John Robinson — 14 or 15 years now — since you've had a senior class with the (Fremont) Cannon two out of their four years. That's a big deal, so that's exciting."
It was a UNLV junior who made two critical defensive plays that helped the seniors get their names on a plaque that will honor them for beating their northern rival. Robinson began that tradition in the early 2000s.
"We started out very slow and sluggish, and we continued to fight," White said. "That's all I wanted to do was fight and send the seniors out in a good way, and that's what I did. I'm just so happy for them to have a great senior night, and they can get their names on that plaque."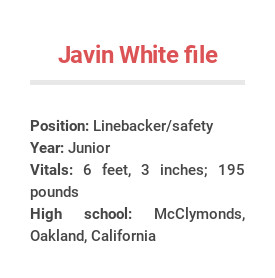 White, who has played linebacker and safety this season, made his first interception with 6:02 left. UNR had taken a 29-28 lead on its previous possession and was driving to extend the advantage and take time off the clock.
The Wolf Pack had second-and-6 at UNLV's 22 when quarterback Ty Gangi threw right at White, who sat back in a passing lane.
Suddenly, the momentum that was in UNR's favor began to shift the other way.
"I've been in positions like this a lot this season," White said. "Coach (Tim Skipper) always talks about, 'Keep your composure, and big-time players make big-time plays.' "
UNLV drove 73 yards, with Rogers completing the drive with a 1-yard touchdown run to the left side. They failed at the two-point conversion but led 34-29 with 2:34 remaining.
That meant a field goal wouldn't work for the Wolf Pack, who used their three timeouts on defense. UNR picked up two first downs in advancing to the Rebels' 44, where the Wolf Pack had second-and-7.
White again came through, intercepting Gangi's pass at his 18 and quickly going to the ground amd securing the victory with 1:19 left.
"You can't even describe that," White said. "Have you ever played basketball and someone calls 'game' on the last shot? That's game.
"That was the feeling I got."
More Rebels: Follow at reviewjournal.com/Rebels and @RJ_Sports on Twitter.
Contact Mark Anderson at manderson@reviewjournal.com. Follow @markanderson65 on Twitter.