Las Vegas is a nice place to visit, but …
September 30, 2010 - 11:00 pm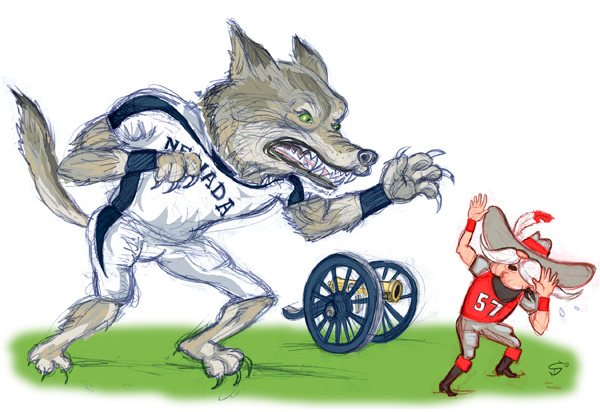 Editor's note: Las Vegas Review-Journal columnist Ron Kantowski and Reno Gazette-Journal columnist Dan Hinxman examine the UNLV-UNR rivalry by making the argument that the city and team each one covers is superior to its counterpart.
RENO — As far as assignments go, I've had tougher. Like when I was given two choices on a coin flip.
Which is the better city, Reno or Vegas?
Judging by the number of visitors, you'd think it would be Vegas. But if you were to prop up a Matisse on the sidewalk where a catastrophic collision had just occurred, you'd notice few eyes being pried away from the carnage.
Reno's superiority to Sin City goes well beyond their college football teams. (In Silver State parlance, the Wolf Pack's winning streak will soon be — from the Rebels' perspective and barring a near miracle — a hard 6.)
It's historic. It's geographic. It's climatic. It's academic. It's recreational. It's natural. It's artistic. And it's unquestionable.
But before we rip into Vegas for all that is … rip-into-able, let's give props where props are due.
Thank you, Vegas, for Greg Maddux and Andre Agassi, two of the best in the history of their sports. Congrats on that NCAA basketball title. And that dam down the street is pretty dam impressive.
But, really, what else have you given us? That is, other than 14-year-olds on the Strip handing out Boob Powell trading cards.
You've given us a Madison Avenue blue ribbon slogan, "What Happens in Vegas, Stays in Vegas." But as some conventioneers have surely discovered, that which requires penicillin doesn't stay in Vegas. It comes home with you, as does the $58 credit card bill for two Cadillac margaritas and a taquito appetizer.
Buried in our deserts are arrowheads and pioneers. In Vegas? Mafiosos whose last vision was the words "Louisville Slugger."
Reno gets snow in the winter and an occasional 100-degree day in the summer. Vegas has 330 days of heat so oppressive that a glass of lava would be a welcomed respite, and 35 days of icicle wind.
History in Reno is Mark Twain, the Comstock Lode and Indian wars. In Vegas, history is anyone who can remember Frank Sinatra and Sammy Davis Jr.
Reno has Lake Tahoe; Vegas has Lake Mead.
Reno has the University of Nevada, a 150-year-old institution, which has acclaimed schools of mining, medicine, journalism, engineering, natural sciences and business. A stroll on campus reveals historic and beautiful architecture.
Las Vegas has UNLV, whose academic claim to fame is teaching folks how to run a Motel 6. UNLV's contribution to building design is concrete, lots and lots of concrete.
Reno's iconic museum is a home for the world's most unique and interesting automobiles. We also have the Nevada Museum of Art.
Las Vegas' most famous museum is all about Liberace — and it's closing next month — and the Las Vegas Art Museum had to close its doors last year for lack of funding. But then, how many times does one need to see a framed velvet Elvis?
Reno's mayor, Bob Cashell, is a self-made businessman. Las Vegas mayor Oscar Goodman is a mob-made lawyer. (If that doesn't make your heart swell with pride, what would?)
In Northern Nevada, you can hunt, fish, hike, bike, snow ski and ride in hot-air balloons.
In Southern Nevada, you can hunt (lizards and snakes), fish (in limited waters), hike (one mountain), bike (on flat, searing streets), snow ski (one mountain) and ride in taxis.
Las Vegas is fantastic if you are a neon light salesman or a plastic surgeon.
Reno is still the Biggest Little City, and that suits me just fine.
Reno Gazette-Journal sports columnist Dan Hinxman can be reached at dhinxman@rgj.com or 775-788-6346.
RON KANTOWSKI: Reno tired of playing second fiddle