Learning from his mom, UNLV's David Greene brings short-yardage toughness
September 16, 2016 - 12:41 am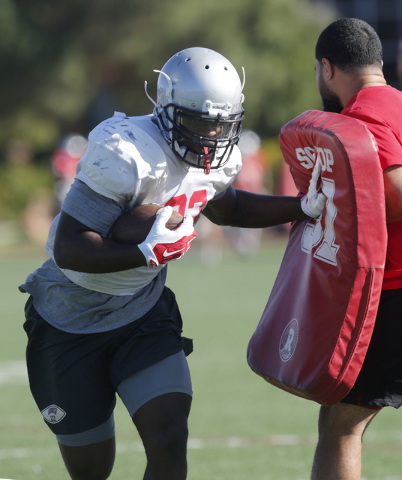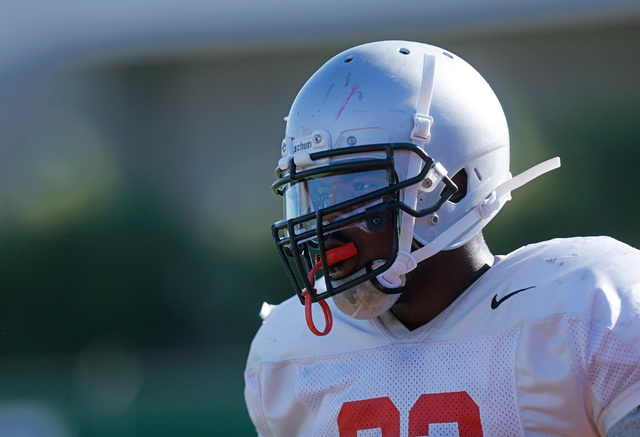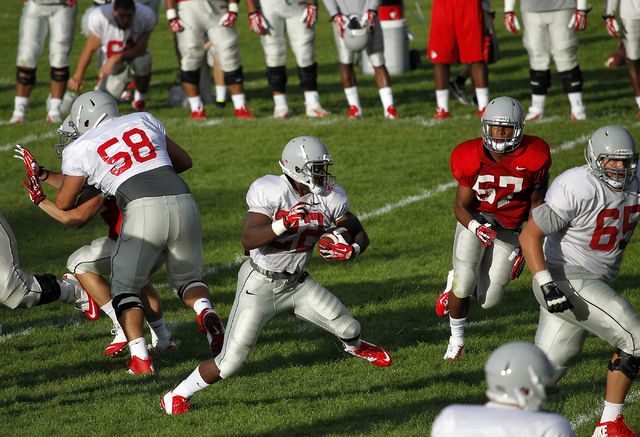 David Greene's mother, Sharone, stands only 5 feet 2 inches, but she carries a big stick. As a correctional officer at a Texas prison, she taught the UNLV senior running back the true meaning of heart and toughness while raising him and his younger brother as a single mother.
"You've got to have heart to work in a penitentiary," Greene said. "I watched her growing up, and I was like, 'Man, my mom's a tough lady.' I thought to myself, 'I better be a tough young man.' "
Greene's toughness was on display in Saturday's game at UCLA, where he cemented his status as the Rebels' short-yardage specialist by converting two fourth downs and two third downs. He'll again be on the spot this Saturday when Central Michigan (2-0) hosts UNLV (1-1) at noon PDT.
"It goes back to my roots. Growing up, I was taught you've got to have heart to play this game," he said. "And heart can't be taught. You've just got to have the 'want-to,' and that's what it is for me. I just really want to do whatever I can to help my team win.
"I grew up having heart, and the next thing you know, I'm here in college."
A three-star recruit who starred at running back and safety for perennial Dallas prep power Skyline High School, Greene played safety his first two seasons at UNLV in 2012 and 2013 before moving to offense his junior year.
He played in the first three games of the 2014 season before having season-ending knee surgery to repair two torn meniscus and was granted a medical hardship waiver. The soft-spoken Greene saw limited action last season as he tried to prove himself to Tony Sanchez, then the Rebels' first-year coach.
"I was trying to get the coaches to have confidence and trust in me," he said. "I played fullback here and there and special teams. It opened the coaches' eyes to see that I'm a dependable guy."
A key special teams player listed as UNLV's No. 4 running back, Greene is well respected by his teammates, who voted him one of four captains, along with senior center Will Kreitler and senior linebackers Ryan McAleenan and Tau Lotulelei.
"He's the most unselfish guy we have on the roster. That's why he's a team captain," Sanchez said. "It speaks volumes when you're not a starter and you're unanimously the team captain. That's the kind of guy you want to be in a foxhole with."
Greene has 11 carries for 46 yards this season and scored his first career touchdown in the Rebels' season-opening 63-13 rout of Jackson State. The 6-foot, 210-pounder then powered his way against UCLA for at least 3 yards each on two fourth-and-1 situations and two third-and-1s.
"Just sheer toughness," Sanchez said of the key to being a short-yardage specialist. "To get downhill, you need a guy who's not afraid to lean his pads in there and go get those hard yards. That's not easy to do."
Fellow Texan Lexington Thomas leads UNLV in rushing with 180 yards and three touchdowns, but at 5-9 and 170 pounds, he is a bit undersized for short-yardage situations.
"You need a little bit bigger of a guy, and David's that guy for us," Sanchez said. "Whatever we ask him to do, he'll do. If we ask him to film the game, he'll film the game. He's ready to go all the time. We need more guys like that."
Greene said he simply follows the lead of the offensive line.
"When the coach draws up the play, I just follow the big fellas up front and they'll lead you to the promised land," he said.
Central Michigan is fourth in the nation in rushing defense, allowing an average of 47 yards per game. But whatever the Chippewas throw at Greene will be nothing compared to facing the wrath of his mother.
"I still won't step to her to this day," he said. "She's got a mean left hook. A mean left hook."
Contact reporter Todd Dewey at tdewey@reviewjournal.com or 702-383-0354. Follow on Twitter: @tdewey33
Visit our GameDay page for full coverage of the UNLV-Central Michigan game.
UNLV at CENTRAL MICHIGAN
WHEN: Noon Saturday
WHERE: Kelly/Shorts Stadium, Mount Pleasant, Michigan
TV/RADIO: ESPN3 (streaming); KWWN (1100 AM, 100.9 FM)
LINE: Central Michigan -13; total 55