Lexington Thomas nearing top of UNLV rushing lists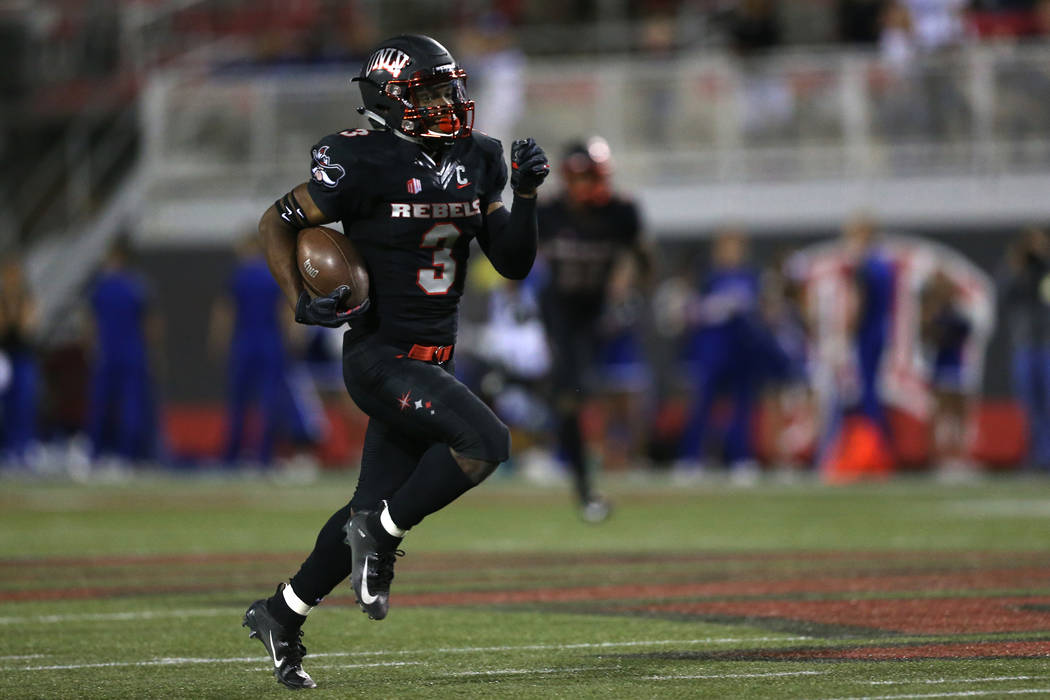 Senior Lexington Thomas is on the verge of taking two major steps up UNLV's career rushing charts.
He is 1 yard behind Mike Thomas for second place, standing at 3,148 yards entering Saturday's 3:30 p.m. game at San Jose State. Mike Thomas reached his rushing total in the 1973 and 1974 seasons.
Career leader Tim Cornett, who played from 2010 to 2013, finished with 3,733 yards, which is within reach for Lexington Thomas. He needs to average 117 yards in the Rebels' final five games.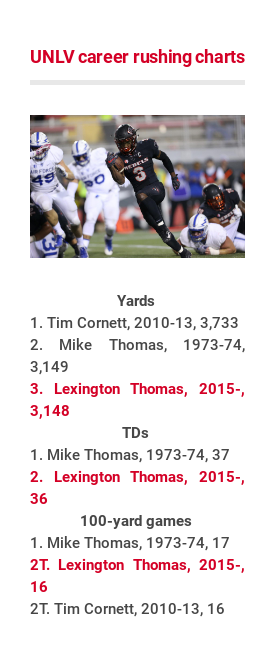 Thomas' 36 touchdowns is one behind leader Mike Thomas' total. The player known as "Lightning" has a chance to put a good amount of distance between himself and Mike Thomas with a strong final stretch.
He also could make himself difficult to catch on the 100-yard game list. Thomas is tied with Cornett with 16, one behind record holder Mike Thomas' total.
"As long as me moving up the charts is helping us win these next five games, I'm all for it," Thomas said.
Defensive shifts
With strong safety Evan Austrie out indefinitely with a knee injury, UNLV will have perhaps two first-time starters.
Greg Francis, who went to Bishop Gorman, will start if the Rebels come out in a 4-3 defense. But with the Spartans' passing attack, they probably will open in a nickel defense, which would put Demitrious Gibbs in the starting lineup at safety and Francis at nickel.
Francis also will back up both safety positions.
Ty'Jason Roberts began the season as the starter at nickel before fracturing his spine Sept. 15 against Prairie View A&M.
Cornerback Jericho Flowers remains questionable with a hamstring injury.
If he doesn't play, Alex Perry or Myles Plummer will start.
Armani Rogers out of boot
Quarterback Armani Rogers is out of the walking boot on his left foot, and coach Tony Sanchez said "he's progressing."
Rogers hurt a toe Sept. 22 at Arkansas State, an injury that was expected to sideline him for about six weeks. That prognosis hasn't necessarily changed.
"It's such a sensitive injury that it's got to be 100 percent stable and structurally healed," Sanchez said. "Otherwise, you take the risk of it completely tearing, and all of the sudden he's set back six months."
Can't win for losing
San Jose State's 0-7 record includes two wild games that went the opponent's way.
The Spartans scored 30 points in the third quarter of their Oct. 6 game against Colorado State — and lost 42-30. San Jose State is one of the five teams to score at least 30 points in a quarter this season and the only one to lose. The other four games were one-sided.
Also, San Jose State went five overtimes in a 44-41 loss to Hawaii on Sept. 29. It's the longest game in program history.
The Spartans are used to needing extra time against Hawaii. Of San Jose State's 10 overtime games, three involved the Warriors. Though San Jose State was the home team for all three games, Hawaii won all three.
More Rebels: Follow online at reviewjournal.com/Rebels and @RJ_Sports on Twitter.
Contact Mark Anderson at manderson@reviewjournal.com. Follow @markanderson65 on Twitter.