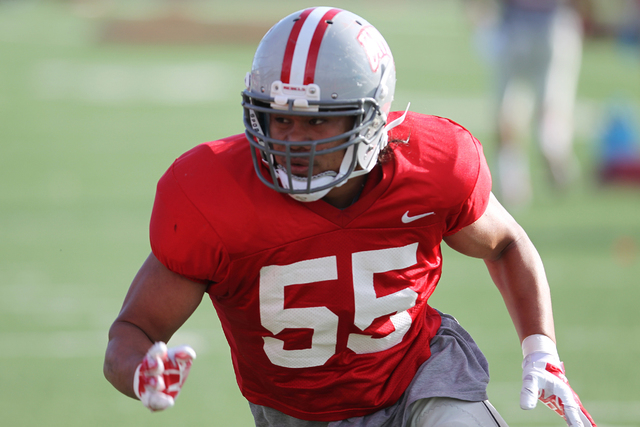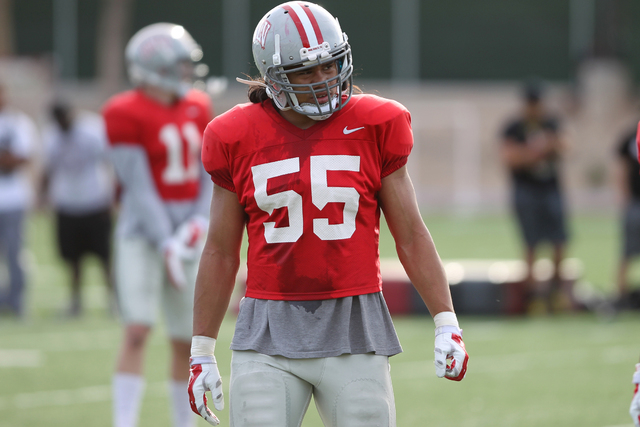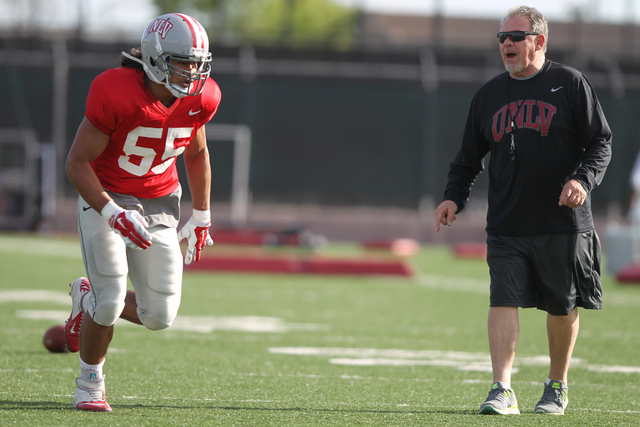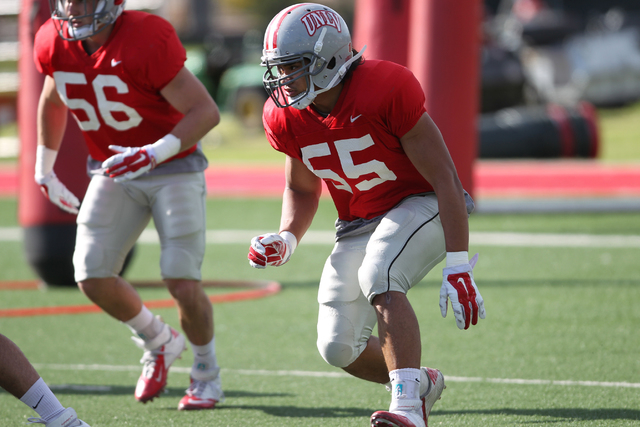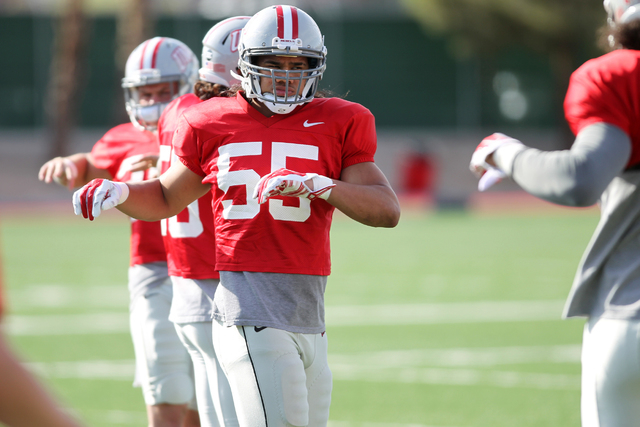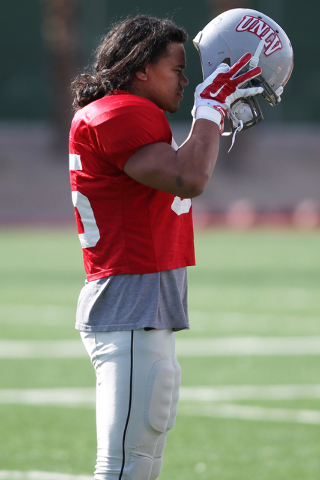 When Tony Sanchez was hired in December to coach UNLV football, he inherited a team with question marks all over the place.
The offensive and defensive lines need to be rebuilt, three-fourths of the starting secondary is gone, and who will start at quarterback remains as much a mystery a week and a half into spring practices as it was three months ago.
Sanchez knows what he has at linebacker, however, and with all the experience returning at that position, the new staff has something to build a defense upon.
The linebackers made up three of the top six tacklers on last season's team. Tau Lotulelei led the Rebels with 99 stops, including a team-best 10½ for loss.
"I rely on those guys heavily because they're really the quarterbacks of the defense," defensive coordinator and linebackers coach Kent Baer said. "They've got to make all the adjustments."
Baer said the depth chart at linebacker is becoming clearer, though not all the pieces are in place.
The working starting lineup has the junior Lotulelei (6 feet 1 inch, 220 pounds) at weakside, sophomore Matt Lea (5-10, 210) at strongside and junior Ryan McAleenan (6-2, 230) in the middle. They combined last season to make 221 tackles, including 14½ for loss.
In an effort to establish a solid two-deep, senior Najee Johnson (6-4, 220) moved from end to help fortify that area. Juniors Trent Langham (6-2, 210) and Iggy Porchia (6-2, 225) also are receiving plenty of time on the practice field at Rebel Park.
The depth made it easier to move junior Marc Philippi (5-10, 220) to fullback.
Coaches hope the first- and second-teamers form a solid foundation as they attempt to begin to turn around a defense that has given up more than 30 points per game in 10 of the past 11 seasons. The Rebels had trouble stopping anyone in 2014, allowing a 38.5-point average and 513.5 yards per game.
One advantage in having experienced players is they have the ability to better handle the transition to a new system.
"You can still bring some of the stuff you knew from before," McAleenan said. "We've got some good leaders on our team, too, so it helps a lot."
The players said the schematic changes aren't overly dramatic, but coaches are holding them to a higher standard.
"They're a lot more strict," Lotulelei said. "I kind of like it, actually, because it keeps us in a place where we can focus mentally. We try to be focused as much as possible because we know what's coming if we do mess up."
Baer said he wants the low-key Lotulelei to be more vocal and serve as the leader of the group.
Lotulelei said becoming more demonstrative isn't natural to him.
"That's definitely a problem for me," he said. "I'm a quiet guy. When I try and talk, it throws me off, but I'm working on it. I need to help communicate with the whole defense."
If the linebackers produce, that will give the Rebels something to shout about.
They have plenty of work in front of them, though, before the season kicks off Sept. 5 at Northern Illinois.
To make some noise next season, UNLV needs its linebackers to stand out, and Lotulelei is optimistic that will happen.
"It can be absolutely great," he said. "I can see a lot more guys working harder than they did before because everybody's fighting for positions. It's not given. Coaches are giving it to whoever wants it most and whoever has the heart.
"So it makes the whole team work harder."
■ NOTE — UNLV practices at 4 p.m. today and at 1 p.m. Friday before taking off a week for spring break. All practices are open to the public.
Contact Mark Anderson at manderson@reviewjournal.com or 702-387-2914. Follow him on Twitter: @markanderson65.