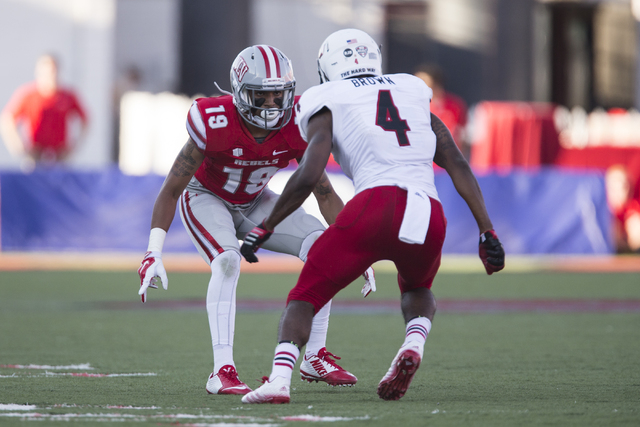 Torry McTyer brought a strong reputation to UNLV when he signed with the Rebels two years ago. The junior is showing why this spring.
McTyer has made several big plays, and on Wednesday at Rebel Park, he not only was operating with the first-team defense but also was routinely covering UNLV's best returning wide receiver, sophomore Devonte Boyd.
They made plays against each other. McTyer broke up one pass and applied stiff coverage on another incomplete pass, and Boyd beat him for a touchdown catch.
The play of camp, though, probably came Saturday when McTyer popped up a pass intended for sophomore Kendal Keys, then caught the football in the air for an interception. Coaches immediately ended practice on that high note.
The bad news for first-year coach Tony Sanchez is he will have McTyer (6 feet, 180 pounds) for only two seasons instead of three. McTyer played mostly on special teams as an incoming freshman in 2013 rather than redshirt, and the Rebels would love to have that season back.
But the fact McTyer — whose dad, Tim, played three seasons in the NFL — is even on the team is a big deal.
McTyer originally committed to California before the school withdrew its scholarship offer two weeks before the 2013 signing day, reportedly because he didn't meet the institution's high academic standards.
Other schools quickly jumped in, and McTyer visited Wyoming the weekend before deciding to sign with the Rebels.
McTyer was soft-spoken when talking about himself, but opened up more when asked about his teammates in the secondary.
"We're coming together pretty well," he said. "We're out here getting better every day. That's what matters the most."
■ A STEP FORWARD — Without prompting by any reporters, Sanchez noted he was happy with sophomore quarterback Kurt Palandech's practice Wednesday.
Palandech (6-1, 190) is a midyear junior college transfer locked into a battle with senior and returning starter Blake Decker (6-2, 205) and redshirt freshman Kevin Thomson (6-1, 185).
"He's starting to get a lot better," Sanchez of Palandech. "He's making a lot of good decisions. That's an absolute battle right now. There's nobody that's got a nod over anybody right now."
Sanchez reiterated he could name a starter by the end of spring practices, that he wasn't beholden to carrying the battle into August just for the sake of doing so.
■ LAST BIG INSTALL — UNLV will put in its goal-line package this afternoon, the final major installment of the spring.
The 1 p.m. practice at Rebel Park will be the final one before the team heads into spring break, and it marks the midway point of spring drills.
Sanchez said the improvement from the first to the second week of practices has been noticeable.
"We all feel really comfortable with where we're at," he said. "Coming back, we might not install much more the rest of camp, just clean it up, because now we've got all our personnel groups in."
Sanchez emphasized much work remains, not only this spring but also during summer workouts as well as training camp in August.
"It's going to be really big when we get into camp having the new guys come on in," he said. "This is going to be a year where I think a lot of our young guys are going to get in and compete right away. It's not a year where you're going to redshirt 10 or 15 guys. They've got to go."
■ NOT FEELING IT — Junior running back Jamal Overton, a junior college transfer who redshirted last season, wore a walking boot on his left foot.
"Every day, he's got something, who knows?" Sanchez said. "Give him a popsicle and he'll be all right."
Contact Mark Anderson at manderson@reviewjournal.com or 702-387-2914. Follow him on Twitter: @markanderson65.