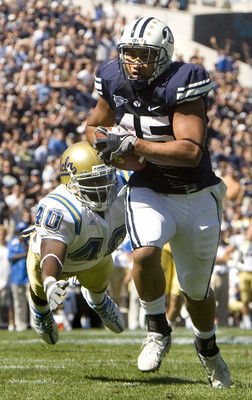 UCLA should be thankful. It could've been worse.
Brigham Young beat the Bruins 59-0 on Saturday, and it could've been 89-0. The Cougars led 42-0 at halftime, and coach Bronco Mendenhall took out his starters midway through the third quarter.
Mendenhall said he never entertained burying the Bruins any more than his football team already had over the first 30 minutes.
"I'd never do anything like that because I've been on the other side of that," Mendenhall said Tuesday.
BYU had made its point in the first half. The Cougars were miffed that their 28-27 victory the previous week at Washington was overshadowed by a questionable celebration call on the Huskies.
The Cougars dropped three spots to No. 18 in last week's Associated Press poll. The plastering in Provo brought BYU up to 14th in this week's poll, and Mendenhall called the UCLA victory "the most complete game to this point."
• MOUNTAIN OF A DAY — The Mountain West Conference, in its 10th season, had its best day ever Saturday.
BYU's statement-making victory and UNLV's 23-20 upset of then-No. 15 Arizona State were part of a 4-0 day against the Pacific-10 Conference. The Mountain West is 5-0 for the season.
"That was a phenomenal Saturday for the conference," Utah coach Kyle Whittingham said. "We talk about respect and notoriety for the conference, and the only way to do that is to do what we did Saturday. You can't talk your way into respectability, but you have to play your way into it."
ESPN.com's Mark Schlabach ranks the Mountain West the nation's fifth-best league, ahead of two Bowl Championship Series automatic qualifiers — the Atlantic Coast and Big East conferences.
The Mountain West is 10-4 against out-of-conference Football Bowl Series teams, better than the Pac-10 (9-10), ACC (6-8) and Big East (5-9), as well as all of the other nonautomatic-qualifying leagues.
BYU and Utah (No. 20) are ranked in the AP poll, and Texas Christian is just three spots from getting in. The situation is similar in the USA Today poll.
"I think the coaches in this league know we're better than a couple of the conferences in the BCS," New Mexico coach Rocky Long said. "We're willing to play them. They're not (all) willing to play us."
• BCS DAYS AHEAD? — Too bad for the Mountain West it couldn't have had this type of success before now. It was beaten out by the Big East for the final BCS automatic-qualifying spot during the most recent four-year evaluation period.
The new four-year cycle just began, so at least the Mountain West is off to a good start.
Still, as joyous as Saturday was for Mountain West commissioner Craig Thompson, there's frustration the league still must fight its way into a BCS game rather than automatically send its champion.
"All we can do is what we do," Thompson said.
• UNLV NEWS AND NOTES — It's hard to believe any conference team might have overshadowed BYU's big victory, but UNLV might have done so with its thriller over the Sun Devils.
"That was probably the biggest surprise," Thompson said.
And, for the league, a perfect capper to a perfect day.
"I thought (coach) Mike Sanford and UNLV really put us over the top," Long said. …
Rebels defensive end Isaako Aaitui (knee) and offensive tackle Evan Marchal (ankle) sat out Tuesday's practice. Aaitui is expected back today.
Contact reporter Mark Anderson at manderson@reviewjournal.com or 702-387-2914.