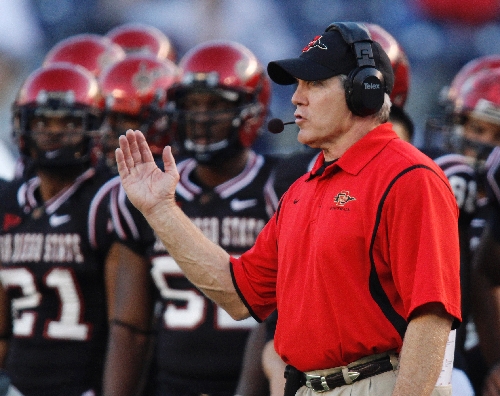 LONG, AZTECS STAY AGGRESSIVE ON OFFENSE
Rocky Long always has tried to be different, developing a 3-3-5 defense with more disguises than a Halloween party.
This season, he has been just as aggressive offensively, routinely going for it on fourth down and gambling with 2-point conversions when most football coaches send in the kicker without thinking twice.
So Long, whose aggressiveness blew up in his face early this season, went for two points in overtime Saturday and succeeded. The result was his San Diego State Aztecs coming away with a big 39-38 victory at UNR.
"I thought we had momentum going into overtime, and I thought we had momentum after both teams scored touchdowns," said Long, whose Aztecs host UNLV on Saturday.
The move plays into his personality.
"I said this before the season, I know we're going to be in a lot of close games, and you had to find a way in order to try to win some close games," Long said. "Going for two or going for it on fourth down, it gives you more chances to win games. Obviously, you're taking chances, but that's kind of our philosophy.
"You're going to be in close games; you've got to take a chance to win them. You don't hope you can win them, you've got to go out and try to win them."
TALK OF THE LEAGUE
When Air Force coach Troy Calhoun last week compared Dave Christensen to Jane Fonda cavorting with the North Vietnamese in 1972, the statement seemed bizarre.
It still seems that way, but is more understandable in light of the YouTube video that emerged late last week of Christensen, Wyoming's coach, tearing into Calhoun after the Falcons' victory.
Christensen, upset over what he thought was a fake injury by Air Force quarterback Connor Dietz to buy time, cursed out Calhoun after the game.
"I'd be (bleeping) scared to death if I had a (bleep) like you defending me," Christensen yelled at Calhoun, an Air Force graduate.
Christensen went on to call Calhoun "Mr. (bleeping) Howdy Doody" and scream, "Go give your (bleeping) press conference, fly boy!"
This was on Wyoming's Military Appreciation Day.
The Mountain West reprimanded Christensen, who apologized. Wyoming athletic director Tom Burman decided Monday to go further, fining Christensen $50,000 and suspending him for this week, including Saturday's game against No. 21 Boise State.
Assistant Pete Kaligis will coach that game.
Calhoun took the high road when asked about Christensen's punishment.
"I think at Wyoming they run a class operation all the way through," Calhoun said. "I think it's a tremendous school, and I think those coaches and Dave have a genuine interest in trying to help the young people that are there. You'll learn, and yet more importantly everybody's going to move forward."
AROUND THE MWC
UNLV quarterback Nick Sherry is listed as questionable, though he did practice Tuesday. Coach Bobby Hauck doesn't reveal specific injuries of quarterbacks, to keep opponents from targeting them. Sherry left the field at Boise State on Saturday grabbing his back. … Sherry's touchdown pass to tight end Taylor Barnhill in triple coverage Oct. 6 at Louisiana Tech was named a finalist for GEICO Play of the Year in college football. … Mountain West defenders have returned 13 interceptions for touchdowns, including five by Fresno State. The conference record of 17 was set in 2006. … UNR has gained at least 450 yards in 16 of 17 games, including all eight this season.
UNLV INJURY REPORT
POS., PLAYER, AREA, STATUS
DL ,Alvin Amilcar ,Undisclosed, Out
OL, Patrick Carroll, Back, Out
DL, David Green, Undisclosed, Out
DB, John Therrell, Arm, Out
OL, Brett Boyko, Leg, Doubtful
OL, Jason Koontz, Back, Doubtful
OL, Yusef Rodgers, Leg, Doubtful
DB, Peni Vea, Arm, Doubtful
DL, James Boyd, Leg, Questionable
DB, David Greene, Arm, Questionable
TE, Nick Gstrein, Arm, Questionable
DB, Sidney Hodge, Leg, Questionable
OL, Cameron Jefferson, Leg, Questionable
LB, John Lotulelei, Undisclosed, Questionable
LB, Tani Maka, Leg, Questionable
RB, Bradley Randle, Leg, Questionable
QB, Nick Sherry, Undisclosed, Questionable
WR, Marcus Sullivan, Leg, Questionable
DB, Fred Wilson, Arm, Questionable