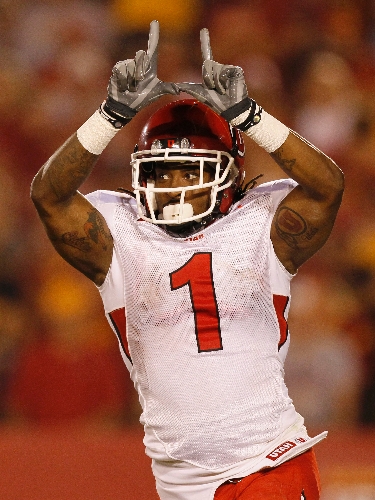 PLAYER OF THE WEEK UTAH RETURN SPECIALIST/WIDE RECEIVER SHAKY SMITHSON
Smithson set up a touchdown with a 78-yard punt return, caught a 61-yard scoring pass and threw a 32-yard TD pass in the Utes' 68-27 victory at Iowa State. He averaged 29 yards per punt return and totaled 261 all-purpose yards.
FROM THE LOCKER ROOM
"This was a statement game for us. I don't think people gave us enough respect, but they have to now with that score." — Utah offensive lineman Zane Taylor, on the Utes' rout of Iowa State
THE WRITTEN WORD
"The closer to the TV networks on the East Coast, including ESPN, the more those networks notice your product. And TV, of course, floats all boats in college and pro sports. First reaction — TCU to the Big East — I laughed. On second thought, why the heck not?" — Fort Worth (Texas) Star-Telegram columnist Randy Galloway, on the Big East's reported interest in Texas Christian
COACH-SPEAK
"If I get beat by BYU next week, no one will care." — TCU's Gary Patterson, on a 45-0 victory over Wyoming that gave the Horned Frogs consecutive shutouts for the first time in 55 years
THIS WEEK'S TOP GAME
Brigham Young at No. 4 TCU. The Cougars showed signs of life with a 24-21 victory over San Diego State, but here's the real test. TCU needs a convincing win to send a message to pollsters.