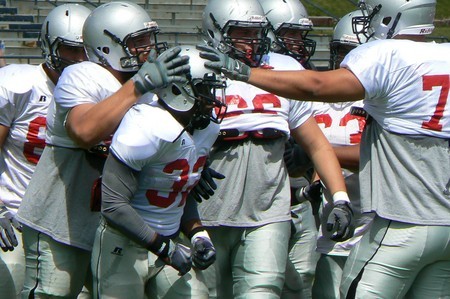 ELY — Jordan Barrett didn't expect to play this football season, and he certainly didn't expect to play tight end.
UNLV signed the three-star recruit to be a linebacker. He was rated by three recruiting services as among the nation's best at that position.
But the Rebels have a logjam at linebacker, and they could use some help at tight end, a position Barrett (6 feet 3 inches, 225 pounds) also played at Notre Dame High School in Sherman Oaks, Calif.
He is third string now, with redshirt freshman Gordy Cooper moving to wide receiver.
"At heart, I'm a linebacker, but whatever Coach (Mike) Sanford needs me to do, I'll do," Barrett said. "I'm just here to help the team out and have some fun playing football."
Sanford didn't rule out moving Barrett back to linebacker after this season.
"It's going to depend on a lot of things," Sanford said. "We're going to get through the season and then see a combination of what he thinks and what's the best thing for his future."
The Rebels didn't expect to have Barrett at all this season. Because he committed in late January, the 25 recruiting slots were filled. Barrett planned to grayshirt, meaning he would enroll this January.
But wide receiver Marcus Sullivan, who went to Cheyenne High School, has not passed the state-required math proficiency test. That opened a spot, and Barrett arrived here Friday.
He is going through the NCAA-mandated five-day acclimation period, and won't be able to practice with his teammates until Wednesday.
"I'm just ready to go," Barrett said. "I've been preparing myself to come out here and show what I can do."
* TAKING ADVANTAGE — The tailback spot is still open, and sophomore C.J. Cox soon will return from a hamstring injury and be given every opportunity to win the job.
But junior Channing Trotter is making the most of Cox's absence. He has had a good camp, and in Saturday's scrimmage led rushers with 33 yards and a TD on five carries.
Trotter said Cox's return won't change his approach.
"I motivate myself," Trotter said. "I go out on the field every single day thinking I'm the best player out there. No one can make me work harder than I can make myself."
Trotter also has done his work in the shadow of highly rated freshman Bradley Randle, who has experienced plenty of growing pains.
"I might not have been as highly touted or highly recruited, but we both ended up in the same exact school," Trotter said. "Either you can play or you can't. I feel like I can play the position of running back, so I'm just going to go out and do what I know how to do every single time."
* ROUGH DAY — The first-team offense ran a two-minute drill on Sunday, and got to the 7-yard line, where it had third-and-5. But junior quarterback Omar Clayton threw consecutive incomplete passes.
Well, no wonder. His two best receivers were out. Senior Ryan Wolfe didn't practice after coming down with a stomach illness, and sophomore Phillip Payne bumped knees with senior nickel back Terrance Lee on that drill, and didn't return. Both players are expected back today.
"It'll be fine," Payne said of his left knee.
Contact reporter Mark Anderson at manderson@reviewjournal.com or 702-387-2914. Read the latest practice reports at lvrj.com/blogs/unlv_sports.