New UNLV coach ready to start earning city's support with opener
Updated September 1, 2023 - 8:39 pm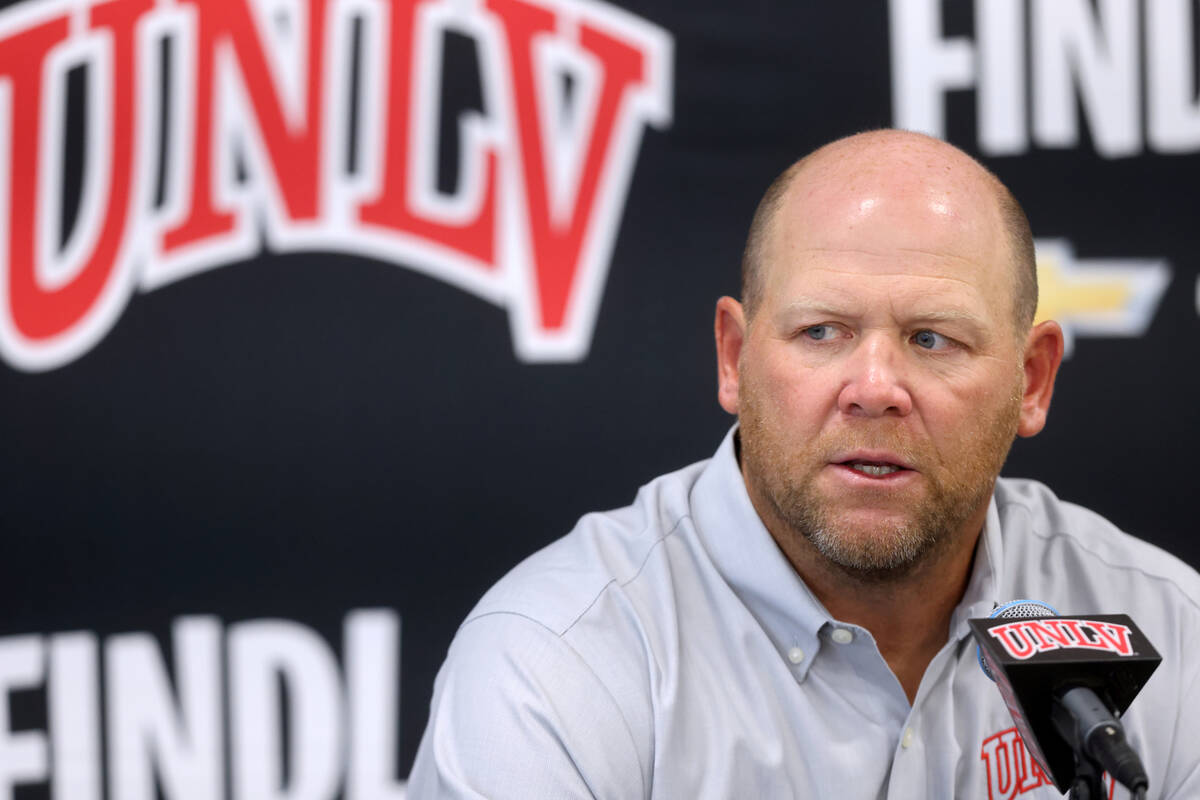 UNLV football coach Barry Odom knows there's some work to be done to convince Las Vegas to show up for Rebels football games.
He understands it is his responsibility to create a team that can capture the city's support.
The Rebels embark on their 56th season Saturday. They've been to just four bowl games, most recently appearing in the Heart of Dallas Bowl following the 2013 season.
Odom is ready for his first chance to convince the city his program is worth investing in. The Rebels host Bryant at 1 p.m. at Allegiant Stadium.
"We need college football to be important in this city, and I feel that responsibility," he said.
"At 1 o'clock we get to tee it up and go play," Odom added. "Excited to be at home for our first game and get into the routine and the flow of what our games look like."
UNLV and Odom don't want a repeat of last season. The Rebels finished at 5-7, missing out on bowl eligibility after suffering a six-game losing streak during the second half of the campaign.
UNLV had started the season 4-1, due in part to the play of quarterback Doug Brumfield, who returns for his junior year despite the coaching changes of the offseason.
Odom said Brumfield has taken enough reps in training camp to be comfortable in new offensive coordinator Brennan Marion's scheme.
"There's going to be time to take shots down the field," Odom said. "There's going to be times for him to tuck the ball and run. Just protecting the ball is so important, especially in early games. The turnover margin needs to be in our favor, and a lot of that will be on how the quarterback plays."
Bryant, a Football Championship Subdivision school, is a manageable opponent for Odom's first game. The Bulldogs went 4-7 last season, and were 2-3 in the Big South-OVC — a football-only alliance of the Big South and the Ohio Valley Conference. Bryant is a private university in Smithfield, Rhode Island.
Odom said the Rebels have prepared as if they are playing a nameless, faceless school, the same way he expects them to approach any opponent.
"I want a team that is disciplined, that plays extremely hard," he said. "They care about each other and play with great enthusiasm for each other, celebrate the success of our team in all three phases, and for 60 minutes, lay it all out there. Play as hard as you can play, almost with blinders on. Just be in the moment. Get in the flow of the game. Enjoy playing the game. They work so hard to get this one guaranteed opportunity.
"Let's have some fun with it."
Contact reporter Andy Yamashita at ayamashita@reviewjournal.com. Follow @ANYamashita on X.
Up next
Who: UNLV vs. Bryant
When: 1 p.m. Saturday
Where: Allegiant Stadium
TV: SSSEN, MW Network
Radio: KWWN (1100 AM, 100.9 FM)
Line: Not available