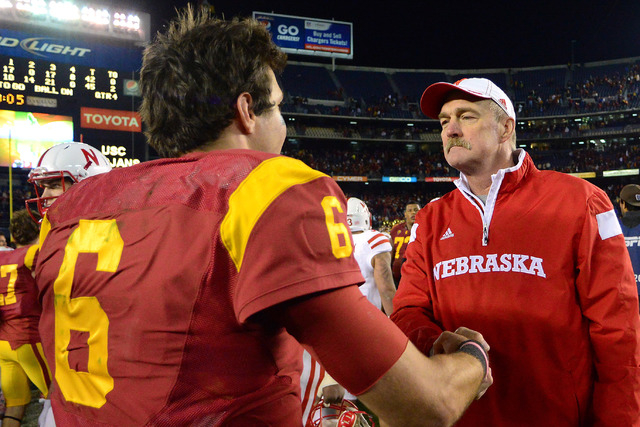 Chairs were mostly missing, and computers sat on the floors as workers weaved in and out of the offices at Lied Athletic Complex.
If newly hired UNLV coach Tony Sanchez can't change the football program overnight, the least he can do is enhance the look of it.
Changing the program itself will take time, and Sanchez is quite aware of what he faces. So are his new coordinators — Barney Cotton on offense and Kent Baer on defense.
"This is no different than any other place I've been," Baer said. "They all have their obstacles that you have to overcome, including Notre Dame. Every school, you've got to figure out how those pieces fit together. They're all different. This one's different, too. I don't think there's anything we can't overcome."
Both coordinators have plenty of work to keep them busy.
In going 2-11 last season, UNLV was last in the Mountain West in scoring defense (38.5-point average), second to last in total defense (513.5-yard average), and ninth among the 12 teams in scoring offense (21.9) and total offense (387.4).
This type of situation isn't new for Baer, 63. He was San Jose State's defensive coordinator from 2010 to 2012. The Spartans went from 1-12 in Baer's first season to 10-2 by 2012.
Baer has served as defensive coordinator at numerous stops, including five Pac-12 Conference schools and his stint at Notre Dame from 2002 to 2004.
His most recent job was at Colorado, where Baer was the coordinator for two seasons before leaving for UNLV last month. He wouldn't discuss why he left the Buffaloes, but made it clear he liked what he saw from Sanchez.
"His passion and energy was tremendous," Baer said. "I liked everything he said, so I made the decision to (go to UNLV). He's definitely got a plan, and it's going to take some time to put everything together."
Baer is still trying to gauge what he has at UNLV. He is busy recruiting, so there hasn't been much time to watch video from this past season.
The Rebels lose some key players in the line and secondary. Their linebackers return, led by Tau Lotulelei, whose 99 tackles and 10½ tackles for loss topped the team.
"We're a multiple front with lots of coverages," Baer said. "I want to see what we can handle first before we can get in depth. We'll probably be pretty simple this spring."
UNLV's offense also has its share of questions, though wide receiver still should be a strength even with the loss of Devante Davis. The Rebels will need to rebuild their line, improve a running game that averaged a league-worst 129.2 yards and figure out the quarterback position.
Quarterback Blake Decker returns, and he will be challenged by redshirt freshman Kevin Thomson and midyear junior college transfer Kurt Palandech.
"There are some pieces in place," Cotton said of the offense. "We've got to make sure we get all the pieces in place, hopefully little by little through this first recruiting process and maybe build a first floor."
Cotton, 58, joins UNLV from Nebraska, where he was the run game coordinator for an offense this past season that averaged 240.2 yards rushing. Ameer Abdullah, who rushed for 1,611 yards and 19 touchdowns, was one of the nation's top backs.
The Rebels lose leading rusher Shaquille Murray-Lawrence. Keith Whitely, who rushed for 504 yards on 4.3 yards a carry, is the top back returning.
"Whether we're big or we're small or whether we're going to be spread out or packed in, the No. 1 goal here will be to put a physical offense on the field," Cotton said. "You have to evaluate what you have and see what you can do best and then maybe evolve to what you want to get to. But the underlying current in the whole deal is whatever we do, it's to be physically done."
Cotton and Sanchez have known each other since December 1996, when Sanchez was completing his undergraduate assistant work at New Mexico State and Cotton was hired as offensive coordinator. They stayed in touch, and Cotton recruited Bishop Gorman High School when Sanchez coached there.
But Sanchez left Gorman last month for UNLV, and Cotton found himself in need of a job after a coaching change at Nebraska. He was the Cornhuskers' interim coach in the Holiday Bowl.
"I got to see (Sanchez's) vision at work watching Tony's work ethic at Gorman and watching the way his practices were set up, his organizational skills, the way he treats people and the way he motivates players," Cotton said. "His practices were run like a college practice."
Sanchez and his coordinators now must put together a college program that more often than not hasn't resembled one. At least not a competitive one.
"We've got to be flexible on both sides of the ball personnel-wise," Sanchez said. "We've got to figure out who we are right now, what talent we have, and rather than try to stick everybody into a system, we need to be flexible with our system so we have a chance to win. At the end of the day, it's about winning."
Contact Mark Anderson at manderson@reviewjournal.com or 702-387-2914. Follow him on Twitter: @markanderson65.