New UNLV defensive coordinator Tim Skipper faces huge task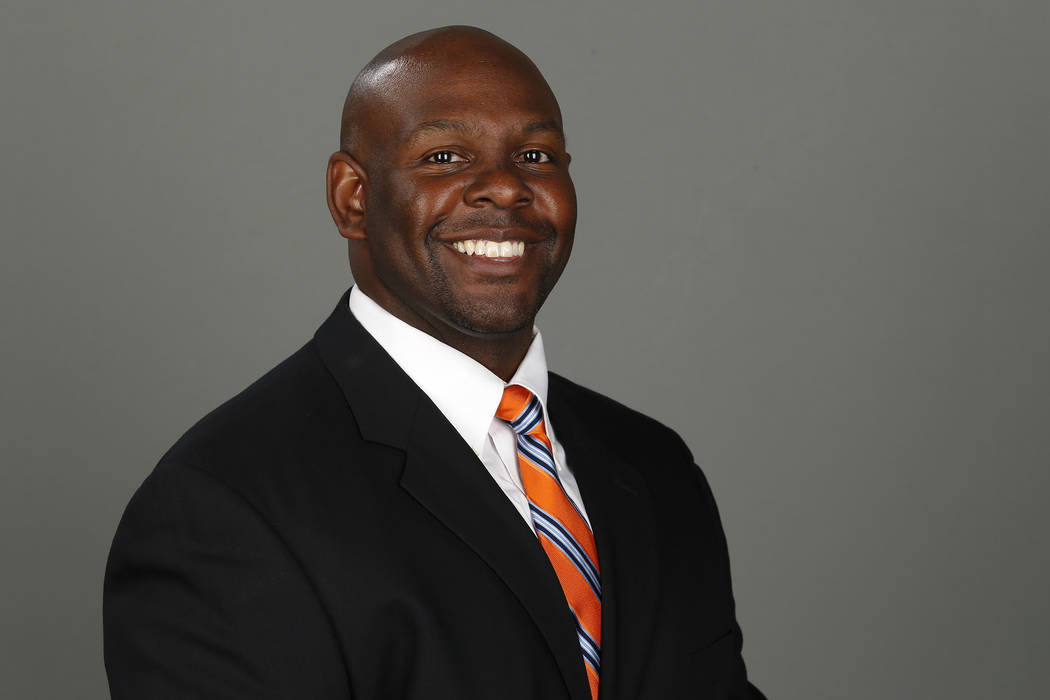 Florida's offense the past several years was so unwatchable that it cost two head coaches their jobs.
The same couldn't be said on the defensive side, where the Gators often played at a championship level.
For UNLV, it's been largely the opposite, but the Rebels hope bringing Tim Skipper over from Florida to be their defensive coordinator will help them change that imbalance.
"Tim's a really sharp, intelligent guy," UNLV coach Tony Sanchez said. "He brings a toughness and a freshness I think is really good. He takes over a group of guys that I think has the potential to play a little better than they have in the past, and we're deeper in that area. I think he's doing a tremendous job of getting these guys ready already."
Skipper, the Gators' running backs coach in 2015 and 2016 and their linebackers coach last season, gets his first hands-on work with UNLV at 8:10 a.m. Tuesday at Rebel Park as UNLV opens spring practice. All practices are open to the public.
This is what Skipper inherits: a defensive unit that not only was poor last season, but has struggled for many years. He will need to instill a culture change in addition to whatever he might do strategically.
UNLV allowed averages of 31.8 points and 458.7 yards last season, and the Rebels have given up more than 30 points and 400 yards per game every season since 2008. Even a slight improvement defensively would have helped UNLV, which averaged 28.8 points offensively, reach a bowl game last season. The Rebels fell one victory short of becoming eligible.
"I like that (Sanchez) has been here three years," Skipper said. "He's been able to lay the groundwork of what he wants as far as philosophy and those type of things. It's now a matter of winning these games. They were so close to being in a bowl game and being competitive. Just need to get over the edge. It's a team on the rise, and I'm excited to be here for it."
Skipper, who turns 40 on April 15, is familiar with the Mountain West.
He played middle linebacker at Fresno State from 1997 to 2000 and was a four-year starter and three-time All-Western Athletic Conference selection. Skipper coached at his alma mater from 2006 to 2011, serving as running backs coach his first three seasons and then linebackers coach and run defense coordinator his final three.
He then oversaw linebackers at Colorado State from 2012 to 2014, doubling as assistant head coach his final two seasons.
At UNLV, Skipper is still trying to figure out personnel, and will continue to do so after spring practice ends April 14 because many newcomers won't arrive until summer.
"Hopefully, we'll get a good offseason plan going in the summertime, so when we get to fall camp, those guys feel like they're caught up," Skipper said. "In June and July once they get here, that's like their spring ball."
Skipper didn't commit to a three- or four-man front, but said it was important to be multiple given the complex offenses that populate college football. As for how aggressive he might be regarding blitzing, Skipper also left plenty to the imagination.
"We're going to do whatever we have to do to make sure the quarterback is uncomfortable," he said. "So if that means we've got to blitz a lot to do it, we're going to do it. If we can get there with two guys rushing, we're going to do it. If the quarterback is comfortable, that puts a lot of stress on the defense."
Contact Mark Anderson at manderson@reviewjournal.com. Follow @markanderson65 on Twitter.
UNLV football spring practice schedule
Tuesday, 8:10 a.m.-10:20 a.m.
Thursday, 8:10 a.m.-10:20 a.m.
Saturday, 11 a.m.-1 p.m.
March 13, 8:10 a.m.-10:20 a.m.
March 15, 8:10 a.m.-10:20 a.m.
March 17, 11 a.m.-1 p.m.
March 20, 8:10 a.m.-10:20 a.m.
March 22, 8:10 a.m.-10:20 a.m.
April 3, 8:10 a.m.-10:20 a.m.
April 5, 8:10 a.m.-10:20 a.m.
April 7, 11 a.m.-1 p.m.
April 9, 8:10 a.m.-10:20 a.m.
April 11, 8:10 a.m.-10:20 a.m.
April 13, 8:10 a.m.-10:20 a.m.
April 14 , noon-1:30 p.m.
Note: All practices open to public. Dates, times subject to change