No. 18 TCU ends Rebels' season with 56-9 drubbing
December 3, 2011 - 12:23 pm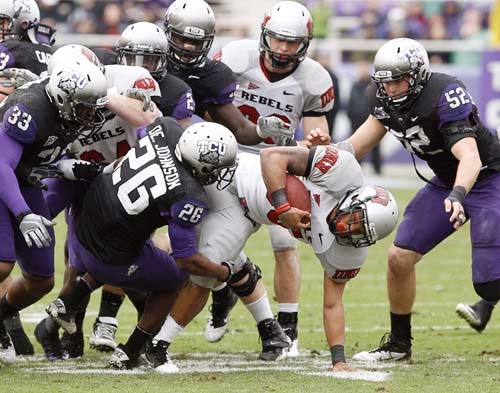 FORT WORTH, Texas — UNLV's chances of winning were already slim, and if the Rebels happened to encounter a motivated Texas Christian team, they really were in trouble.
And the Horned Frogs were fired up.
"They saw the Houston score," TCU coach Gary Patterson quipped at halftime.
Seeing Houston's 21-point loss to Southern Mississippi in the Conference USA championship was all the impetus 18th-ranked TCU needed against UNLV, winning 56-9 at rainy and renovation-in-progress Amon Carter Stadium to claim its third consecutive outright Mountain West Conference title.
TCU scored three touchdowns in the final 5:12 of the first half to turn a 14-3 lead into a 35-6 advantage.
"We need all 11 players to have a perfect game to beat a team like this," said UNLV sophomore running back Tim Cornett, who was held to 25 yards on nine carries.
Because of Houston's loss, the Frogs (10-2, 7-0 MWC) are the highest-rated non-BCS conference champion, putting themselves in position for a possible Bowl Championship Series bid. TCU, which moves to the Big 12 Conference next year, needs to advance two spots and place in the top 16 of the final BCS standings, which will be released today.
If that happens, TCU will get an automatic bid to a BCS game, probably the Sugar Bowl.
UNLV (2-10, 1-6) did little more than serve as fodder for the Frogs, and the loss meant the Rebels finished with two wins for the sixth time in eight years. Their road losing streak also stretched to 16 games.
A year after going 2-11 in coach Bobby Hauck's first season, UNLV heads into another long offseason with plenty of questions about the program's future.
Perhaps the primary question will be at quarterback, where the Rebels used three starters this season. They are hoping Nick Sherry, a former Colorado commitment who redshirted this year, will be the answer.
With Caleb Herring not playing Saturday because of a shoulder injury and backup Sean Reilly still bothered by a hurt wrist, redshirt freshman Taylor Barnhill was given his second career start.
"We need to be able to throw it, and we have not been able to do that, and it's a dang shame that we can't because our offensive production will skyrocket when we can do that," Hauck said.
Barnhill completed 4 of 12 passes for 48 yards, with an interception returned 16 yards for a touchdown. It didn't help him that UNLV's running game, which has been stellar, averaged 2.8 yards per carry and totaled 116 yards. Bradley Randle led the Rebels with 71 yards on 14 carries.
UNLV's defense played hard early, flying around and delivering some hard hits, but the effort seemed to wane. Matthew Tucker scored on a 32-yard run in the second quarter in which six Rebels defenders missed. Ed Wesley bulled into the end zone for a 9-yard score in the third despite being met by a wall of would-be tacklers.
TCU's Casey Pachall overcame early difficulties to complete 15 of 22 passes for 185 yards, and the Frogs' running game spread the ball carrying among multiple backs — no one rushed more than nine times — in gaining 186 yards and scoring six touchdowns.
TCU led 14-3 late in the first half when it began to pour on the points:
— A blocked punt by Deryck Gildon that set up Tucker's TD run 5:12 before halftime.
— A 99-yard kickoff return for a touchdown by Greg McCoy with two minutes left.
— Kris Gardner's 16-yard interception return for a TD with 1:48 left.
Just like that, it was 35-6.
"They're a great team," Barnhill said. "They're going to the Big 12, and I think that's where they belong."
Contact reporter Mark Anderson at manderson@reviewjournal.com or 702-387-2914. Follow him on Twitter: @markanderson65.
TEXAS CHRISTIAN – 56
UNLV – 9
KEY: TCU scored three touchdowns in the final 5:12 of the first half to take a 35-6 halftime lead.