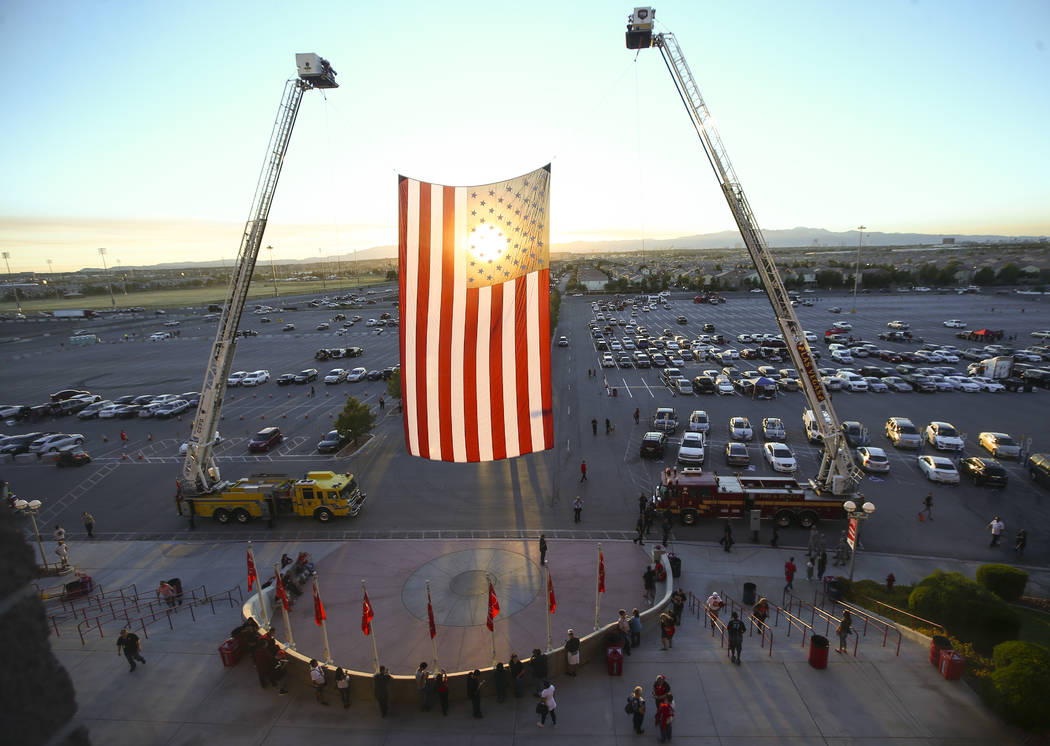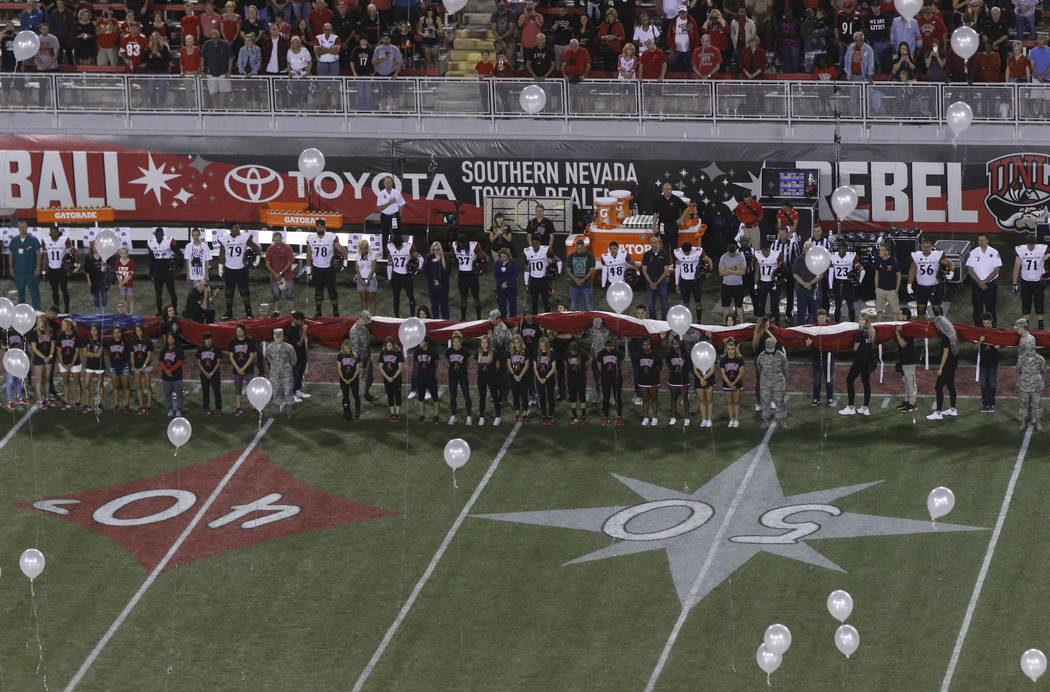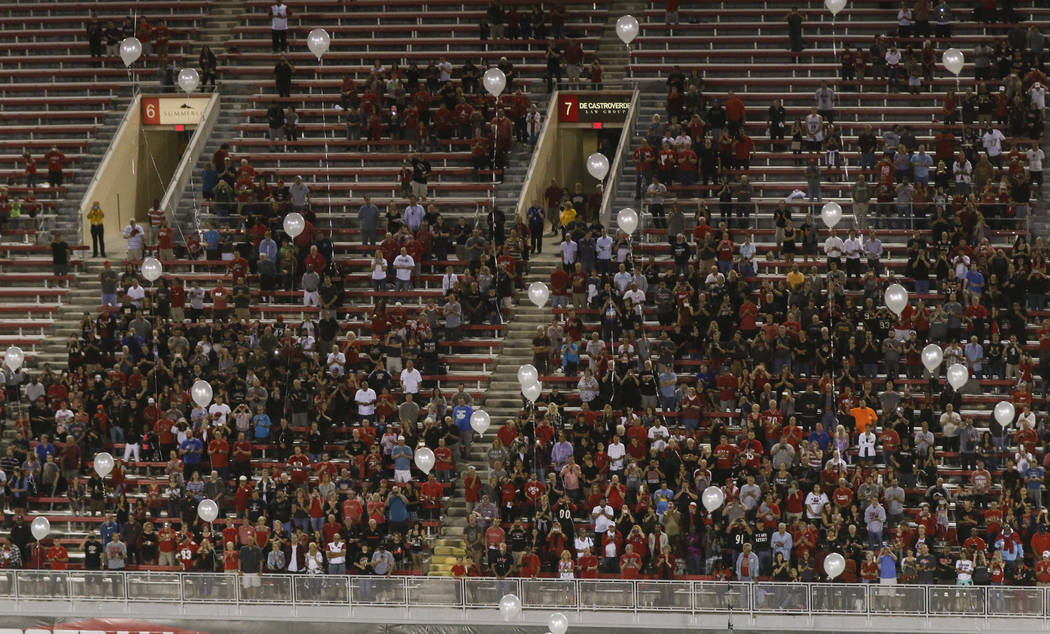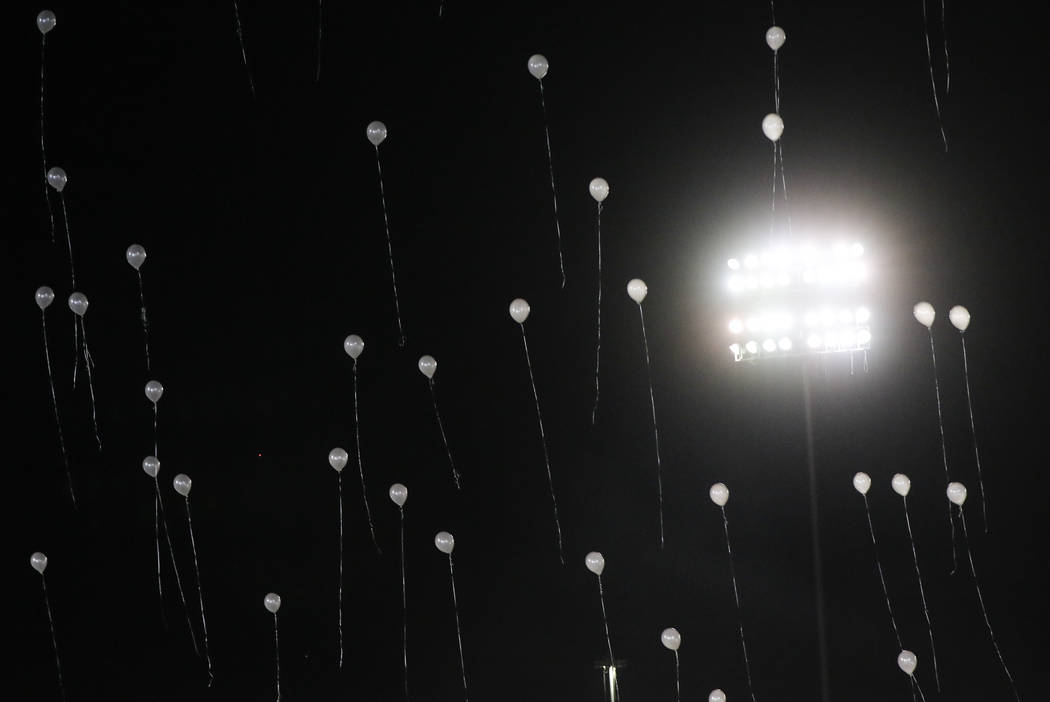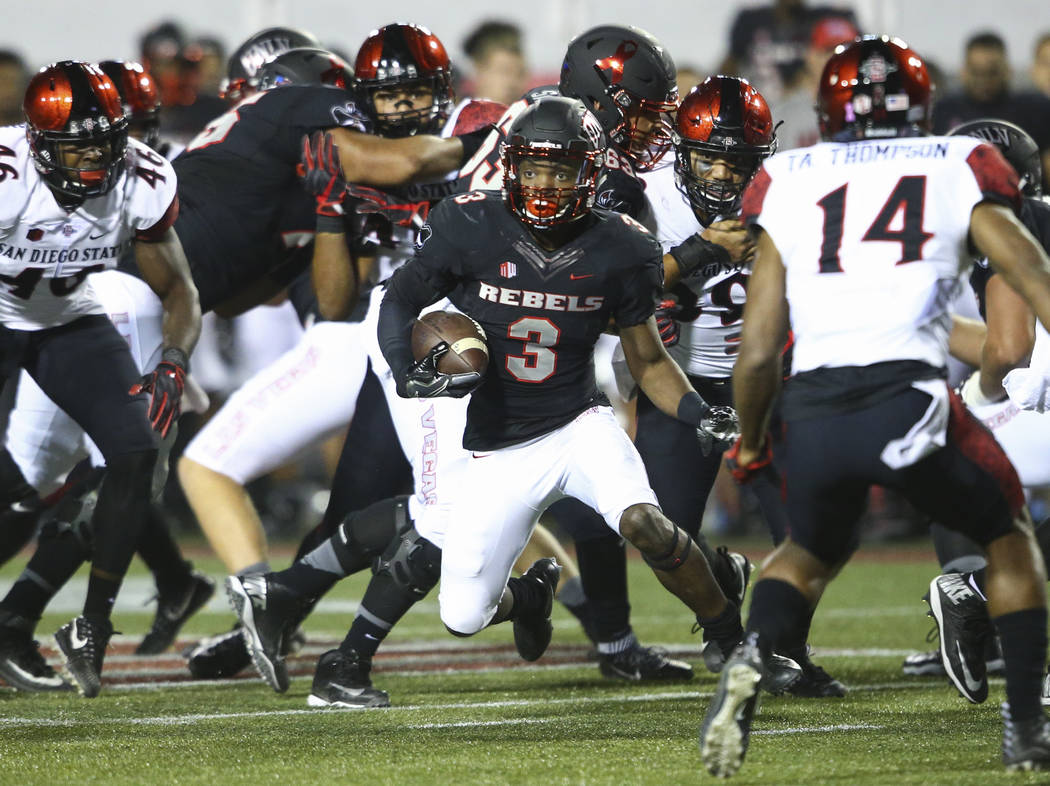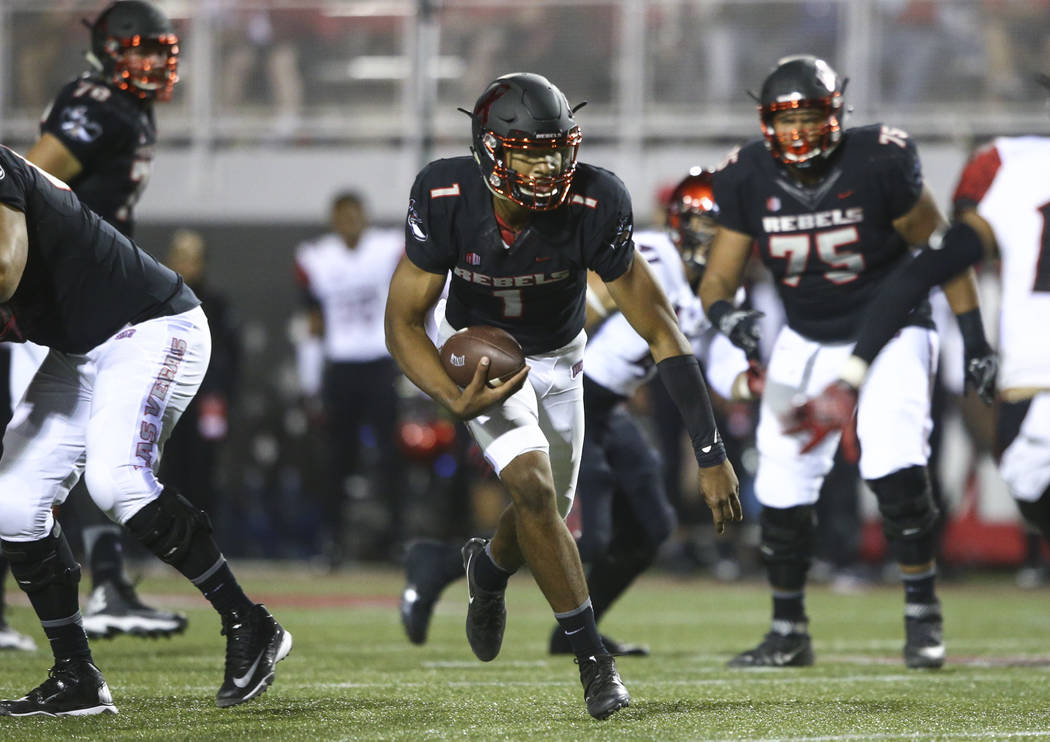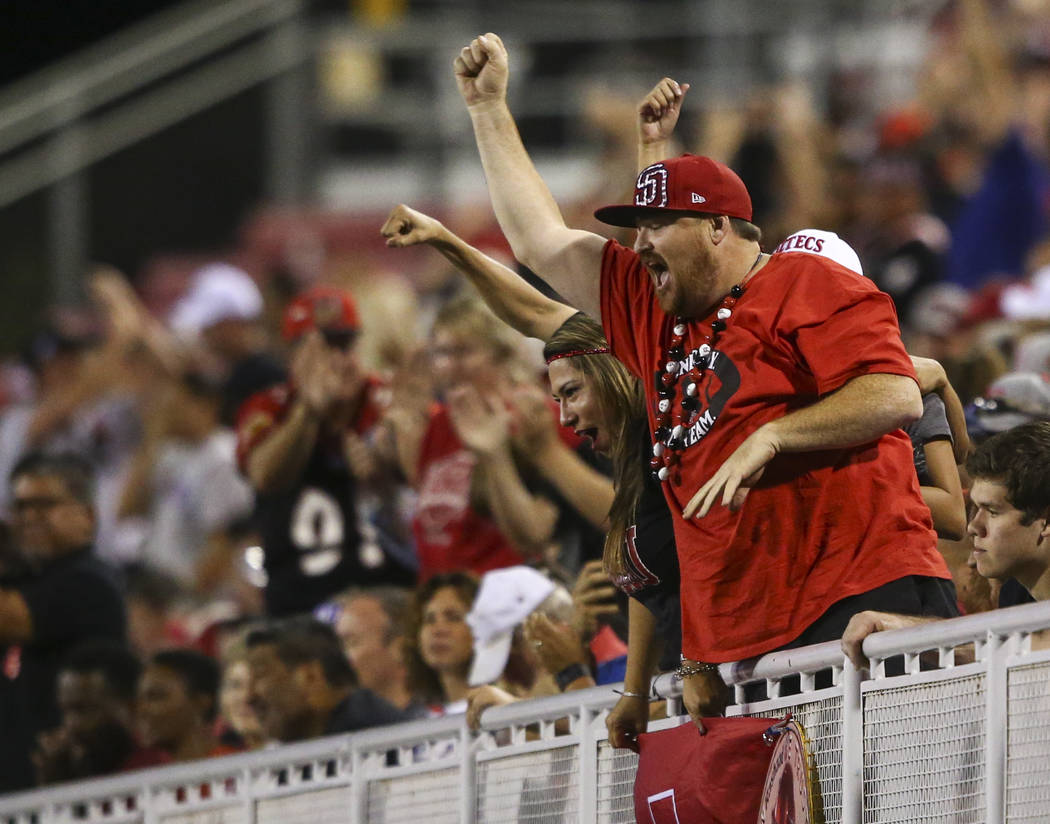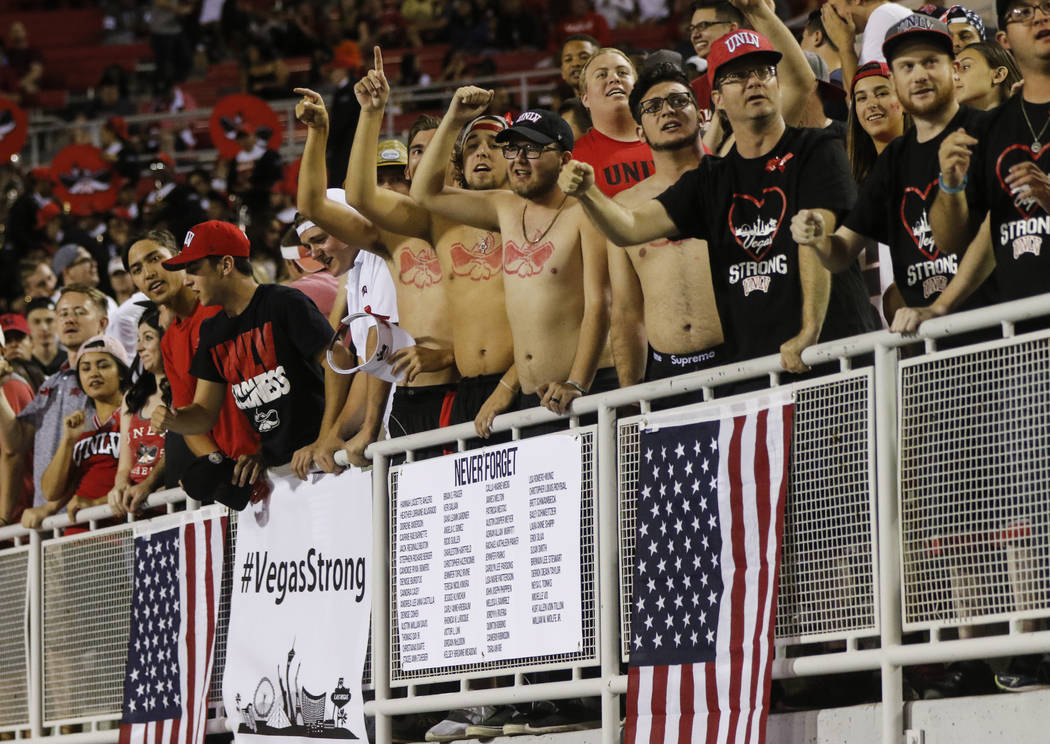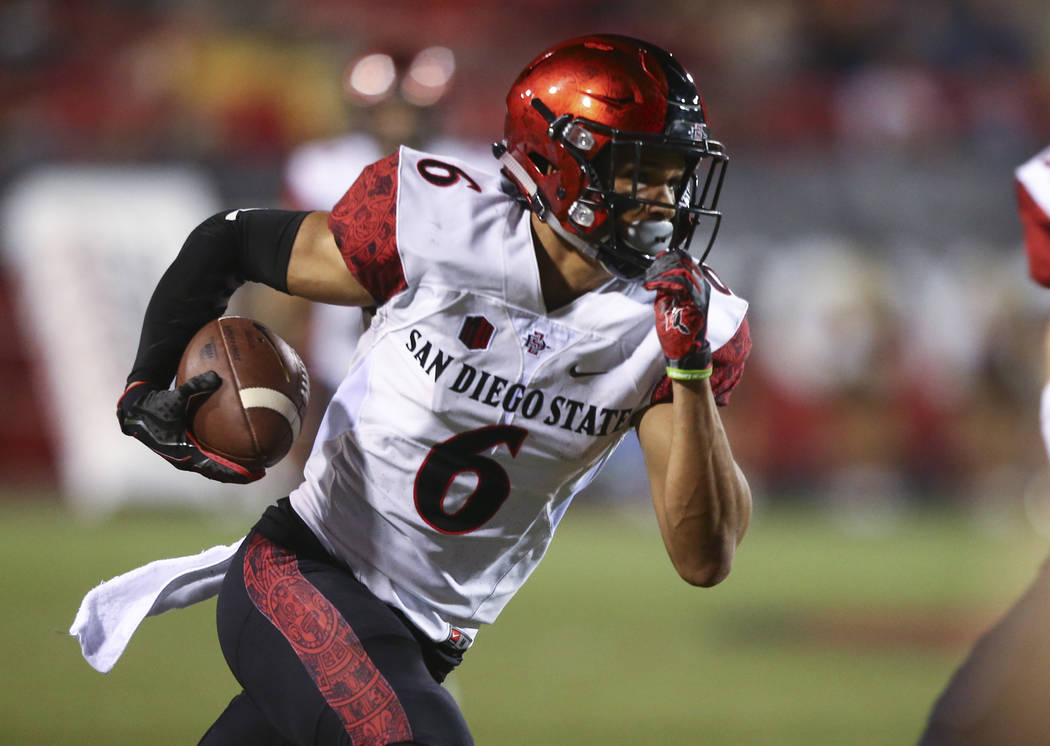 Saturday was always going to be an emotional night at Sam Boyd Stadium, with tributes and appreciations for the heroes and victims of the mass shooting almost a week earlier.
It just wasn't a successful night.
Not, anyway, for UNLV's football team.
The Rebels couldn't stop San Diego State running backs Rashaad Penny and Juwan Washington, as the 19th-ranked Aztecs won 41-10 before an announced crowd of 19,770.
Penny rushed for 170 yards and two touchdowns on 27 carries, and Washington had 95 yards and a TD on 10 attempts. Penny closed in on the 1,000-yard mark for the second year in a row with 993 yards this season.
"They gave (Penny) holes," UNLV defensive tackle Mike Hughes Jr. said. "He did what he had to do. A great team."
This was UNLV's first game since the shooting on the Strip that took 58 lives and injured almost 500. UNLV honored first responders, police officers, medical professionals and others during a pregame ceremony that included the unfurling of a 100-yard American flag.
Both teams wore helmets with a red ribbon and "Las Vegas" written on it.
"It was special," said Hughes, who went to Palo Verde High School. "There was definitely a sense of unity. We went out to the field, the (San Diego State) players were like, 'Are your parents all right? How have things been?' That shows you it's a lot bigger than sports. They actually care, so that's good."
UNLV coach Tony Sanchez said he wouldn't use the tragedy as an excuse for the team's performance, but acknowledged the players lacked the necessary emotions late in the game.
"I was expecting them to go out and play a good football game, and I thought for the most part played a pretty good half of football," Sanchez said. "I thought we were flat in the second half, especially when we got into that fourth quarter."
The Rebels (2-3, 1-1 Mountain West) were outscored 21-0 in the second half by the Aztecs (6-0, 2-0), the two-time defending conference champions.
UNLV gained 283 yards compared with San Diego State's 474. Rebels running back Lexington Thomas, who entered the game averaging 142.8 yards rushing and 8.4 per carry, was held to 54 yards on 14 attempts. Quarterback Armani Rogers completed 12 of 27 passes for 177 yards and a touchdown.
"I'm really disappointed in the offensive effort," Sanchez said. "We rushed for 106 yards. You're not going to win a lot of football games, the way we're built, running for 106 yards. They were tougher and more physical than we were tonight on both sides of the ball."
San Diego State began to take control in the second quarter, going ahead 17-3 on quarterback Christian Chapman's 14-yard touchdown run and Washington's 34-yard TD dash. UNLV got within 17-10 on Rogers' 5-yard scoring pass to wide receiver Kendal Keys, but the Aztecs took a 20-10 lead into halftime.
"We came into this game with great expectations," UNLV offensive left tackle Kyle Saxelid said. "We had the city behind us. We came in with great enthusiasm. We really wanted to come in and give the city what it needed, but we just couldn't get the ball moving on offense the way we wanted to."
UNLV plays at Air Force at 11 a.m. Saturday.
More Rebels: Follow all of our UNLV coverage online at reviewjournal.com/Rebels and @RJRebels on Twitter.
Contact Mark Anderson at manderson@reviewjournal.com. Follow @markanderson65 on Twitter.