Nonconference scheduling has become big business for UNLV
February 14, 2016 - 8:10 pm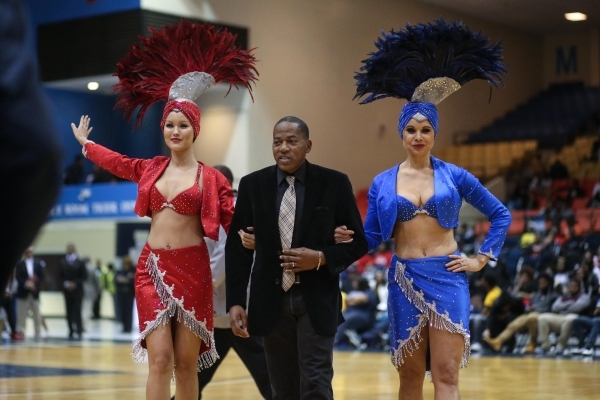 When UNLV played at Michigan's storied Big House last season, it was a priceless experience for the Rebels players, who will have a tale to tell for the rest of their lives despite the 28-7 defeat.
The game also was a very valuable one to the university, which in addition to receiving national exposure for its football team took home a guaranteed $1 million payday from Michigan.
"Guarantee games," aka "paycheck games," have long been a part of college football and benefit both schools. The bigger school gets a virtually guaranteed win to move it one step closer to bowl eligibility, makes more money for hosting the matchup than it pays out and doesn't have to reciprocate the game on the road. The smaller school is guaranteed cash that can help finance its athletic programs and receives increased exposure and recruiting benefits as players love to play in big-time environments.
That's where schedule-making has evolved in major college football. It's about paydays and recruiting just as much as fielding a competitive schedule to prepare for Mountain West games.
"Every single one of us from a non-Power Five conference is going to play a Power Five team on the road and get financially compensated. Without TV revenue, we have to do stuff like that," UNLV coach Tony Sanchez said. "As we build the program, hopefully at some point we'll get the chance to knock those teams off. It's fun to compete at that level."
UNLV will earn its biggest payout ever with a guarantee of $1.3 million when it makes its first trip to play Ohio State on Sept. 23, 2017, at Ohio Stadium, aka The Horseshoe. The Rebels also will be paid a guarantee of $1.15 million when they take on Southern California on Aug. 31, 2019, at Los Angeles Memorial Coliseum.
UNLV will play UCLA in the Rose Bowl on Sept. 10 to complete a home-and-home series with the Bruins, but in keeping with the school's scheduling philosophy, it won't play a guarantee game in 2016.
"Part of our philosophy on those is to play them on an every-other-year basis," said Darryl Seibel, UNLV's deputy athletic director. "It's not a hard-and-fast rule, but it's tough to build a program the way we want to build UNLV football if we're playing a guarantee game on a yearly basis over consecutive years."
Seibel helps construct UNLV's football 12-game schedules with Sanchez and athletic director Tina Kunzer-Murphy. The schedule features eight Mountain West games: five vs. the Rebels' West Division rivals (UNR, San Diego State, San Jose State, Fresno State and Hawaii) and three against their Mountain Division foes (Colorado State, Boise State, Wyoming, Air Force, Utah State and New Mexico) that rotate on a four-year cycle.
That leaves four nonconference games, with the option to schedule five in years UNLV plays at Hawaii (the Rebels play at Hawaii this season, but chose not to add a 13th game). In trying to strike a balance between maximizing revenue and maximizing wins, Seibel said guarantee games are only one facet of the school's four-pronged scheduling philosophy.
In addition to cashing a lucrative biennial paycheck, Seibel said the school looks at "establishing games with opponents that will be attractive to our fans," such as the home game against Brigham Young slated for Nov. 11, 2017; "markets that might be helpful in recruiting," such as the 2014 road game at Houston; and "playing teams that will help our program grow and become stronger, regionally and nationally," such as the home-and-home series against Idaho that starts Sept. 24 at Sam Boyd Stadium.
"We schedule home-and-home (series) with programs that might be more similar to us in order to give our student-athletes the opportunity to learn how to compete and win on the road," Seibel said.
Having a home-and-home series against a popular Pac-12 team such as UCLA is a dream scenario for UNLV, which drew an announced season-high crowd of 31,262 to its home game against the Bruins last season and will be in the national spotlight at the fabled Rose Bowl this season.
UNLV also has scheduled home-and-home series with Arizona State and Iowa State in 2020 and 2021.
On the flip side of hitting the road for a guarantee game is hosting one, as UNLV will do in its Sept. 1 season opener at home against Jackson State, a Football Championship Subdivision school from Mississippi.
"Everyone does that. Alabama brings in FCS teams and so does UNLV," Sanchez said. "It's beneficial for both schools. They get to play at a higher level and get a little payday and it gives us a chance to have a more diverse schedule."
UNLV usually pays FCS schools a guarantee of $300,000, but Jackson State will receive $600,000 as the Las Vegas Convention and Visitors Authority also will put up $300,000 to accommodate the historically black college's renowned marching band, which features more than 300 members and will do several performances here.
"It's more than a football game," Seibel said. "What we'll do around that will be an entire celebration of college football."
The Rebels crushed FCS school Idaho State 80-8 last season but Sanchez isn't taking any game for granted after UNLV suffered consecutive losses to FCS schools in 2011 (Southern Utah) and 2012 (Northern Arizona) and escaped with a 13-12 win over FCS team Northern Colorado in 2014.
"You've got to stay focused," Sanchez said. "You don't want to step on a land mine."
Providing Jackson State's band makes more noise here than its football team, the game should get UNLV off to a flying start and give the Rebels nine days to prepare for UCLA before they travel to Central Michigan on Sept. 17 to take on a Chippewas squad that went to a bowl game last season.
Trying to turn around a Rebels team that went 3-9 last year and has produced only two winning seasons in 21 years, Sanchez is more concerned with how UNLV plays than who it plays.
"We're not at a point where who we play makes any difference. We have to worry about ourselves," he said. "The biggest thing for us is to continue to sustain success. We're very optimistic we can go out this year and build on those three wins."
— Contact reporter Todd Dewey at tdewey@reviewjournal.com or 702-383-0354. Follow him on Twitter: @tdewey33
UNLV future nonconference schedules
(All games subject to change; Home games in CAPS)
2016
Sept. 1 — JACKSON STATE
Sept. 10 — at UCLA
Sept. 17 — at Central Michigan
Sept. 24 — IDAHO
2017
Sept. 2 — TBA
Sept. 9 — at Idaho
Sept. 23 — at Ohio State
Nov. 11 — BYU
2018
Sept. 1 — at Arkansas State
TBA
TBA
TBA
2019
Aug. 31 — at USC
TBA
TBA
TBA
2020
Sept. 5 — Louisiana Tech
Sept. 12 — Arizona State
Sept. 19 — at Iowa State
TBA
2021
TBA
Sept. 11 — at Arizona State
Sept. 18 — Iowa State
TBA
— UNLV athletics department