October 16, 2010 - 11:00 pm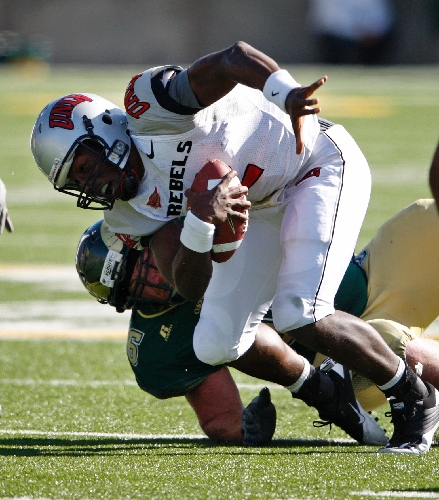 FORT COLLINS, Colo. – Whenever Colorado State needed a key defensive stop, the Rams almost always made it.
And senior nose guard Guy Miller seemed to be involved in every one of them in a 43-10 victory over UNLV on Saturday. He made a school-record 4½ sacks after entering with 3½ for the season.
"I'm trying to get four tackles in the game, so 4½ sacks is ridiculous," Miller said.
He broke Colorado State's record of four sacks, set by Brady Smith in 1995 and Mike Bell in 1977.
"For Guy Miller to do that, particularly in an inside spot, is remarkable," Rams coach Steve Fairchild said. "He's been doing that all year. I find myself in between offensive series not being able to take my eye off of him because he's playing so well."
■ BUILDING FROM THE BOTTOM — Losses like this one point out how important it is for UNLV coach Bobby Hauck and his staff to recruit successfully.
"I don't think that when we're out on the field anyone is saying we look like a championship team," Hauck said. "That's not what we look like. But we need to do better than we did today.
"Certainly, there's a time for all of that (recruiting) and there's a time to play. Today was a time to play, and we didn't play very well. And that, one more time, goes back to the head coach."
UNLV was beaten by a Colorado State team that last won a Mountain West Conference game on Nov. 22, 2008, in a 31-20 victory at Wyoming.
Also, the Rams' 34 first-half points were their most in a half since scoring 38 against UNLV on Nov. 13, 2004.
■ NO PAYNE, HARRINGTON GAINS — UNLV wide receiver Phillip Payne, as expected, was left home for the second game in a row. He was demoted after posting Twitter messages critical of the coaching staff more than a week ago.
In Payne's absence, junior tight end Austin Harrington played his best game, catching six passes for 58 yards.
"The way Colorado State plays on defense opens up some windows for the tight end," Harrington said.
He began to emerge a week ago at West Virginia, catching three passes for 34 yards to lead the Rebels in receiving.
Contact reporter Mark Anderson at manderson@reviewjournal.com or 702-387-2914.