Plenty of memories for UNLV's 'Pooch'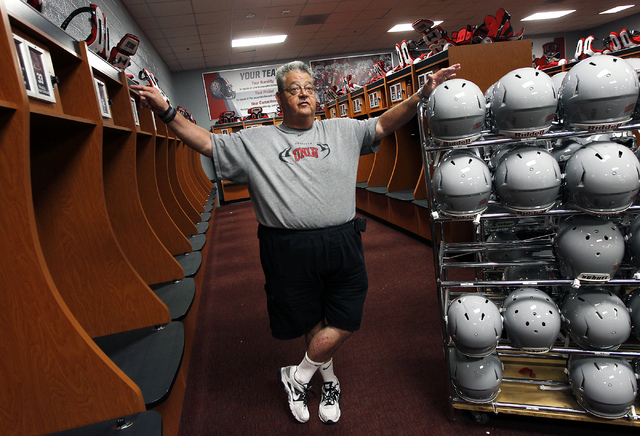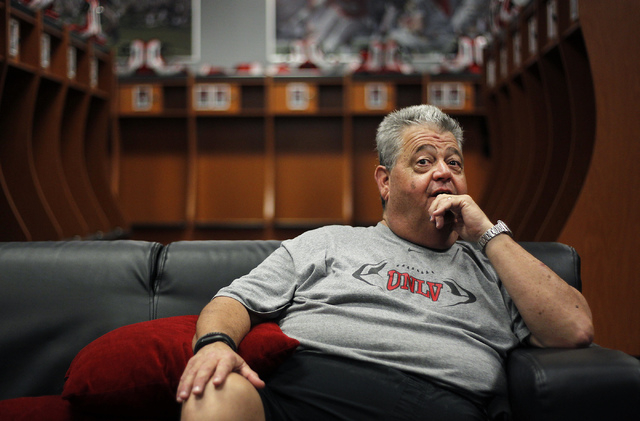 Paul Pucciarelli looked as if he was running in circles, quickly pacing the hallway at Lied Athletic Complex.
But he had a purpose — 15 minutes of power walking every day, which equals a mile workout without having to leave the building.
Pucciarelli, better known around UNLV's football program as "Pooch," is constantly on the go these days, with this morning marking the beginning of his 30th season at the school when training camp opens at 8 a.m.
As the program's equipment director, Pucciarelli is in charge of outfitting the team for camp at Rebel Park while also preparing for the move of camp to Ely by Sunday.
"It's a week(-long) process," he said. "You're running your normal practice, and then the second half of the day, you're spending it loading the truck, inventorying things, and making sure you've got everything on the truck."
Pucciarelli, 60, puts his heart into the Rebels, which made last season even more special for him, the Rebels experiencing their first winning season and bowl appearance in 13 years.
He believes fifth-year coach Bobby Hauck has the program headed in the right direction, a position Pucciarelli has not always held under previous leadership, though he would never badmouth anyone publicly.
Times are fun again, similar to how they were when John Robinson coached the Rebels from 1999 to 2004. Robinson had just one winning season, but created a buzz in the program and made the team competitive on nearly a weekly basis.
That was especially true in 2000 when the Rebels went 8-5 and won the Las Vegas Bowl. The hints of a special season appeared early in the season when UNLV convincingly beat Air Force, UNR and Wyoming while narrowly losing to Colorado State.
That stretch led up to a Oct. 28 visit to Mississippi, but Ole Miss jumped on UNLV early to take a 23-7 lead at halftime.
It was late in that first half, though, that Robinson ordered the offense to stick to the ground game, and UNLV found success. Robinson went into the locker room at halftime and told the players they would score off the opening kickoff, make a defensive stop and get themselves in the game.
"All of the sudden, you felt all the tension in the room go away," Pucciarelli said. "It was like everybody exhaled, and the damnedest thing is we went out and did exactly what he told them to do."
UNLV just fell short, losing 43-40 in overtime, but Pucciarelli was amazed at what he had seen. He approached Robinson after the game and asked how he knew the second half would unfold like that.
"He said, 'Pooch, at that point in time I had to tell them something,' " Pucciarelli said. "That told me what kind of guy John Robinson was. A lot of coaches would've taken that moment to really kind of pump themselves up."
Three years later, the Rebels were in Reno when a UNR fan hit Robinson in the head with an empty plastic beer bottle. Chris Ault, at the time out of coaching and serving as the Wolf Pack's athletic director, quickly arrived with 10 sheriff's deputies.
"I've never seen Coach Ault so upset," Pucciarelli said. "Outside the locker room, people were going crazy. (Ault) started pointing people out in the crowd and having them arrested. He said, 'Arrest him, arrest him, arrest him, arrest him.' He had 10 to 15 people arrested and taken away, and then everything calmed down. He came inside the locker room to see how Coach Robinson was. There was a lot of big-time respect between them."
Pucciarelli remembers getting ready for another meeting with the Wolf Pack, in 1987, when coach Wayne Nunnely came to see him. Nunnely wanted Pucciarelli to put together a uniform for him.
He did just that, and watched Nunnely enter the locker room before the game dressed as if he was going to play.
"The players went nutty," Pucciarelli said. "That was one of the funniest things."
So now Pucciarelli gets ready for another season and what he hopes are more memories.
He has some treasured ones from last season — the three-touchdown comeback against Central Michigan, breaking the 23-game road skid at New Mexico, clinching bowl eligibility in the snow at Air Force, the rout of San Diego State in the regular-season finale, and the trip to the Heart of Dallas Bowl even if the game didn't play out the way he would've preferred.
Those moments make going to work every day even more enjoyable for Pucciarelli, but the relationships with players and coaches are what really make the job.
"You like guys, and then there are guys you tolerate," he said. "Everybody in this locker room, I like."
Contact reporter Mark Anderson at manderson@reviewjournal.com or 702-387-2914. Follow him on Twitter: @markanderson65.