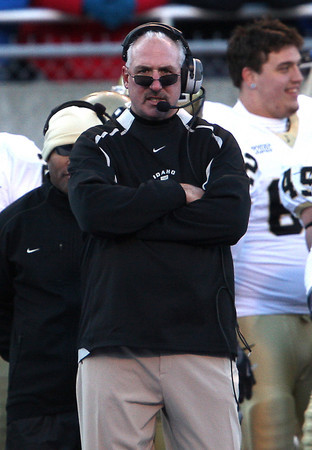 Now that coach Mike Sanford's status has been determined, UNLV faces a decision that will affect its football program for many years.
The Rebels, who also are searching for a permanent athletic director, have plenty of potential candidates to replace Sanford, but no guarantee of success.
UNLV (4-7) hasn't had a winning season or bowl berth since 2000 when College Football Hall of Famer John Robinson was the Rebels' coach.
"I don't think you just get another guy in there and keep everything the same and expect to change," said Robinson, who expressed interest in becoming athletic director. "You've got to recruit aggressively. You have to make sure you have the resources with which to recruit."
Whoever becomes the athletic director will have plenty of decisions to make and coaches to consider. Various sources have mentioned several names as potential coaching candidates.
Indications are UNLV prefers someone with head coaching experience, and the following current head coaches have been floated: Idaho's Robb Akey, Buffalo's Turner Gill, Montana's Bobby Hauck and Fresno State's Pat Hill. Hill also has UNLV ties, having served as offensive coordinator in 1981 and 1982.
But others have head coaching experience, such as Washington defensive coordinator Nick Holt (Idaho), Jacksonville Jaguars offensive coordinator Dirk Koetter (Boise State, Arizona State) and San Diego State defensive coordinator Rocky Long (New Mexico).
The other names sources have mentioned are Robert Anae, Brigham Young offensive coordinator; Rob Ianello, Notre Dame assistant head coach; Andy Ludwig, California offensive coordinator; Brent Venables, Oklahoma defensive coordinator and associate head coach; and Kirby Wilson, Pittsburgh Steelers running backs coach.
Three have local ties. Anae was UNLV's offensive line coach in 1997 and 1998, overseeing the running game in the second season. Venables has recruited Las Vegas, helping the Sooners sign top players such as tailback DeMarco Murray. Wilson was a finalist for the UNLV coaching job in 2004 when Sanford was hired.
Now it's up to Rebels interim athletic director Jerry Koloskie to begin the search process — the permanent AD will finish it — and UNLV apparently is going to up the ante for a new coach.
Sanford earned $425,000 per year; the new coach probably will make around $700,000. Sanford's coordinators made between $145,000 and $170,000 annually; the successors probably will make more than $200,000.
"My job's going to be to move this process forward," Koloskie said.
Contact reporter Mark Anderson at manderson@ reviewjournal.com or 702-387-2914.