Pressure is off UNLV QB Johnny Stanton — for now
August 29, 2016 - 9:35 pm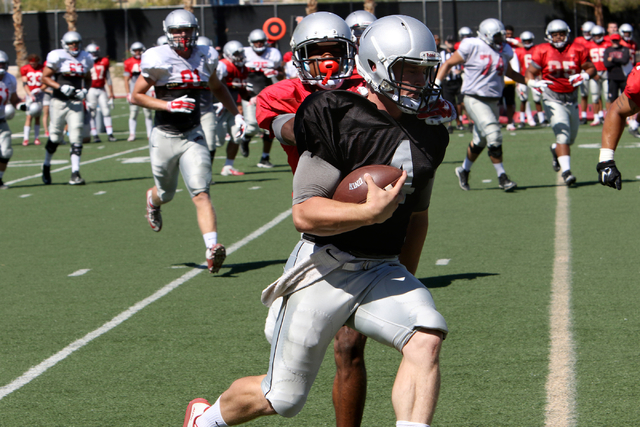 For the first time since Johnny Stanton enrolled at UNLV in January, the former Nebraska quarterback was able to enjoy a relatively stress-free practice Monday, secure in the knowledge that he'd earned the starting job after an almost six-month battle with junior returnee Kurt Palandech.
"It took a long time because Kurt did so well, too, and it was a stressful camp," Stanton said. "But now it's something off my plate and I don't have to worry about that and right now I can just focus on Jackson State.
"I'm still going to have to compete every week because it's never going to be set in stone. But I've always felt like I'm able to thrive when I know I'm the guy and I'm able to put my complete focus into that week's game."
Rebels coach Tony Sanchez called Stanton on Sunday to tell him he'll start UNLV's season opener against Jackson State at 7 p.m. Thursday at Sam Boyd Stadium. Sanchez said the junior college midyear transfer from Saddleback College was instantly more at ease on the field Monday.
"That's the bad thing sometimes about those competitions. You press so hard that you try to make every throw instead of just making smart throws," Sanchez said. "Now that he is the (starter), even today at practice he was a little more relaxed throwing the ball."
Sanchez said the 6-foot-2-inch, 245-pound Stanton got the nod over the 6-2, 185-pound Palandech primarily for his superior arm strength, physicality and ability to run in the red zone.
"He's just a little bit ahead of Kurt right now," Sanchez said. "It's not a knock one bit on Kurt, but we just feel right now Johnny gives us the best chance to go out and be explosive on offense.
"Johnny's ability to run the ball in the red zone really puts a lot of stress on defenses. You've got a 245-pound guy. He can dip the shoulders and get you some of those hard yards."
The fleet-footed Palandech, who excels more as a runner in the open field, missed practice for the second consecutive day Monday with a sore right shoulder. But Sanchez said that wasn't a factor in his decision and he still plans to play Palandech on Thursday.
"Kurt's not totally out of (the mix). You'll see him play," he said. "His arm's a little sore right now. We had him rest that up to get 100 percent healthy so he's ready to go.
"He'll be nipping at Johnny's heels the entire time. I don't want to get into this whole quarterback-controversy-type deal, but we feel we have an able guy that can come on in. He proved that last year."
Palandech played in 11 games last season for the Rebels and started three in place of oft-injured Blake Decker, helping UNLV to a win over UNR. He threw for 794 yards and nine TDs and ran for 293 yards and four TDs.
"I'm going to keep preparing like I'm playing and I've just got to get healthy," Palandech said. "I might not get every snap, but I've got to make the most of the ones I do get."
Sanchez said his tentative plan is to insert Palandech into Thursday's game in the second quarter.
"It might be the first series of the second quarter," he said. "We don't want to put it in stone, but that's kind of what we're thinking right now. He will be in the game."
And the quarterback competition will start all over again.
"You have to go in with the whole mindset that you're never coming back out. Like (Lou) Gehrig and Wally Pipp," Sanchez said. "When you get the opportunity, don't lose it. You've got to go out and produce every single day, and if you don't, someone else is behind you ready to take the job."
Contact reporter Todd Dewey at tdewey@reviewjournal.com or 702-383-0354. Follow on Twitter: @tdewey33
Visit our GameDay page for full coverage of the UNLV-Jackson State game.