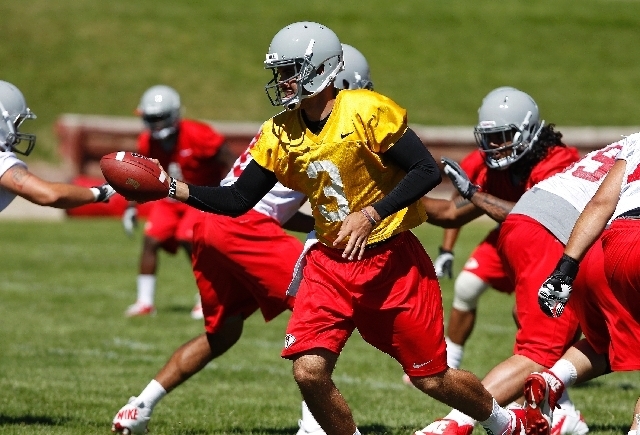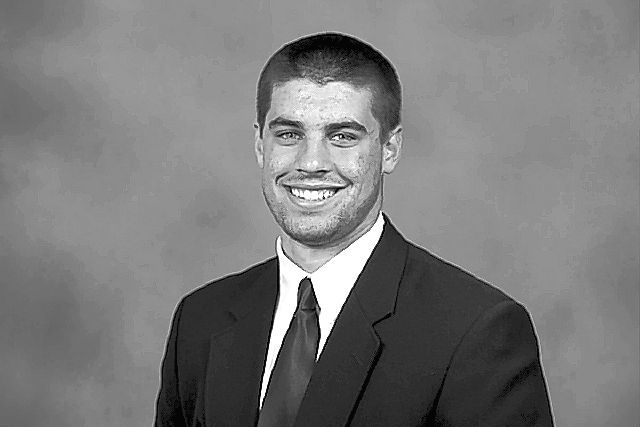 The piped-in crowd noise at Rebel Park was loud Monday night, but Nick Sherry kept his cool and lofted a pass toward the back left corner of the end zone to wide receiver Marcus Sullivan.
Sherry's pass had to be perfect.
Too long, and Sullivan couldn't make the catch. Too short, and the scout-team defender at least could knock down the pass, if not intercept it.
Sherry's pass was, indeed, perfect. Sullivan made the difficult grab, and the first-team offense had a touchdown.
That play highlighted the fine line for UNLV's sophomore quarterback. Sherry can't make mistakes, but he also can't be afraid to be aggressive because the Rebels need him to make plays.
Too many interceptions or too few big plays, and the Rebels lose.
"I think you tell people what you want them to do, not what you don't want them to do," offensive coordinator and quarterbacks coach Timm Rosenbach said. "We don't talk about anything other than protecting the football."
UNLV, which opens its season at 4 p.m. PDT Thursday at Minnesota, can't make many mistakes and expect to beat the Golden Gophers.
Last season, the Rebels turned the ball over 23 times (six fumbles, 17 interceptions) and took it away 17 times. UNLV's average turnover margin — minus .46 a game — ranked eighth of 10 teams in the Mountain West and 94th out of 120 teams nationally. Perhaps it was little surprise they went 2-11.
By comparison, Boise State (36 takeaways, 16 turnovers) and Fresno State (35, 20) were in the top 10 nationally in turnover margin. No surprise they shared the conference title with San Diego State.
Coaches are loathe to read too much into statistics, but turnover margin is one universally cited as being critical to success. Rebels coach Bobby Hauck said his eyes were opened by a study several years ago showing the effect turnovers had on winning and losing.
Hauck got his point across to Sherry in training camp.
He demoted Sherry twice to the second team, once after the quarterback threw his fourth interception in two days and the second time after Sherry nearly had a pass picked off. On the second demotion, Hauck said it was more about Sherry getting more work done as the backups took the field.
"There are times when you let them fight through when they make mistakes," Rosenbach said. "There are other times, you've got to say, 'Look, go watch.' The mistakes you don't want to see happen are the repetitive ones."
Hauck let it be known during camp in Ely he wouldn't hesitate to make a change if Sherry continued to throw interceptions. Sherry cleaned it up, and Hauck more recently has raved about his progress.
"The only gauge I have to compare is where he was in spring ball a year ago versus where he is now, where he was in fall camp a year ago versus where he is now," Hauck said. "Beginning as recently as (Sunday) night's practice, he looked very sharp."
Sherry showed great promise last season in passing for 2,544 yards and 16 touchdowns, the yardage total the seventh highest in UNLV history. But he also threw 17 interceptions, finishing the season with seven in his final three starts.
Rosenbach worked with Sherry on proper footwork to cut down on those interceptions.
"When my feet get lazy, the ball gets lazy," Sherry said. "It doesn't go where I want it to go."
■ NOTES — Redshirt freshman linebacker Tau Lotulelei was injured in practice Monday and had his left foot and ankle wrapped. Hauck said he wouldn't know Lotulelei's status until at least today. … UNLV released its depth chart, with no major surprises. The one position that remained in doubt, punter, was won by sophomore Logan Yunker, a UNR transfer and Arbor View High School graduate.
Contact reporter Mark Anderson at manderson@reviewjournal.com or 702-387-2914. Follow him on Twitter: @markanderson65.