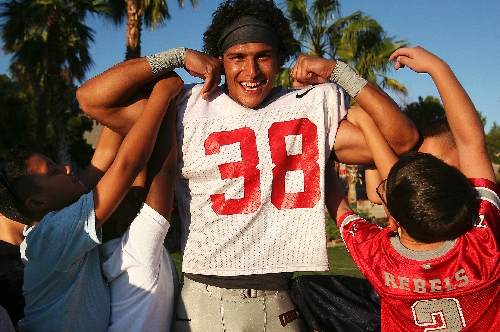 UNLV senior linebacker Calvin Randleman will make his first start for the Rebels when they play No. 12 Wisconsin in their season opener at 8 p.m. Saturday at Sam Boyd Stadium.
He is a converted safety, and at 6 feet, 200 pounds, is small for a linebacker. But Rebels coaches like Randleman's athleticism, and they want to make that position more versatile.
Randleman played his first two seasons at Ashland, an Ohio Division II school between Cleveland and Columbus. His father, Kevin, is a mixed martial artist who was the Ultimate Fighting Championship heavyweight champion in 2000 and 2001. Kevin Randleman also was a two-time NCAA champion wrestler at Ohio State and is in that school's hall of fame.
Calvin Randleman said he gets his work ethic from his father and that he also believes in being a role model. Randleman was the last player to leave UNLV's practice field Tuesday because he spent time playing and running with a group of kids.
He also spent time with the Review-Journal answering questions.
1. How did you end up at UNLV?
My dad was always telling me that there's a new team that he follows out here. So after my two years in Ohio, he was telling me, "You should come out here and play." He's been here for six years. … I had been coming in the summers for a while. I ended up taking him up on the offer.
2. What kind of advice does your dad give you?
He's always positive.
He's always saying, "Never take a day off. Don't get lulled to sleep. You haven't made it. You haven't done anything yet."
He very rarely says he's proud of me just so I don't become complacent. He's always on me. Very rarely do you get compliments from my dad. He's a hard-nosed guy.
3. Do you get your determination from him?
He's a driving force. He's always behind me helping me to push forward, but coach (J.D.) Williams said in our first meeting here to the (defensive backs): "Your drive to play football has got to come from within. You've got to be a self-motivated person because in this game there will be times you don't want to play."
4. Do you get your work ethic from your dad?
I definitely give him that. When I was 12 years old, he used to take me to the gym. He instilled in me some good qualities to know when you're working hard and when you're just surviving.
5. Why did you spend so much time after practice playing with the kids?
The kids that come out here, they don't know if I'm good or not. They don't care, either. I'm doing what someday they hope to do. Sometimes we say around the locker room "keep living the dream" because there are a lot of people who can't do what you do. Don't take it for granted.
Kids are just joyful. There's nothing better than being young and having no cares in the world. They're not worried about rent. They're not worried about paying phone bills or anything like that. They're just happy to see somebody who is in a uniform.
6. DO You take being a role model seriously?
You always want to be somebody that parents are thanking for your time. That's nothing. I would do that all day.
7. On the field, when you see a larger tight end you have to defend, what do you think?
I usually think, "What does he think of me?" More times than not, it's probably, "I'm going to really give it to this guy." But he has no idea of my background. He has no idea of where I'm from. And he has no idea of how bad I want this.
8. How have the coaches made you a better player?
Everybody on our staff is always in my ear. Any time that they think I'm just cruising, they're right on me, like, "Calvin, that's not good enough. You're not chasing the ball. That's not a good fit. That's a missed tackle."
Compliments are far and few between, so you're always in that mindset that you've got to keep competing.
9. Where do you see yourself in 10 years?
I actually wrote that goal down. … Goals aren't commandments. They're not set in stone, so I reserve the right to change, but in 10 years, (I'll have) a degree, maybe two, working at a place of business. No idea what that will be, what kind it could be. Possibly living overseas doing that business.
10. Any advice for Tiger Woods?
You should ask me that question after this semester. I'm taking a family communication course, so I'm sure we'll touch on divorce. … What textbook about family and marriage wouldn't have him in there after 2009?
■ NOTE — Senior offensive tackle Matt Murphy (leg) returned to practice Wednesday, and it appears he will play against Wisconsin.
Contact reporter Mark Anderson at manderson@reviewjournal.com or 702-387-2914.