QB Dalton Sneed rewards faith from UNLV coaching staff
October 5, 2016 - 10:54 pm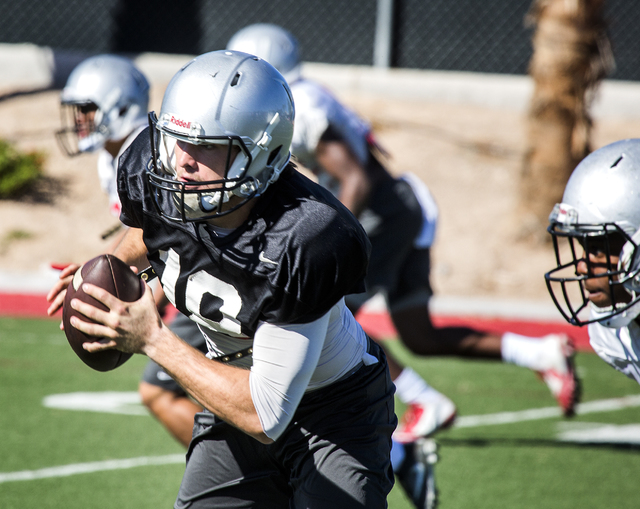 UNLV quarterback Dalton Sneed had no problem getting noticed in his first collegiate start against Fresno State on Saturday, when he turned a near safety into a 91-yard touchdown run to help the Rebels to a 45-20 win.
The redshirt freshman received more than 60 text messages and countless mentions on Twitter and said it was surreal seeing his great escape showcased on ESPN's Top 10 plays.
"It was a crazy feeling," Sneed said Wednesday after practice at Rebel Park, where UNLV (2-3, 1-0 Mountain West) is preparing for Saturday's 7:30 p.m. game at San Diego State (3-1, 0-0).
Sneed had much more trouble attracting the attention of college recruiters coming out of Horizon High School in Scottsdale, Arizona. Despite setting several Arizona high school records, including career touchdown passes (87) and career passing yards (8,377), Sneed received only one Division I scholarship offer — from UNLV.
The 6-foot, 195-pound Sneed said he's not sure if it was his size that kept recruiters away, but he has used the snubs as motivation.
"Absolutely," he said. "Look at all the other quarterbacks around college football that are 6-foot and are labeled too small. That goes for every position. That's going to drive you.
"If people say you can't do it, if they say you're too small to play, that's going to drive you."
UNLV coach Tony Sanchez said height can be overrated.
"Look at (New Orleans Saints quarterback) Drew Brees and guys like that. They're about the exact same height. If you can play, you can play this game," he said. "We get really hypercritical when we recruit quarterbacks. What you don't know is that guy's mindset, the attitude he brings in the huddle and his leadership abilities."
After committing to the Rebels' previous coach, Bobby Hauck — now the Aztecs' special teams coordinator — Sneed became concerned his scholarship offer might be pulled when Hauck and his staff departed after the 2014 season.
However, about a month before signing day, Sneed was told Sanchez would honor his commitment.
"When we watched Dalton's film, you saw the energy he played with. You saw the potential. You knew the room for growth was there," Sanchez said. "He kind of had a little bit of the 'it' factor, and we saw some of that this last game.
"Once we got to know him, we knew he was a guy that fit right in personality-wise. It's such a big deal at that position. You've got to have some swagger."
Sneed — whose mother named him Dalton after Patrick Swayze's bouncer character in the 1989 movie "Road House" — said he gets his confidence and competitiveness from his father, Mike, a Phoenix firefighter.
"Growing up, he turned everything into a competition, and that's what gave me my competitive spirit and my drive," Sneed said. "He always wanted me to be the best in what I did."
Rebels receiver Devonte Boyd said Sneed is the ultimate competitor.
"He competes in everything we do. He's been doing that since he got here," Boyd said. "If you watch him in warmups, the sprints we're supposed to be going 80 percent, he's going 100. Everything we do, he's always trying to win."
Sneed rushed for 147 yards against Fresno State and completed 8 of 16 passes for 129 yards and a 61-yard touchdown with no turnovers. He'll face a much tougher test against the defending conference champion Aztecs, who feature the nation's 14th-ranked rushing defense.
"Even if you hang your hat on the run game, you've still got to be able to throw the ball to win games," Sanchez said. "Dalton's going to have to make some throws. We'd like to put the ball in the air at least 25 times a game to balance what we do."
Sneed, who helped UNLV play its first turnover-free game this season, welcomes the challenge.
"If we play within the offense and make the right reads, I think we'll be able to move the ball on them," he said.
Contact reporter Todd Dewey at tdewey@reviewjournal.com or 702-383-0354. Follow him on Twitter: @tdewey33
RELATED
Dalton Sneed debuts as starting quarterback for UNLV Rebels
Visit our GameDay page for full coverage of the UNLV-San Diego State game.
UNLV vs. San Diego State
Where: Qualcomm Stadium, San Diego
When: 7:30 p.m. Saturday
TV/Radio: ESPNU; KWWN (1100 AM, 100.9 FM)
Line: Aztecs -14