QB Dalton Sneed silent, but coaches, players expect loud UNLV debut
September 30, 2016 - 11:03 pm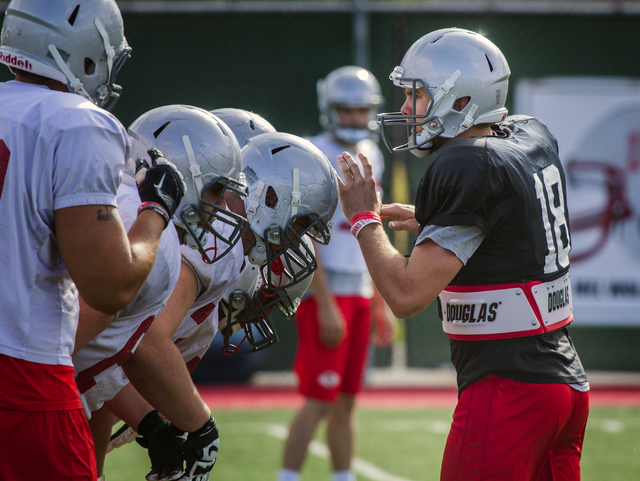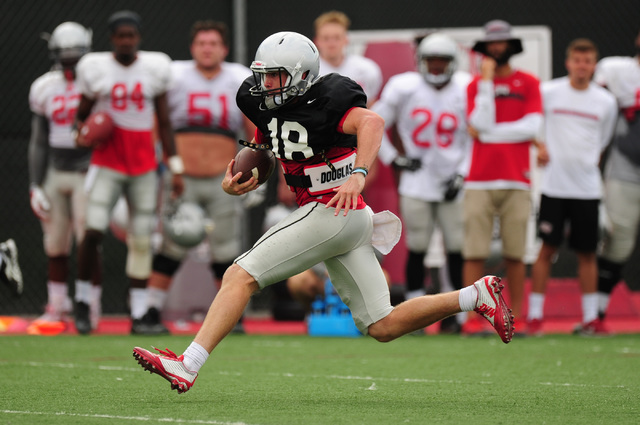 When told that UNLV quarterback Dalton Sneed was off limits to media this week because the redshirt freshman already has enough pressure on him preparing for his first collegiate start, Kris Heavner didn't mince words.
"He doesn't feel pressure. Dalton's a rock," said Heavner, who coached Sneed in his final two seasons at Horizon High School in Scottsdale, Arizona, and was a two-year starting quarterback for the University of Arizona.
"He's one of the guys that when the pressure builds, he feeds off the pressure, he doesn't succumb to it. The bigger the game, the bigger the moment, the better he plays.
"I wouldn't be surprised if he goes out and plays really well and gets that program going in the right direction and turns it around for coach (Tony) Sanchez. We all know to win championships, you need a good quarterback, and he's a good one."
With starter Johnny Stanton out at least three to four weeks with a knee injury, Sanchez named Sneed the starter for Saturday's 7:30 p.m. Mountain West opener against Fresno State in a matchup of 1-3 teams at Sam Boyd Stadium.
"We were just planning on moving forward with Johnny, coaching him up a little bit. But maybe this is a spark," Sanchez said. "I think it will be."
Sneed, who completed his only career pass attempt for 6 yards in UNLV's opener, was listed as the No. 3 quarterback behind Stanton and junior returnee Kurt Palandech throughout the offseason before earning the starting nod over Palandech, whom Sanchez said has been slow to come back from shoulder and biceps injuries that have sidelined him all season.
"With Kurt, the last couple of weeks he's been a little more tentative running the football, where Dalton's been a million miles an hour running downhill," Sanchez said. "He's a scrappy guy. He's definitely got some swagger. He's a really confident kid. He'll play with his hair on fire.
"We're just going to have to settle him down. I'm worried about him throwing the ball three rows deep into the bleachers on the first couple of plays. If he doesn't do that and settles in, he'll be all right. He's got the fire, and the guys are excited about him."
Sneed holds Arizona high school records for touchdown passes in a game (seven) and career (87) and passing yards in a season (3,740) and career (8,377). He was the only oral commit to the previous UNLV coaching staff when Sanchez took over after the 2014 season, and Sanchez honored the commitment.
"He's one of those guys I think can come in and just light up the show," said Rebels center Will Kreitler, a fellow Arizonan. "Kind of like in comparison to Tom Brady. I know that's a huge exaggeration, but Drew Bledsoe goes down and Tom Brady comes in and he just kills it. Dalton's that kind of guy because of how much he studies. He knows the playbook in and out. He might surprise people."
If that wasn't enough, Kreitler also compared Sneed to Peyton Manning for his propensity to call audibles.
"He has the mentality," Kreitler said after laughing at comparing Sneed to two of the best quarterbacks ever. "One thing about Dalton, he's always been fearless. He's not afraid to make calls.
"That kid loves football. It's fun to watch him. He's got such great passion."
Despite his prolific prep passing numbers, the 6-foot, 195-pound Sneed was overlooked by every major program except UNLV, mostly because of his size.
"I was trying to get (Arizona) to recruit Dalton, but they wouldn't because of the whole size factor," Heavner said. "In my opinion, those measurement things don't even matter. If a guy can play, he can play.
"He's a guy that makes plays. He's got that ability, that 'it' factor. Some guys don't have it. He's got it."
Contact reporter Todd Dewey at tdewey@reviewjournal.com or 702-383-0354. Follow him on Twitter: @tdewey33
Visit our GameDay page for full coverage of the UNLV-Fresno State game.
UNLV vs. Fresno State
WHEN: 7:30 p.m. Saturday
WHERE: Sam Boyd Stadium
TV/RADIO: CBS Sports Network; KWWN (1100 AM, 100.9 FM)
LINE: UNLV -9½; total 58