Quarterback decision looms over UNLV this week
October 31, 2017 - 5:28 pm
Updated October 31, 2017 - 6:43 pm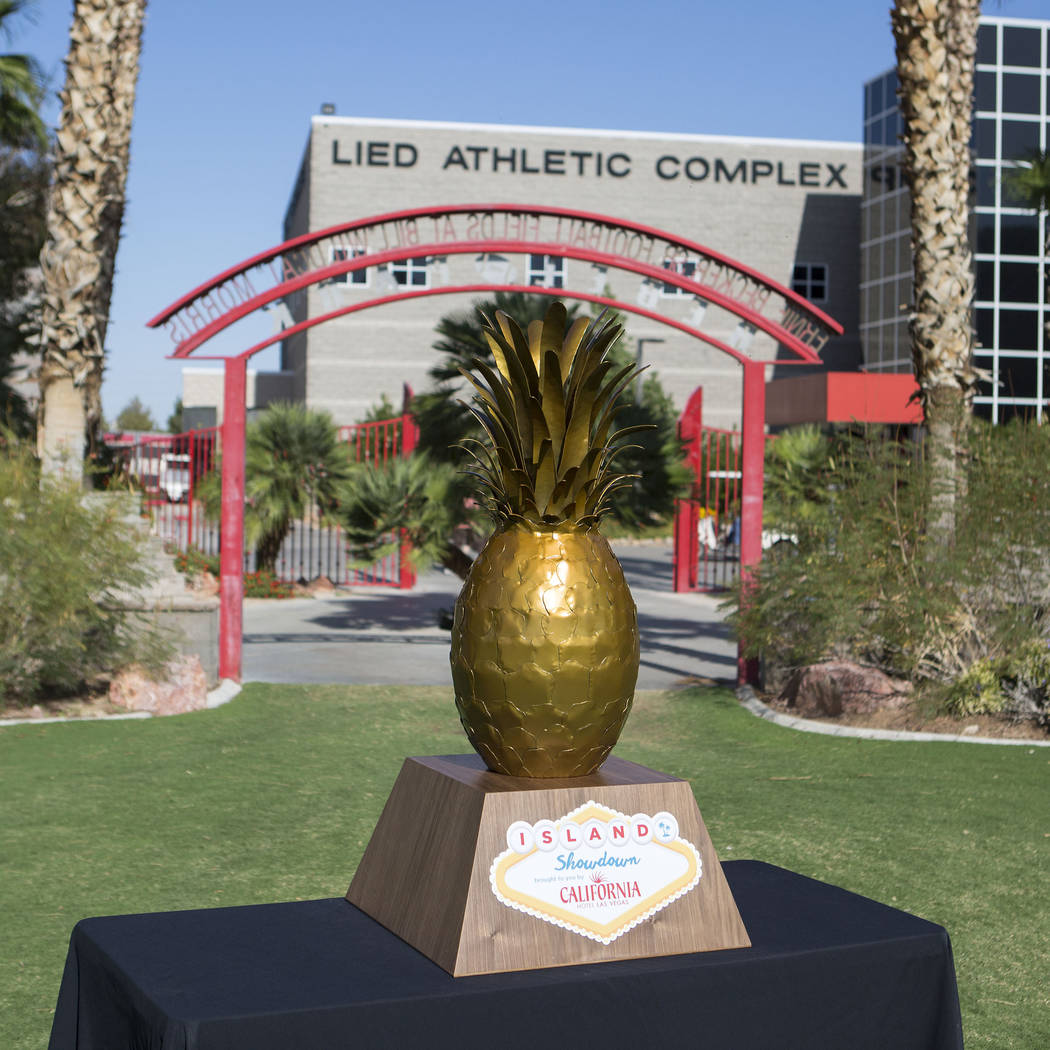 UNLV's football coaches face a big decision to make this week regarding its quarterback position.
They can put redshirt freshman Armani Rogers back in charge, stay with senior Johnny Stanton or play both when the Rebels face Hawaii at 3 p.m. Saturday at Sam Boyd Stadium.
"We've got to sit down as a staff," Sanchez said Tuesday. "We've got to make sure we're talking to the two players about it and make sure we're communicating the right way with them so the messaging's correct. But we've also got to make sure we do the best job we can to get ready to go win a game this week, so whoever we feel like is going to give us that best opportunity we're going to go with."
The Rebels (3-5, 2-3 Mountain West) are 7½-point favorites over Hawaii (3-5, 1-4). The game won't be televised locally, but is available on the WatchStadium app. UNLV has a narrow window to become bowl eligible, and must win three of its final four games.
The Rebels come off a 26-16 victory Saturday at Fresno State in which the Rebels were more than three-touchdown underdogs. With Rogers sidelined because of a concussion, Stanton started and completed 17 of 29 passes for 155 yards to end a three-game losing streak.
Rogers had failed to complete at least 50 percent of his passes in those past three games, but defenses still had to respect his ability to stretch the field. He also is a dangerous runner, having gained 535 yards this season on 5.6 per carry.
So coaches could decide Stanton is the player based on his most recent performance, but Rogers is the quarterback of the future who won the job last spring.
"They're both more than capable," Sanchez said. "It's like splitting hairs. We're not choosing the lesser of the evils. This is a good situation to have. You have a senior who's playing really well right now, and you've got one of the most talented freshmen to ever come through this program right there behind him."
The immediate concern is to make sure Rogers has recovered, and Sanchez said the early indications were good.
"Sometimes after an injury like that, it's the six inches between the ears that you've got to get right and make sure he's confident that he can go out there and play his game," Sanchez said. "He's a physical quarterback, he's a running quarterback, so he needs the confidence that he's healthy to go out and play that kind of football. If he can, then don't be surprised to see both guys out there."
Contact Mark Anderson at manderson@reviewjournal.com. Follow @markanderson65 on Twitter.
New trophy for Showdown
UNLV and Hawaii will play for the Island Showdown Trophy when they meet at 3 p.m. Saturday at Sam Boyd Stadium.
The trophy is in the shape of a gold pineapple with a nod to the Las Vegas welcome sign.
Hawaii is UNLV's second-most intense rival, behind only UNR. Now both series have a trophy; UNLV and the Wolf Pack play for the Fremont Cannon.
UNLV's series with Hawaii also now is called the Ninth Island Showdown. Las Vegas is often referred to as the "Ninth Island" because of the high number of Hawaiians who visit and make their home in the valley.
— Mark Anderson