Rebels' backs again running with purpose
March 22, 2010 - 11:00 pm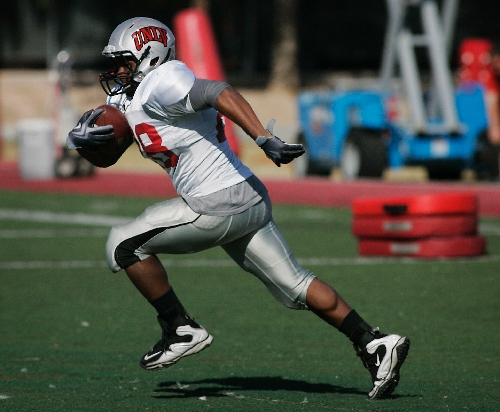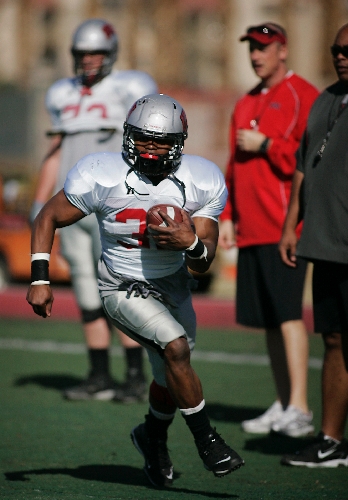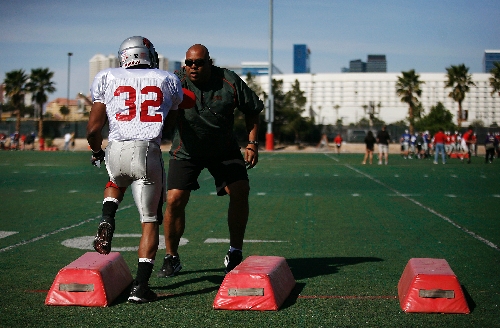 UNLV linebacker Ronnie Paulo slammed into Channing Trotter in a recent goal-line drill, laying a hit so hard that most running backs would've crumpled to the ground.
But Trotter didn't fall. He stopped momentarily, gathered himself and then shot past Paulo and linebacker Nate Carter into the end zone.
The play was reminiscent of last season, when Trotter would often drag defenders for extra yards but then disappear to the bench for long stretches under a coaching staff that didn't emphasize the running game.
The Rebels' new regime does, and Trotter knows that being more productive is the key to receiving more carries, both in spring practices and during the season.
"It gets me excited to lift harder," Trotter said. "I'm getting in better shape because I'm going to be carrying a lot more of the load than last year."
Trotter, a 5-foot-9-inch, 200-pound senior, has competition from junior C.J. Cox (5-11, 200), redshirt freshman Bradley Randle (5-7, 190) and sophomore Imari Thompson (5-9, 200).
Two incoming freshmen will join the battle in August: Dionza Bradford (6-0, 200) and Tim Cornett (6-0, 195).
"They're a little bit bigger than the guys we've got now," running backs coach Dominic Daste said. "But what's good about it is the guys we have here now will do such a great job of teaching them how to play the game."
Coach Bobby Hauck said the Rebels will begin the season with some sort of running back-by-committee system.
"We'll want him down the stretch healthy," Hauck said.
Trotter is the early favorite to win the job. He led UNLV with 541 yards rushing and nine touchdowns last season. Cox ran for 173 yards and Thompson for 24.
Randle has shown this spring why he was a highly touted recruit. On the goal-line drill from the 5, Randle zipped 4 yards before defensive tackle Malo Taumua even could get a hand on him and scored a touchdown.
Randle is excited about playing in a more traditional offense, like the one his high school team used. UNLV ran the shotgun spread the past five seasons under coach Mike Sanford.
"I've got a fullback," Randle said. "That's a beautiful thing."
Hauck coached Montana to the top of the Big Sky Conference in rushing last season, averaging 160.2 yards per game.
Under Sanford and offensive coordinator Todd Berry, Trotter averaged 4.7 yards per carry and only 9.5 rushes per game. UNLV's 126.8-yard rushing average ranked seventh in the nine-team Mountain West Conference.
Trotter acknowledged being frustrated last season, saying, "If I'm not getting carries … I can't contribute to the team."
Now the running backs know they will be a larger part of the offense.
"That's what any running back would want, that type of offense like we'll run," Cox said. "It's going to be nice."
Contact reporter Mark Anderson at manderson@reviewjournal.com or 702-387-2914.