Rebels' bowl hopes take a hit with loss to BYU
November 10, 2017 - 11:10 pm
Updated November 11, 2017 - 12:35 am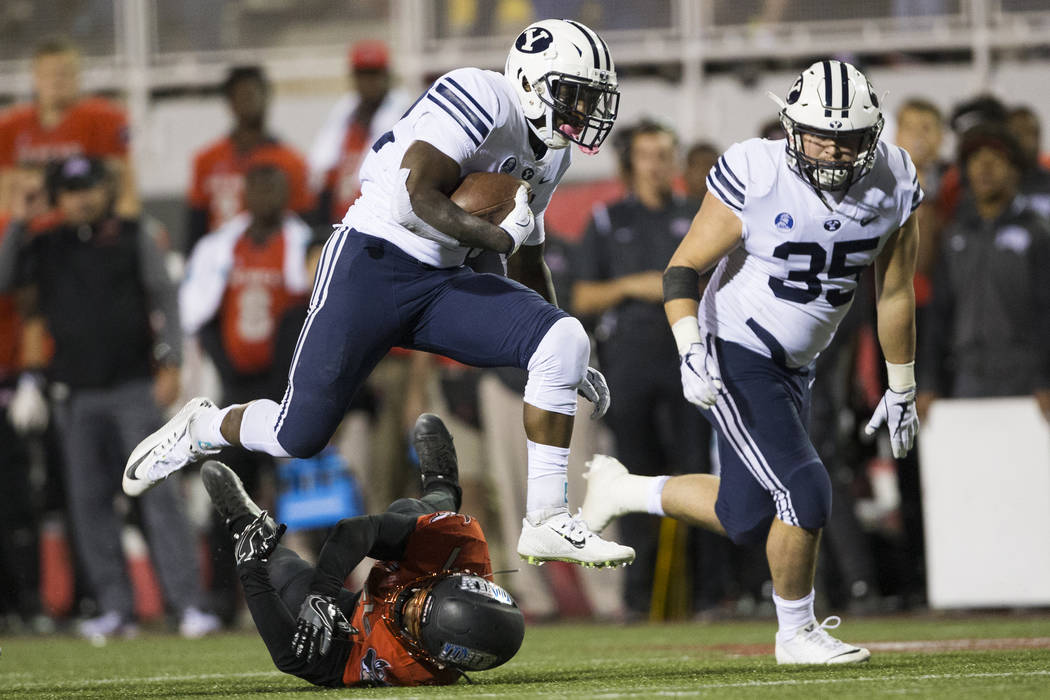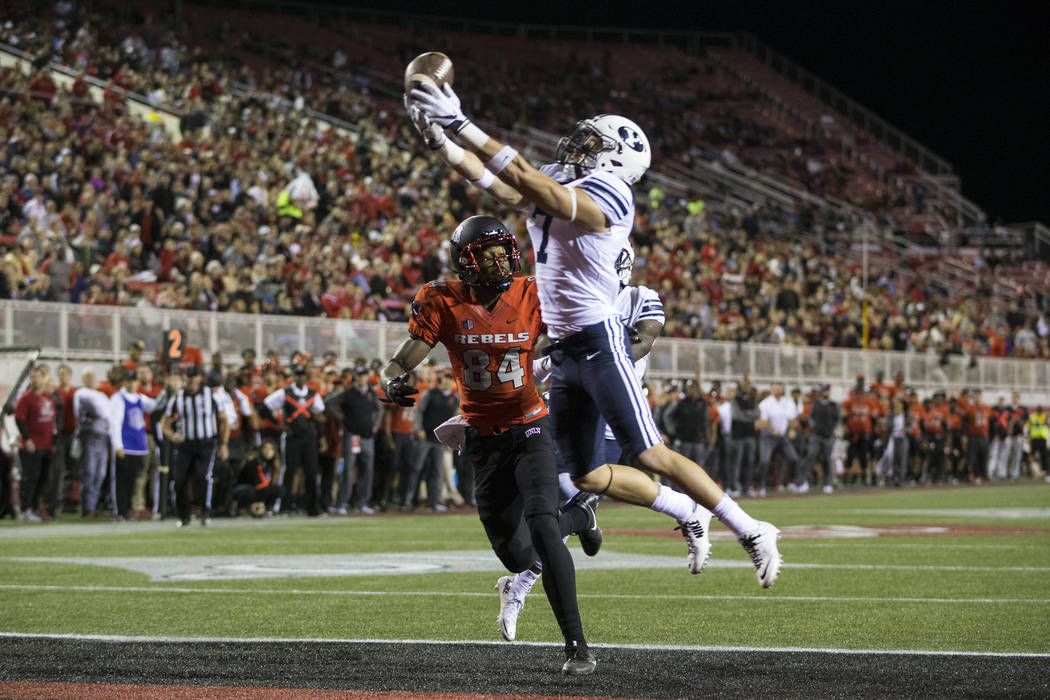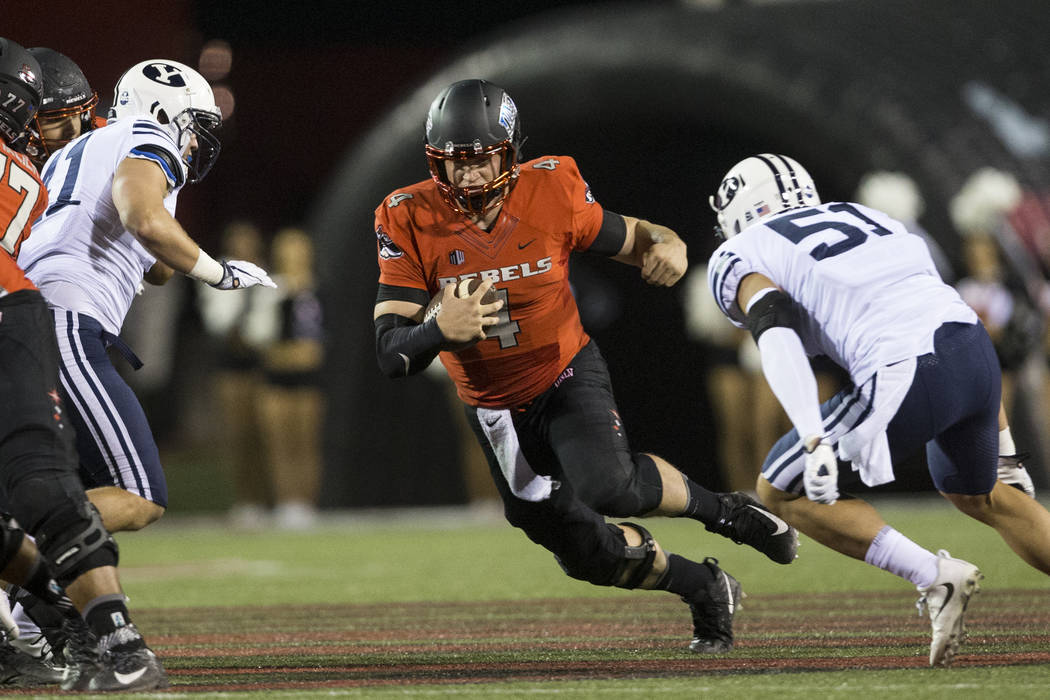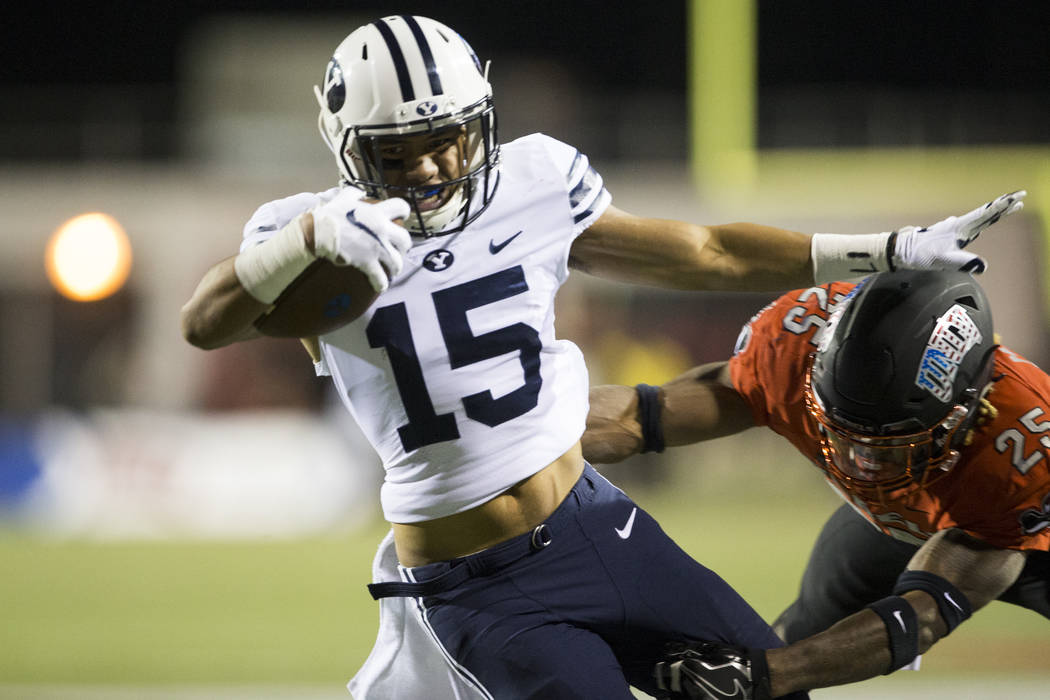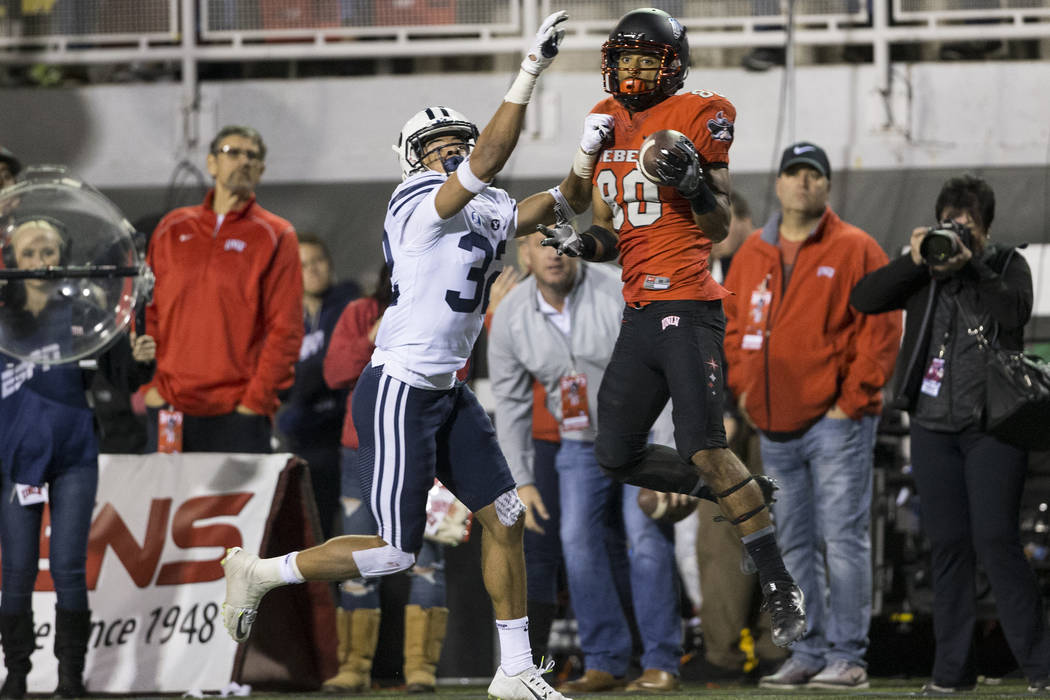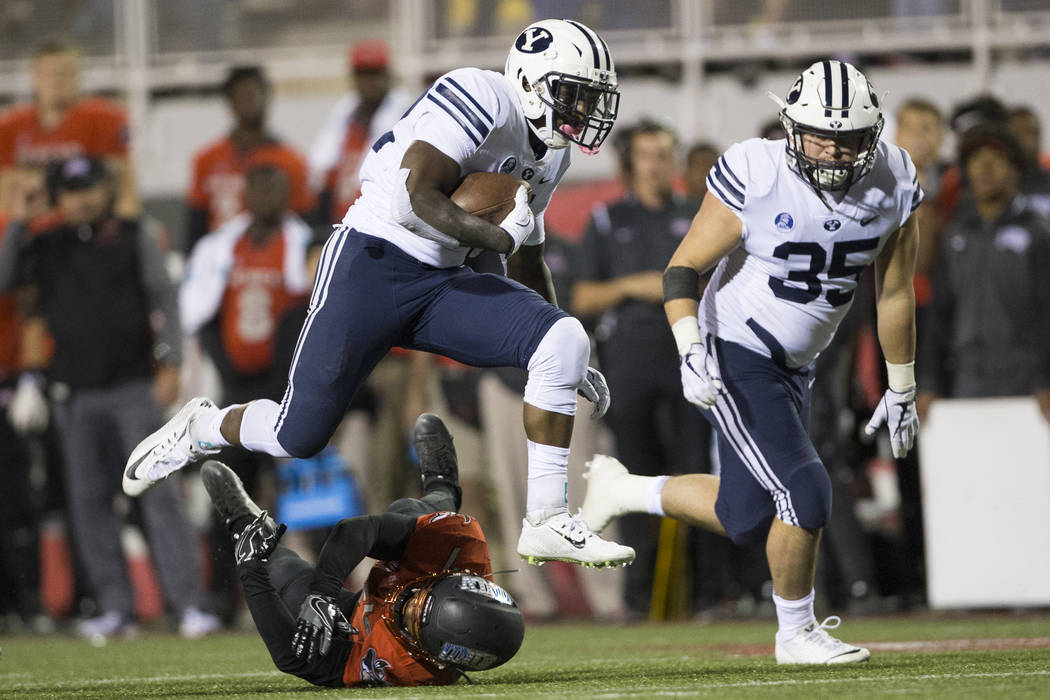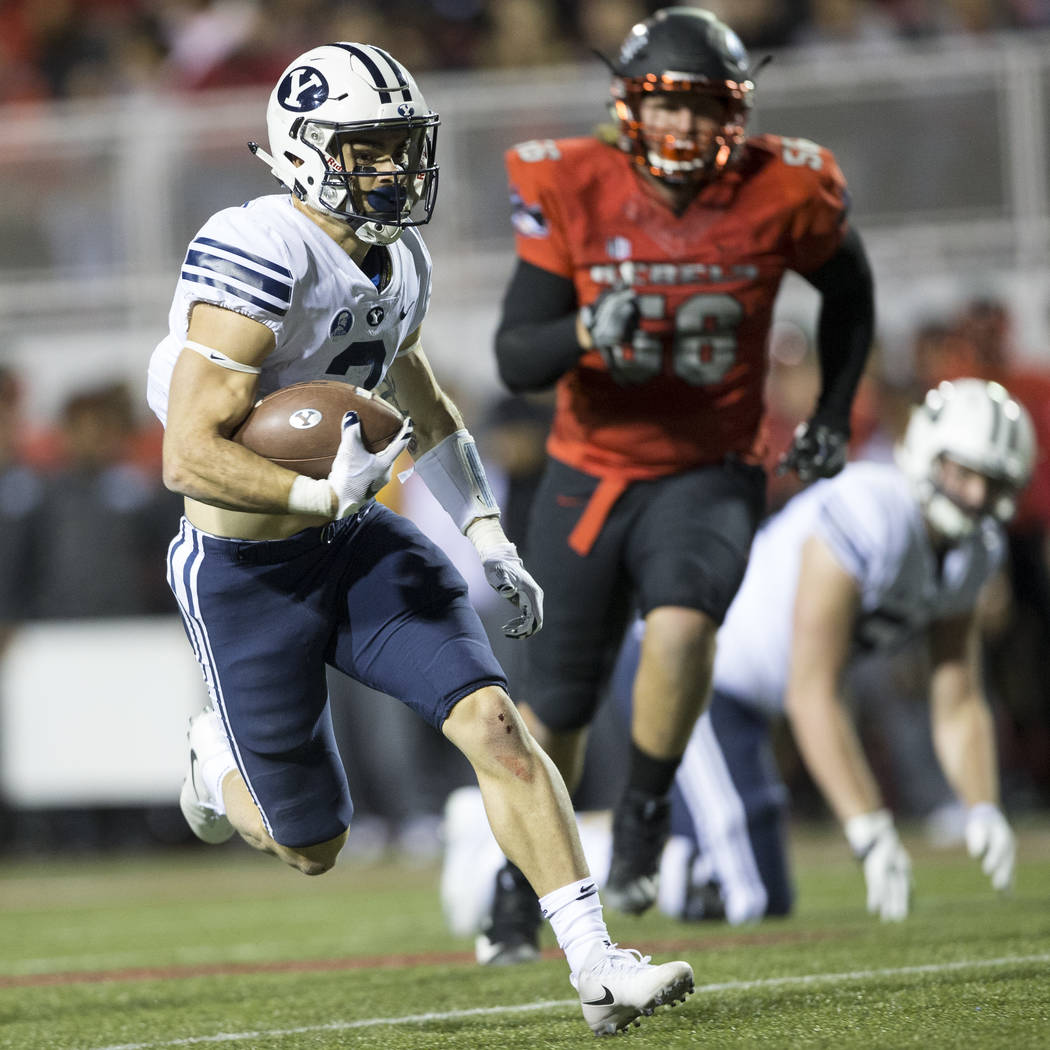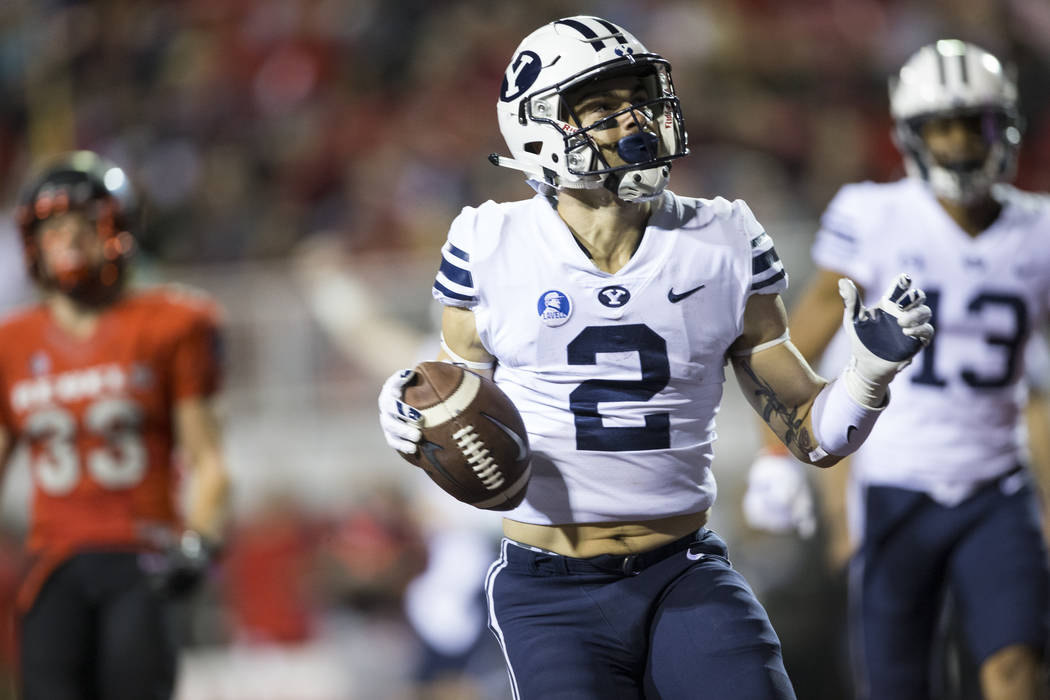 UNLV went into Friday night with everything to play for, facing a Brigham Young football team that had nothing going its way.
But if there is one constant in this series, the Cougars own UNLV at Sam Boyd Stadium. With a 31-21 victory, it was BYU's ninth win in nine games over the Rebels in Las Vegas.
"We're leaving the facility tonight with a game we had an opportunity to win," UNLV coach Tony Sanchez said. "I wouldn't say we should've won it. They played good, too. They did some really good things. We're not at a point where we should've won that game, but we could've won that game if we had executed better and done some different things."
This was a particularly costly loss for UNLV (4-6), which hoped to build on the momentum of back-to-back victories and get to .500 and set itself up for a good shot at bowl eligibility. Now the Rebels have to win at New Mexico on Friday and at UNR on Nov. 25 to get there.
But if the Rebels weren't going to beat the worst BYU team in at least 14 years, it's pushing the envelope of believability to think they now will pull off consecutive road victories.
BYU (3-8) took a 14-7 lead with 27 seconds remaining in the first half on a sensational touchdown catch by Aleva Hifo, who barely got his right foot inbounds. The game remained close throughout, but the Cougars never trailed after that score.
The Rebels couldn't stop BYU running back Squally Canada, who rushed for 213 yards and a touchdown on 25 carries. He had gained only 333 yards entering the game, but consistently found himself several yards downfield before being touched as BYU's offensive line manhandled UNLV's defensive front.
"I felt like they were more physical at the point of attack than we were," Sanchez said.
UNLV defensive tackle Mike Hughes Jr. said the Cougars adjusted their running style in the second half. Canada gained 183 yards after halftime.
"They usually have the stretches, and they weren't running through the stretches," Hughes said. "They were cutting it back, so everybody was rushing to the side of the stretch. He would cut it back, and there would be nobody there."
UNLV's Johnny Stanton started for the third consecutive game and completed 20 of 33 passes for 325 yards and two touchdowns, the first time a Rebels quarterback had thrown for more than 300 yards since Blake Decker passed for 357 on Oct. 31, 2015, against Boise State.
But Stanton also missed some open receivers, took a sack that cost UNLV a potential field goal and threw two interceptions.
One of those interceptions came after about a seven-minute drive to the Cougars' 15-yard line. On third-and-7, Stanton was picked off in the end zone.
"It's situational awareness," Sanchez said. "You have to know you don't force the ball there. If he's not open, you throw it away, you kick. It's early in the game."
The Cougars, who picked up only one first down on their first two drives, then drove 80 yards to take a 7-0 lead with 9:06 left in the second quarter.
"It's about as frustrating as a loss could be," Stanton said. "We had chances in that game. I made a lot of mistakes. I turned the ball over in the red zone, which you can never do. There are going to be a lot of things that we look at (Sunday)."
Contact Mark Anderson at manderson@reviewjournal.com. Follow @markanderson65 on Twitter.