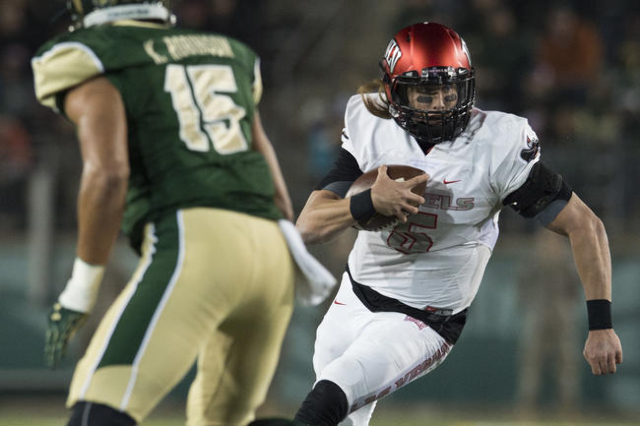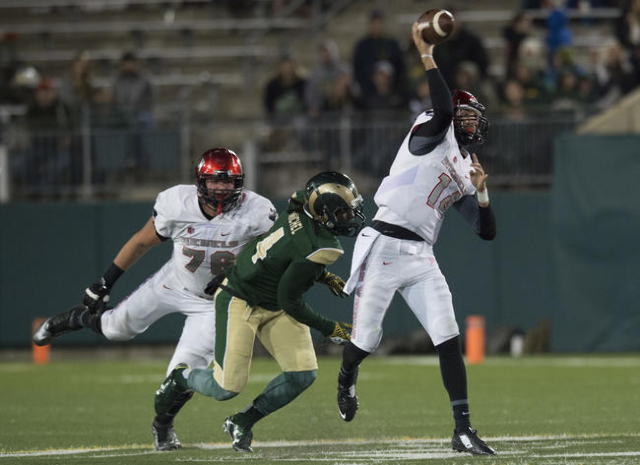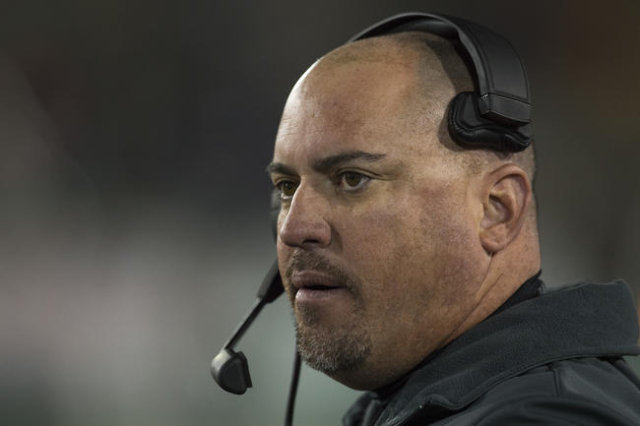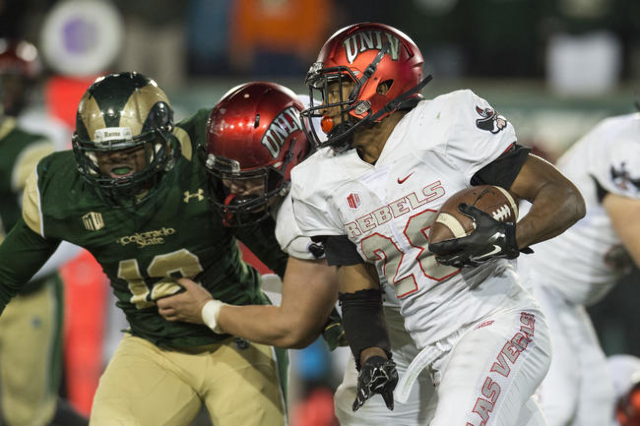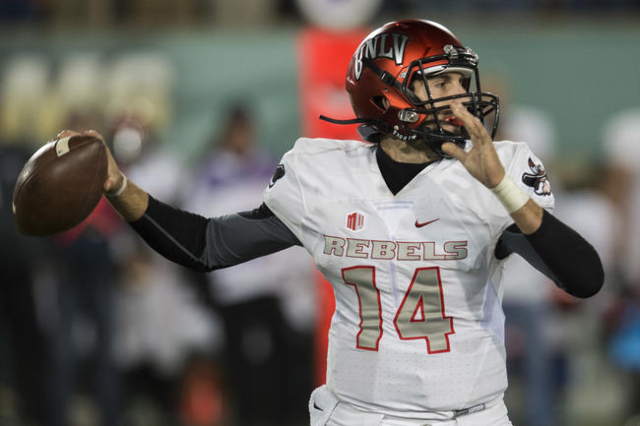 FORT COLLINS, Colo. — The scene has become painfully familiar for UNLV football fans, the sight of quarterback Blake Decker being helped off the field, his return uncertain.
Maybe Decker would have led the Rebels to victory Saturday, but he would have needed a career night to do it.
This loss isn't on backup quarterback Kurt Palandech or the other offensive players who made enough plays to keep the Rebels competitive for most of the game.
UNLV's defense was so shot that first-year coach Tony Sanchez for the first time this season looked like he couldn't find the answers, and that's the problem. The defense that had doomed past Rebels teams needs more than one season to make program-changing improvement, as a 49-35 loss to Colorado State at Hughes Stadium made abundantly clear.
"It's very frustrating," UNLV linebacker Ryan McAleenan said. "We had a good scheme, and we didn't execute well enough to stop them."
The loss mathematically ended the chances UNLV (3-7, 2-4 Mountain West) had for a bowl, but no postseason game was holding a spot for the Rebels anyway. They play their final home game of the season Saturday against San Diego State at Sam Boyd Stadium.
Against Colorado State (5-5, 3-3), the Rebels didn't tackle well when they got near a running back or wide receiver. And, often times, those players ran as free into the open field.
The Rams rushed for 325 yards, gaining 7.1 per carry. Dalyn Dawkins gained 151 yards on 19 attempts.
Quarterback Nick Stevens completed 13 of 19 passes for 209 yards and four touchdowns, with three of those scoring strikes going to Rashard Higgins. The All-America wide receiver finished with seven receptions for 102 yards.
"Bad tackling," Sanchez said. "It was pretty atrocious. We looked a little tired out there. We had a few moments, not many. They pretty much moved the ball, running the ball, on us at will."
UNLV kept fighting, though, and the Rebels closed to within 35-28 with 2:21 left in the third quarter on Palandech's 20-yard touchdown pass to Kendal Keys. The Rams extended it back to a two-possession lead midway through the fourth quarter on Stevens' 4-yard touchdown pass to Higgins.
Playing hard has been a hallmark of this team, but Sanchez wondered if maybe the players had finally hit an emotional wall.
"I haven't been at UNLV very long, but I don't know when the last time we fought in the fourth quarter of this many games in a football season," he said. "I think it wears on you a little bit."
UNLV's offense did what would have been enough on most nights to win by gaining 502 yards. Lexington Thomas rushed for 118 yards and a touchdown on 11 carries, Devonte Boyd caught eight passes for 131 yards, and Keys had six receptions for 87 yards and three TDs.
"I wish I would've been doing this throughout the whole season, but it's something I knew I had," Keys said. "It was about time. I do it at practice."
Before he went out late in the second quarter, Decker had completed 13 of 19 passes for 176 yards and two touchdowns. Palandech was just 9 of 24, but threw for 154 yards and a TD and rushed for a 14-yard score.
This, of course, wasn't the first time Palandech was called in to replace Decker. It happened two other times.
"Every experience in game time is helpful," Palandech said. "There's still lot of room for improvement, and I've got to keep building off that."
Sanchez said he didn't know the details of Decker's injury. Decker limped gingerly on his right foot when taken off the field, and he later was on crutches.
Maybe Decker returns for San Diego State, a game that also features the return of former UNLV coach Bobby Hauck, now the Aztecs' special teams coordinator.
Maybe Decker doesn't return at all this season.
As for Sanchez, he had a different look on his face after this game, a different tone in his voice. Like someone finally out of answers on how to address the deficiencies of this team.
"I'm disappointed in the outcome, no doubt about it," Sanchez said. "I told our guys the hardest thing about this is I don't feel we played our best football. I feel like we left a lot of things out on the football field.
"That's a good football team. They were a better football team than we were tonight. I think that was apparent, so we needed to do things on a higher level in order to try to compete with these guys. We're just not where they're at right now."
— Contact Mark Anderson at manderson@reviewjournal.com or 702-387-2914. Follow him on Twitter: @markanderson65.
Check our GameDay page for full coverage of the UNLV-Colorado State game.