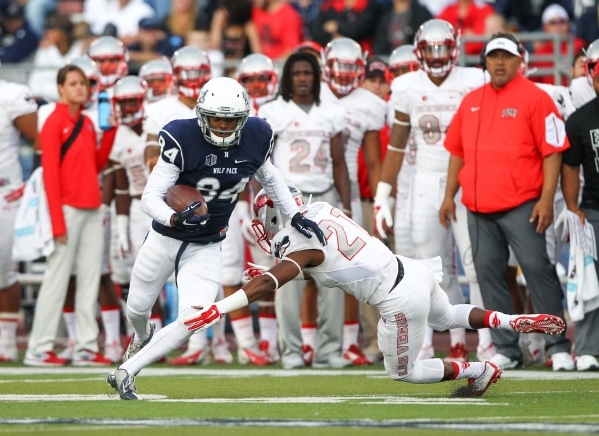 UNLV had just returned home from beating UNR 27-22, ending an eight-game losing streak to the Wolf Pack.
The Fremont Cannon was paraded through campus and painted red before a jubilant crowd that was used to see the trophy blue.
Then the Rebels went out and stunk it up the following Saturday, falling into a 24-3 hole to San Jose State at home. UNLV rallied to nearly steal the victory, but couldn't overcome the poor start in losing 34-24.
That was two years ago, but little has changed this week.
UNLV's football team comes off a 23-17 victory in Reno, celebrated another cannon painting ceremony Monday at the Student Union and faces San Jose State at 6 p.m. today at Sam Boyd Stadium. The Spartans are 3-point favorites in a game that will be live streamed on www.unlvrebels.com.
How do the Rebels guard against a letdown?
"That really is a task," UNLV coach Tony Sanchez said. "You get your guys on an emotional high, and we've been through it a bunch of weeks in a row — some of those road games (Northern Illinois, Michigan and UNR), the first home game (UCLA). It's been a grind emotionally, but that's part of building a program. We've talked about it all week, we're developing competitive maturity.
"The guys will be ready to go Saturday. I have full faith in them."
Plenty is on the line for both teams because the winner takes a significant step forward in the Mountain West's West Division. UNLV and San Jose State are each 2-3 overall, and in league play they and San Diego State are the only West Division teams with victories. UNLV and San Diego State are each 1-0 in the league, and San Jose State is 1-1. The Aztecs play at Hawaii tonight.
More than competing for a division title, the Rebels also would put themselves halfway to bowl eligibility with a victory. That would be important for them because there are enough winnable games in the second half of the season to put them in the postseason.
A loss to the Spartans would make that effort more difficult, but not impossible.
"Right now, I'm just worried about throwing the first punch," Sanchez said. "It's that attitude. We talked (Tuesday) about punching your timecard and going to work. I've had jobs where I had to do that before, and it's really what we're about. I think people are starting to realize we're a tough, physical football team. We want to be the most violent team at the point of attack.
"So I'm not even thinking about winning. I'm thinking about that first six seconds of the game and us executing well on that first play."
To beat San Jose State, the Rebels will have to find a way to keep running back Tyler Ervin from dominating. He is second nationally with 801 yards rushing, trailing only Louisiana State's Leonard Fournette, who has 864.
The Spartans also are a good passing team, and they are the only ones in the Mountain West averaging more than 200 yards passing and rushing per game. Who will start at quarterback, though, is the mystery. Kenny Potter could return from a high ankle sprain, but Joe Gray has played well in his absence, so there hasn't been much of a dropoff, if any.
UNLV's own quarterback situation is unclear. Blake Decker is available only in an emergency situation because of a dislocated non-throwing (left) shoulder, meaning Kurt Palandech will start. Though Palandech has shown promise at times, he has struggled badly in other instances.
If Palandech gets off to a slow start or gets hurt, coaches could pull activate off freshman Dalton Sneed, who is scheduled to be redshirted this season.
"We'll probably throw the football more in this game than we have the last couple because we need to get that part of the game going," Sanchez said. "I think (Palandech is) going to go out and play a great game, I really do."
But don't expect the Rebels to abandon the run game. They have been committed to it all season, averaging 224.2 yards per game, and Palandech's athleticism adds a dimension to that attack.
All coaches like to talk about taking each game as it comes and the importance of focusing on what's in front of the team at the moment. But so many aren't apt at effectively getting that message across to their players.
Sanchez has done well in that regard, and this is a particularly good week to remind his team of the importance of concentrating on San Jose State and not still be on an emotional high from the victory in Reno.
If the Rebels don't remember the history from 2013, they are likely to be doomed to repeat it.
"After a win, you can celebrate that night," UNLV linebacker Tau Lotulelei said. "We've got to move on. We've got to focus on the next team."
— Contact Mark Anderson at manderson@reviewjournal.com or 702-387-2914. Follow him on Twitter: @markanderson65
Check our GameDay page for all the news leading up to the UNLV-SJSU game.