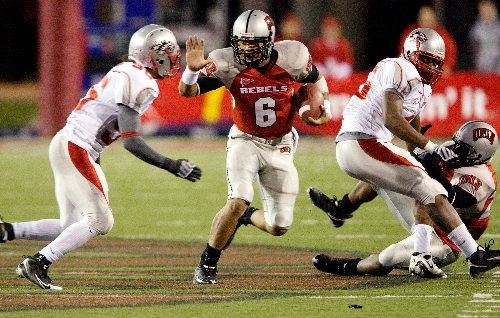 It's a veteran team with quality players throughout the lineup, a team that missed becoming bowl eligible by just a game the past two seasons, and a team that brings in a coach who has done almost nothing but win.
But UNLV was picked one spot from the bottom in the Mountain West Conference for good reason.
The Rebels face the most daunting schedule in school history.
Coach Bobby Hauck, who went 80-17 over the previous seven seasons at Montana and appeared in three Football Championship Subdivision national title games, didn't downplay the difficulty.
"It's an extremely challenging schedule, one of the toughest in the country," he said. "So with that, can we win a good number of games? I don't know.
"It will be a learning experience to get through the conference schedule one time and to get to know everybody in the league, just in terms of how they plan and how they play and how they prepare for us."
Nine teams on the 13-game schedule appeared in bowls last season, beginning with No. 12 Wisconsin at 8 p.m. Saturday at Sam Boyd Stadium in the season opener. The other notable nonconference game is at No. 25 West Virginia on Oct. 9.
In conference action, UNLV plays at Utah on Sept. 11 and at Brigham Young on Nov. 6. Mountain West favorite and No. 6 Texas Christian on Oct. 30, however, is a home game for the Rebels.
The Sept. 18 trip to Idaho could be the Rebels' first realistic shot at a victory. UNLV probably will be 0-2 after facing Wisconsin and Utah.
Idaho went 8-5 last year and won the Humanitarian Bowl, but that followed nine consecutive losing seasons.
Should the Rebels win, they return home to face a New Mexico team that won just once last year. UNLV could be 2-2 with UNR coming to town.
But lose that game at Idaho, and UNLV is 0-3 and needing the victory over the Lobos just to stop the downward spiral.
UNLV has talent, beginning at quarterback, where junior Mike Clausen beat out senior Omar Clayton for the opening-game start, though it could be a battle that lasts through the season.
But Clausen has the chance to show he's worthy of keeping the job with a promising showing against Wisconsin.
"I'm excited to come out here and lead the team in the first game of the year," Clausen said. "It's going to be a pretty big game."
The Rebels also possess one of the conference's best offensive lines, and junior wide receiver Phillip Payne was the only preseason All-Mountain West selection. Two freshman tailbacks, Bradley Randle (who redshirted last season) and Tim Cornett, have shown playmaking ability.
On defense, much is expected from tackle Isaako Aaitui, linebackers Starr Fuimaono and Ronnie Paulo, cornerback Quinton Pointer, and safeties Alex De Giacomo and Mike Grant. All are seniors.
But the Rebels are thin at many places, and injuries from the demanding schedule could make any success tough.
The starters also have plenty to prove.
Clayton's interception total rose from four in 2008 to 12 last season. UNLV also rushed for just 126.8 yards per game.
Most of the problems stemmed from a defense that ranked 115th among 120 teams nationally, allowing 456.2 yards per game. UNLV struggled against the run (220.6) and the pass (235.6), but made several personnel moves to become more athletic.
"I see a lot of improvement," Fuimaono said. "We have a lot of young guys, and the schemes are easy enough to pick up for all the new guys. It's going to be a very aggressive defense."
Poor defense is the main reason Mike Sanford, a career offensive coach, is Louisville's offensive coordinator and not entering his sixth year as UNLV's head coach.
It's up to Hauck to begin the turnaround of a program that hasn't provided a winning season since 2000. If the schedule makes measuring success in terms of wins and losses this season nearly impossible, there are intangible ways to view progress, such as fewer dead-ball penalties and mental mistakes.
Hauck is a hard-nosed coach, and the Rebels enter the season after going through a demanding training camp.
"We've worked hard," Hauck said. "Our guys have bought in."
UNLV SCHEDULE
Sept. 4 — vs. Wisconsin, 8 p.m., Versus (Cox Cable 38)
Sept. 11 — at Utah, 1 p.m., Mtn. (334)
Sept. 18 — at Idaho, 7:30 p.m., ESPNU (320)
Sept. 25 — vs. New Mexico, 7 p.m., Mtn.
Oct. 2 — vs. UNR, 7 p.m., Mtn.
Oct. 9 — at West Virginia, 12:30 p.m., KVVU (5)
Oct. 16 — at Colorado State, 11 a.m., Mtn.
Oct. 23 — BYE
Oct. 30 — vs. Texas Christian, 8 p.m., CBS-C (333)
Nov. 6 — at Brigham Young, 11 a.m., Mtn.
Nov. 13 — vs. Wyoming, 7 p.m., Mtn.
Nov. 18 — vs. Air Force, 7 p.m., CBS-C
Nov. 27 — at San Diego Sate, 5 p.m., Mtn.
Dec. 4 — at Hawaii, Time/TV TBA
Contact reporter Mark Anderson at manderson@reviewjournal.com or 702-387-2914.
View complete Football Preview '10 section