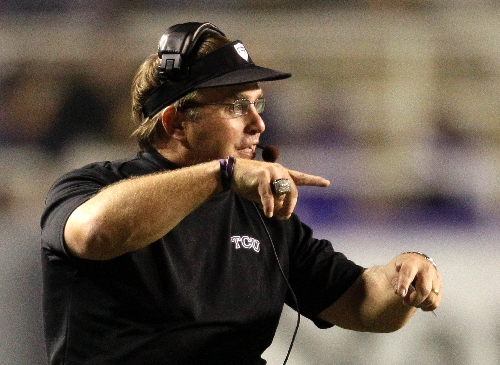 The Indianapolis Colts drafted former Texas Christian end Jerry Hughes, the Mountain West Conference's best defensive player the past two seasons, in the first round in April, and ex-Horned Frogs linebacker Daryl Washington went to the Arizona Cardinals in the second round.
Such personnel losses would send most college programs into rebuilding mode, but TCU just seems to reload and keep dominating, fielding the fourth-ranked team and perhaps the best defense in the nation.
The Horned Frogs enter today's 8 p.m. game against UNLV (1-6, 1-2 MWC) at Sam Boyd Stadium with a defense ranked first nationally in points allowed (9.0 per game) and passing yards (117.9) and second in total yards (219.9).
"They've got it all going," Rebels coach Bobby Hauck said. "They don't make mistakes. They play fast. Every kid on that defense knows exactly what he's supposed to do on every play, and they're able to cut it loose. I think that's why they look so overwhelming at times on the defensive side of the ball."
TCU (8-0, 4-0) built its program on tough-minded, athletic defenses. And it can afford to lose talented players such as Hughes and Washington because others — such as linebacker Tank Carder, end Wayne Daniels and cornerback Jason Teague — step in seemingly without missing a beat.
Carder has 4½ tackles for loss and four pass breakups. Daniels has nine tackles for loss, including 5½ sacks. Teague, a former Louisiana State signee, has five pass breakups and has allowed only one pass completion against him.
"I've always said it's about the team, not the individual," Horned Frogs coach Gary Patterson said. "This year is no different from that."
UNLV's offense, which has been held to 10 or fewer points four times this season, doesn't figure to pose much of a threat against a TCU defense that has given up 10 points over the past four games combined.
Since the teams began playing each other in 2005 as Mountain West opponents, the Rebels have failed to score more than 10 points in four of the five meetings. The one exception? UNLV put up 14 points two years ago.
The Rebels didn't make it past TCU's 34-yard line in last season's 41-0 loss, a game that defined offensive ineptitude for UNLV. It managed just seven first downs and 42 yards passing.
So reaching the red zone tonight might be considered a small victory for the Rebels, who will face a different cast of defenders but roughly the same script.
"I can't see any drop-off," UNLV quarterback Omar Clayton said. "They stay true to what they do, and they make it work for them."
At least the Rebels get back wide receiver Phillip Payne. He is listed as a starter after missing the previous two games as punishment for posting Twitter messages criticizing UNLV's coaching staff.
Payne caught seven passes for 180 yards in the game before his suspension and has 23 receptions for 389 yards and two touchdowns this season.
Payne's return should help, but against TCU the Rebels probably need more reinforcements.
"They've got depth with athletes," UNLV safety Alex De Giacomo said. "I remember last year playing them, everybody was pretty much a good athlete."
Contact reporter Mark Anderson at manderson@reviewjournal.com or 702-387-2914.
TEXAS CHRISTIAN VS. UNLV
WHEN: 8 p.m. today
WHERE: Sam Boyd Stadium
TV/RADIO: CBSC (333); KWWN (1100 AM, 98.9 FM)
LINE: TCU -35; total 55