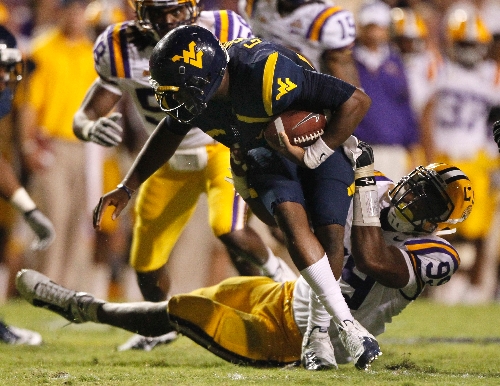 MORGANTOWN, W.Va. — It is difficult to tell, but previous UNLV athletic director Mike Hamrick actually had a strategy when he built the Rebels' treacherous football schedule.
In 2008 and 2009, Hamrick gave then-coach Mike Sanford schedules designed to help him accumulate victories and revive a long-struggling program.
For this season — Sanford's sixth, had he not been fired last year — Hamrick believed it was the time to toughen up the schedule and try to push the program one notch higher.
That was the plan, anyway.
Only now, Hamrick is the athletic director at Marshall, Sanford is offensive coordinator at Louisville and Bobby Hauck is at UNLV with a program in transition and a schedule no first-year coach would want.
After opening the season facing three ranked teams in five weeks, next up today is West Virginia (3-1), a team just outside the Top 25 and another tough test for UNLV (1-4). The game starts at 12:30 p.m. PDT.
"When you're trying to build things, it's difficult to play the type of schedule we've played," Hauck said. "It's uphill every week.
"Playing this schedule is physically hard on our team, that's for sure."
That was evident by the injury list, which included 25 names Tuesday.
Then matters got worse Thursday when junior wide receiver Phillip Payne was left home for today's game after he wrote on Twitter that the program was better off under Sanford, who coached UNLV to a 16-43 record. Whether Payne, the Rebels' only preseason All-Mountain West Conference selection, ever plays again for UNLV is unknown.
Payne and Michael Johnson have been the only reliable receivers, accounting for 46 of the team's 66 catches. Freshman Marcus Sullivan is listed behind Payne on the depth chart, so he could get his first start today.
West Virginia probably will double-team Johnson and force Sullivan or another receiver to step up. If the Mountaineers take away UNLV's passing game, the Rebels are stuck with a running attack that averages 107.6 yards per game and 3.0 per carry.
The Mountaineers, though, have their own concerns. Star running back Noel Devine injured his right big toe two weeks ago at Louisiana State and might not play. Even if he plays, Devine doesn't figure to be at full strength, though he's still talented enough to have UNLV's attention.
"He has the ability to make people look silly in the open field," Hauck said. "He has the ability to go the distance every play. He's special."
West Virginia faces a short week after this game, opening Big East Conference play Thursday against South Florida. So the Mountaineers, especially given their injury situation, would prefer to make quick work of the Rebels and rest their regulars.
They're expected to get their wish; the Mountaineers are 27½-point favorites.
UNLV at least knows it won't come away empty-handed. West Virginia is paying the Rebels $740,000 in cash and $10,000 in tickets to make the trip across three time zones.
Rebels tight end Anthony Vidal said, however, there's more to playing teams such as West Virginia than helping the athletic department pay bills.
"I get more and more excited as we get going because we get better as a team," Vidal said. "We get to play these great teams. This is what I've dreamed of. This is what a lot of guys on the team have worked for."
Contact reporter Mark Anderson at manderson@reviewjournal.com or 702-387-2914.
UNLV VS. WEST VIRGINIA
WHEN: 12:30 p.m. today
WHERE: Milan Puskar Stadium, Morgantown, W.Va.
TV/RADIO: Fox (5), KWWN (1100 AM, 98.9 FM)
LINE: West Virginia -27½; total 48