Rebels' final three games pivotal
November 6, 2008 - 10:00 pm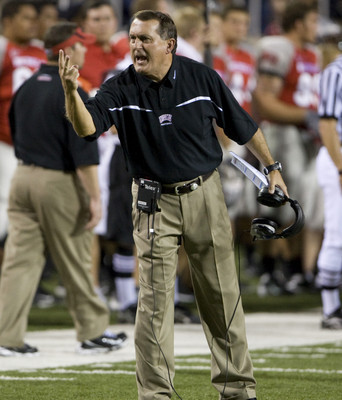 Last-minute touchdowns against New Mexico and San Diego State. A thwarted 2-point conversion pass against Hawaii.
A loss in any of those games, each one dramatic and critical, and UNLV doesn't make the 2000 Las Vegas Bowl.
The Rebels haven't been back to a bowl since that season, but here they are again needing to win their final three football games, beginning with New Mexico again.
"Every game that we play is a bowl game," UNLV defensive tackle Jacob Hales said.
All three games are winnable, though the task will be tougher with quarterback Omar Clayton sidelined by a right knee injury.
Clayton will miss at least one game, Saturday's 7 p.m. kickoff against the Lobos at Sam Boyd Stadium.
The final three games could determine more than whether UNLV (3-6, 0-5 Mountain West) plays in a bowl. They could affect what staff and personnel decisions coach Mike Sanford makes.
And they could impact Sanford's future, although his job might be safe. Given the troubled economy, UNLV probably would be hard-pressed to buy out the fourth-year coach — and changing the entire staff could cost up to $1 million. Also, Sanford can argue victories over Arizona State and Iowa State and close losses to Brigham Young and Air Force indicate overall improvement.
Recent recruiting pickups also work in his favor.
"At the end of the season, we'll sit down and see where the program's at and see if we're improving," athletic director Mike Hamrick said.
Sanford said he never thinks about his future. It's hard to blame him. He's got enough to worry about over the next three weeks.
• NEW MEXICO, Saturday — This is the most demanding game of the final stretch, especially now that Clayton won't play. The Lobos (4-6, 2-4) are 31/2-point favorites in the bowl-elimination game.
"The way things are looking across the country, 6-6 is probably going to get you in a bowl game," Lobos coach Rocky Long said.
New Mexico brings in standout tailback Rodney Ferguson, not the most desirable matchup for a UNLV defense that gives up 150 yards rushing shortly after getting off the bus.
But if the Rebels make a play or two on defense and if Mike Clausen adequately replaces Clayton at quarterback, UNLV could win. Ending a five-game skid would provide a confidence boost.
• WYOMING, Nov. 13 — Joe Glenn probably is coaching his final season at Wyoming (3-6, 1-5), a team tied for last nationally in turnover margin at minus-2.2 per game. No wonder he was giddy about Saturday's 35-10 victory over San Diego State.
"We had every reason to turn tail and throw it in, and we didn't," Glenn said. "If we protect the ball as we did against San Diego State — no turnovers — we can be a pretty formidable program."
But that was against the Aztecs. Against teams that don't consider 3-yard gains significant accomplishments, the Cowboys lost by 44 points to Brigham Young, 24 to New Mexico, 33 to Utah and 47 to Texas Christian.
UNLV should win, but little is certain with a program that doesn't know what four victories under a Sanford-coached team feels like, and he never has beaten Glenn.
• SAN DIEGO STATE, Nov. 22 — With 19 of 22 starters having been injured, the Aztecs follow the NFL formula of having the first- and second-teamers practice against each other rather than scout teams.
And, get this, little tackling is allowed.
"I don't know anybody in the country going through this," Aztecs coach Chuck Long said. "If there is, I'd like to see how they do it."
If UNLV doesn't win this game, even though it's on the road, there should be an immediate investigation.
So there's the setup for the Rebels. The finish tells the story, more so than the 3-1 start that offered so much promise.
"There's something to be said for remembering what kind of football team we are and what we're capable of doing," Sanford said. "One of our things was to start fast and finish strong, and the big thing for us is to finish strong now."
Contact reporter Mark Anderson at manderson@reviewjournal.com or 702-387-2914.