Rebels get awe out of the way — PHOTOS
September 18, 2015 - 9:25 pm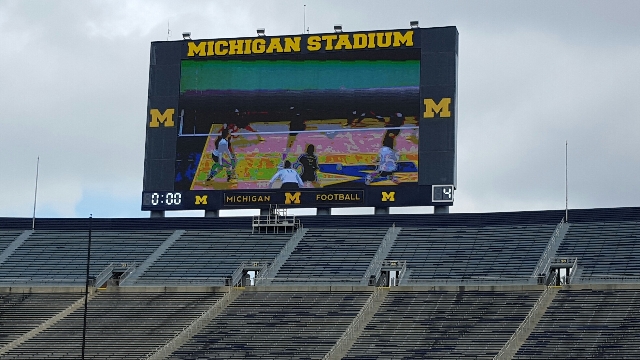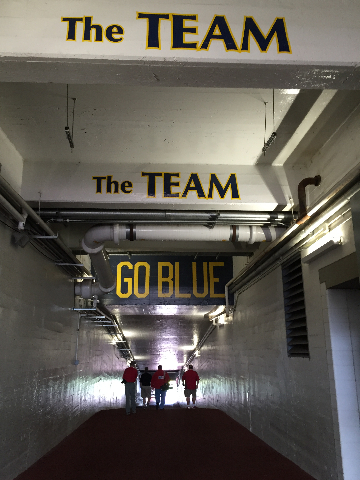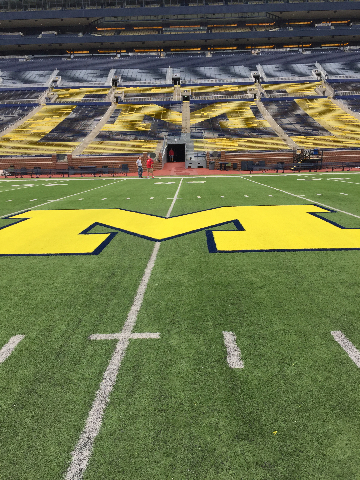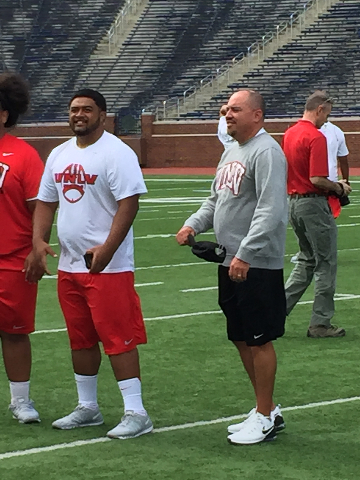 ANN ARBOR, Mich. — Groups of players posed for photos, and all walked on the famous Michigan Stadium field with its familiar maize-colored "M" at midfield.
UNLV football coach Tony Sanchez brought them here Friday to give them the chance to soak up the atmosphere so game day wouldn't be the Rebels' first experience at what's commonly known as "The Big House."
Because Saturday is all about business, and the Rebels have enough of a challenge in meeting Michigan, forget the fans that will fill the 107,601-seat stadium. The Big Ten Network will televise the 9 a.m. PDT game.
"It's a great, historic opportunity for these guys to play," Sanchez said. "We don't want to be thinking about that on game day."
Few give the Rebels (0-2) a chance against Michigan (1-1), making UNLV a 35½-point underdog.
The Rebels' task is made even more difficult because of their questions at quarterback. Starter Blake Decker has been dealing with an injury near his groin, though he looked in practice Wednesday as if he could play. But Sanchez might hold Decker out of the game to make sure he's ready to go when the schedule eases beginning next week.
Kurt Palandech is the likely starter, and he comes off a game against UCLA in which he completed 4 of 15 passes for 4 yards, with an interception and a lost fumble. Dalton Sneed also could play, but he is a freshman whom coaches would prefer to redshirt.
Whoever plays will have a difficult time moving the ball against a Michigan defense that held Oregon State to 138 yards last Saturday. UNLV will have to find a way to keep defensive lineman Chris Wormley, who has six tackles for loss, out of its backfield.
Michigan's offense is looking for consistency, with parts of its game looking sharp at times and shaky at others.
Quarterback Jake Rudock, an Iowa transfer, passed for 279 yards in the season opener at Utah, but then 180 against Oregon State. He also has thrown four interceptions to two touchdown passes.
The Wolverines followed a 76-yard, no-touchdown rushing performance against the Utes with 225 yards and four TDs last weekend.
UNLV's defense could keep the Rebels in the game early, at least if the past two weeks were any indication. The Rebels' defense allowed Northern Illinois and UCLA to each score just 10 offensive points in the first half, with the Bruins also picking up a defensive touchdown.
It's in the second half the Rebels have tired, and both opponents scored a combined 48 points after halftime.
"We come out excited, energized," UNLV safety Peni Vea said. "In the second half, it seems some of the players might be letting it go away. As seniors, we've got to do a better job of keeping everybody on their feet and getting them going, just keeping the energy alive."
One of the more intriguing storylines concerns the coaches.
UNLV made national news by hiring Sanchez, who made the jump directly from Bishop Gorman High School. Michigan brought back alumnus Jim Harbaugh, who won big at Stanford and with the San Francisco 49ers, and his hiring has Wolverines supporters convinced the program will soon take what they see as their rightful place among the nation's elite.
"He's a good football coach and has done well everywhere he's been," Sanchez said. "The thing I respect most is he brings a toughness. That's such an important ingredient to building a football program. That's what we're doing here at UNLV. If you don't have that, you can't hang your hat on anything."
No matter what happens, this is a big trip for UNLV's program, which pockets a $1 million guarantee. The Rebels seldom play in the kind of atmosphere that will greet them Saturday.
They got a taste of it Friday.
Listed outside Michigan's locker room is all 11 national championships, though only the 1997 title occurred since UNLV as a university was created in 1957. That locker room is across the way from where the visitors dress, and it can't be a coincidence those titles are evident for all to see, especially the opponents.
Sanchez brought his players to the stadium a day early to take intimidation and awe out of the mix, a practice he used in taking high school teams to NFL stadiums.
"If you're focused on the stadium, you're focusing on the wrong thing," Rebels tight end Jake Phillips said. "We've got a team to play, and that's all I'm really concerned about."
So Saturday is just about business. UNLV can't let it be about anything else.
"It's game day," Sanchez said. "I don't care who we're playing, we just can't wait to get back on the field.
"It's kind of like the old movie 'Hoosiers.' (The coach) measured to the free-throw line, he measured to the hoop. Same size."
Contact Mark Anderson at manderson@reviewjournal.com or 702-387-2914. Follow him on Twitter: @markanderson65.
Check our GameDay page for all the news leading up to the UNLV-Michigan game.