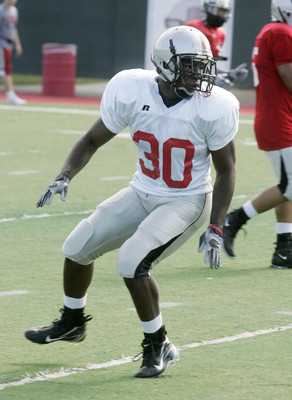 Today's bus trip to Ely begins an 11-day stretch that could go a long way in determining what kind of football season UNLV will have.
The Rebels' personality should begin to emerge as they prepare for the Aug. 30 season opener against Utah State at Sam Boyd Stadium.
Coach Mike Sanford has three priorities for the training camp, the third year in a row the team has gone to Ely.
Entering his fourth year at UNLV after three consecutive two-win seasons, Sanford said he is seeking, in order, a clear identification of the starters, backups and role players; excellent team chemistry; and improved execution.
There are plenty of position battles to watch as the Rebels seek their third, fourth and fifth receivers and try to fill their No. 2 tailback and secondary positions, among other spots.
"We've got a lot of decisions to make in the next week and a half," Sanford said.
UNLV is set with its top two wide receivers — senior Casey Flair and junior Ryan Wolfe. Its challenge is finding the next three, though incoming freshman Phillip Payne of Western High School is making the decision easier.
"He is right in the middle," Sanford said.
Another incoming freshman, Michael Johnson, also is pushing for playing time.
The Rebels have plenty of other wide receiver candidates to consider, such as juniors Rodelin Anthony, Jerriman Robinson and Justin Marvel and seniors Gerold Rodriguez and Renan Saint Preux.
At tailback, sophomore Channing Trotter is competing against incoming freshmen C.J. Cox and Imari Thompson to be senior Frank Summers' backup.
"I'm always seeing what my competition is doing," Thompson said. "I wish the best for them, but then again, everybody is trying to fight for a position and you've got to do what you've got to do."
Sanford said the competition is wide open.
"I have no idea who our No. 2 tailback is," he said. "It's a good competition. All three of us those guys, right now, I could throw in a bag and have no idea who I'd pick. And that's a good problem."
Sophomore Quinton Pointer, expected to be one of the Rebels' starting cornerbacks, suffered a dislocated left elbow Wednesday in practice. He should return early in the season, if not in time for the opener. But his absence in camp will give juniors Lafayette Fletcher and Ryan Tillman and redshirt freshman Will Chandler a chance to emerge.
Fletcher said he was used to being on the field in dime formations but that Pointer's absence creates more urgency.
"I feel I've got to step up more because (Pointer is) a great play-maker," Fletcher said. "So it makes it seem like I've got to make more plays now and take some of the stress off the linebackers and other (defensive backs) out there."
Safety isn't settled, either, though junior Terrance Lee probably will win one spot. Junior Daryl Forte, a returning starter at the other safety position, could face a battle, especially because sophomore Travis Dixon has impressed after switching from quarterback.
Improved team chemistry is another reason for the four-hour trek north to Ely. It doesn't appear to be a problem for the Rebels, but they haven't run into the adversity of suffering a loss in the final two minutes.
In Ely, where the population is 4,000, the players are stuck with each other nearly around the clock, so they might as well hang out and text message.
The true test of team chemistry will come if UNLV is blown out early in the season in back-to-back weeks at Utah and Arizona State.
To avoid such beatings and to pick up more than two victories this season, Sanford is looking for far more first downs and for far fewer false starts.
Simply put, better execution. Or, even, perfect execution.
He installed a routine Thursday called the "perfection drill" in which each player must not make a noticeable mistake or the entire offense or defense involved in the play is forced to run.
"Fast discipline for mistakes," Sanford said.
Mistakes he hopes are confined mostly to the preseason.
Contact reporter Mark Anderson at manderson@reviewjournal.com or 702-387-2914.