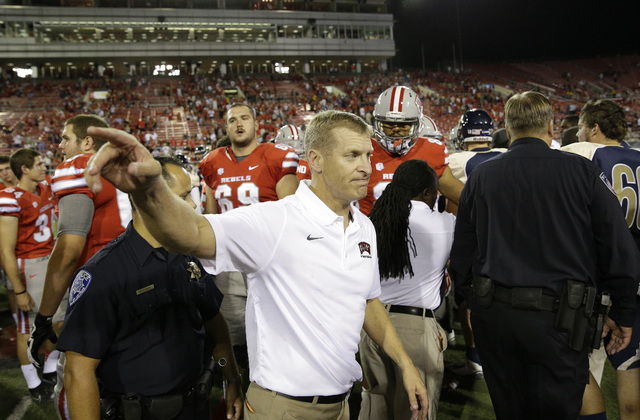 UNLV hasn't had a truly joyous moment at San Diego State's Qualcomm Stadium since the late Amar Brisco ran down the left sideline in the final minute of the 2000 game.
Brisco's 72-yard interception return for a touchdown with 52 seconds left turned back a potential game-winning drive by the Aztecs and handed UNLV a 31-24 victory to keep its bowl hopes alive.
The Rebels won the following week at Hawaii to make the Las Vegas Bowl.
But since Brisco's return, UNLV's trips to San Diego State have been anything but memorable.
UNLV hasn't won there since that night, the losing streak now at six games. The Rebels also have played some of their worst football in the cavernous stadium that also is home to the NFL's Chargers. Their worst defeat was 42-21 in 2008 with a possible bowl bid on the line and to a team that had only one victory coming into the game.
But the UNLV-San Diego State meetings have been late in the season. Now they prepare to open Mountain West play against each other at 5 p.m. Saturday, back at the Q, the earliest in a season the two have met since 1982.
Maybe the earlier start will make a difference.
Or maybe not. The Rebels' injury report listed 31 players, including 14 who are out.
So perhaps this season later would have been better.
"I think timing within seasons has a lot to do with health and how you're playing," UNLV coach Bobby Hauck said. "For us, we're pretty banged up, so we need to get well and figure out who's going to play this weekend."
THREE-STEP DROP
■ UNLV was the sixth-least penalized team in the nation last season, getting hit with 45 infractions for 406 yards. Through four games this season, the Rebels already have been penalized 29 times for 342 yards, their 85.5-yard average 116th of 125 teams nationally. Hauck said two out-of-conference crews, from the Mid-American and American Athletic, had something to do with the major increase. "I would say that the MAC and the American refs have been pretty hard on us," Hauck said. "I'm excited about having our league's guys this week. Here's what I'm going to tell our referees before the game, 'If I start getting after you, just say, "MAC" or "American," and I'll shut up.' "
■ Maybe entering Mountain West play will revive the season for the 1-3 Rebels, but winning in conference hasn't been all that easy over the years. Their 5-3 mark last season was the first time the Rebels posted a winning record in league play since going 4-3 in 2000. Those also were UNLV's only winning overall records during that span. UNLV didn't have a winning conference record in its three seasons in the Western Athletic Conference, and it finished on the positive side in league play five of 14 times as members of the Big West Conference.
■ This is one of just two games UNLV will play on natural grass this season. The other time is Nov. 15 at Brigham Young.
FOR THE RECORD
■ UNLV is one of 13 teams nationally that has not lost a fumble. The Rebels also were careful with the ball last season, tying a school record with five lost fumbles.
■ San Diego State sophomore Donnel Pumphrey, who went to Canyon Springs High School, rushed for at least 100 yards in two of the Aztecs' first three games. He averages 100 yards per game. Pumphrey has five career 100-yard games, and he broke the 1,000-yard career mark Saturday at Oregon State.
■ Turnovers are game-killers, and the Rebels are paying the price. They have been outscored 34-10 on points off turnovers. Quarterback Blake Decker has throw seven interceptions. Caleb Herring had five all of last season.
Contact reporter Mark Anderson at manderson@reviewjournal.com or 702-387-2914. Follow him on Twitter:@markanderson65.
Check our GameDay page for all the news leading up to the UNLV-San Diego State game.