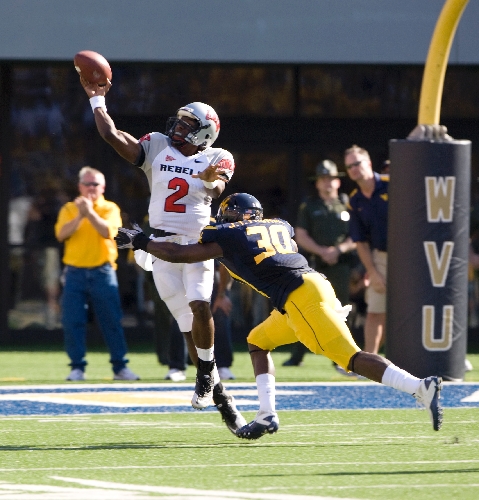 MORGANTOWN, W.Va. — How fitting that the worst week of Bobby Hauck's first UNLV season ended with the worst loss of his otherwise fabulous coaching career.
As Hauck is learning, winning at UNLV doesn't come nearly as easily as it did at Montana, and trips like this one to West Virginia highlight how far he must go to turn around a dreadful Rebels football program.
The Mountaineers pounded UNLV 49-10 on Saturday, scoring two touchdowns in the first five minutes and reaching the end zone on four plays of at least 28 yards.
"It felt like it was four plays and it was 21-0," UNLV linebacker Calvin Randleman said.
West Virginia outgained the Rebels 445 yards to 276. Geno Smith completed 12 of 16 passes for 220 yards and three touchdowns, each to wide receiver Brad Starks, who had four catches for 100 yards.
Mountaineers running back Noel Devine showed few effects of a toe injury in limited playing time, rushing for 84 yards and two touchdowns on only three carries.
"Their speed advantage at the skill positions was really evident," Hauck said. "They made us look like a not-very-fast, banged-up football team, which is kind of what we are."
UNLV's Omar Clayton completed 12 of 18 passes for 79 yards with an interception. Freshman Caleb Herring played the second half and was 8-for-14 for 101 yards and a touchdown with an interception.
"Once we got the ball going, we had a hard time keeping it going," Clayton said.
The Rebels (1-5) left Mountaineer Field $750,000 richer but continue to pay the price of playing an unrelenting schedule. They have played three ranked teams, and West Virginia (4-1) will probably return to the Top 25 today.
UNLV meets a team more on its level Saturday when it visits Colorado State (1-5) and enters Mountain West Conference play full time.
The Phillip Payne matter might by resolved by then. UNLV's leading wide receiver was suspended during the week after posting a series of disparaging tweets, including one that said the program was better under previous coach Mike Sanford.
For Hauck, it wasn't exactly the ideal start of a trip Thursday to the other side of the country to play an opponent that was about a four-touchdown favorite.
Then Hauck endured his worst loss as a head coach. His worst previous defeat occurred in 2006, a 41-7 loss at Iowa when Hauck coached Montana, a rare setback at a school where he went 80-17.
West Virginia didn't waste time jumping on the Rebels, scoring 1:01 into the game on Smith's 38-yard pass to Starks. The Mountaineers made it 14-0 after less than five minutes on Devine's 28-yard run, a beautiful cutback to the right.
They added a 10-yard touchdown run by wide receiver Jock Sanders, a 48-yard run by Devine and a 48-yard pass to Starks to go into halftime leading 35-0.
"If they get the ball in space, they're very explosive if you don't get them down quickly," Randleman said. "That's what happened in the first quarter and a half.
"We knew what we were going against."
And they still couldn't stop it.
Contact reporter Mark Anderson at manderson@reviewjournal.com or 702-387-2914.
WEST VIRGINIA 49
UNLV 10
KEY: The Mountaineers used big plays to lead 21-0 in the first quarter and 35-0 at halftime.
NEXT: UNLV at Colorado State, 11 a.m. PDT Saturday, The Mtn. (334), KWWN (1100 AM, 98.9 FM)