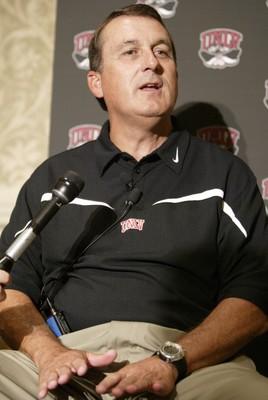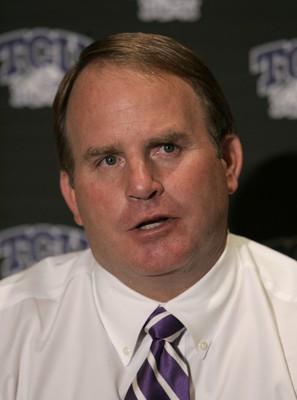 Preseason polls don't reward three consecutive two-victory football seasons, and UNLV certainly could not claim to be blindsided Monday.
The Rebels were picked to finish last by the media in the nine-team Mountain West Conference.
"We figured we were going to be picked last," UNLV junior wide receiver Casey Flair said from conference media days at Green Valley Ranch Resort. "We can't let that get to us. We've got to come out and know that we're better than that, and we've got to come out and show it. No one's going to give us any respect. We've got to earn it."
UNLV, which is coming off a 2-10 season, received just 35 points. No. 8 San Diego State (3-9) was significantly ahead with 56 points.
Texas Christian, which was 11-2 and ranked No. 22 last season, was picked to win the conference. The Horned Frogs received 18 first-place votes and 202 points to easily outdistance defending champion Brigham Young (11-2 and ranked No. 16), which totaled three first-place votes and 178 points.
TCU also was picked to win the title last season but lost to BYU and Utah in back-to-back weeks. The Frogs finished second with a 6-2 league record behind the 8-0 Cougars.
Frogs coach Gary Patterson said last season proved preseason polls often mean little.
"I understand that we do have some good players coming back, but you know what, good players have never been the ones that made the best team," Patterson said. "How a team comes together and how they play together will be the key to the team that wins it all."
Nevertheless, TCU appears loaded. Junior tailback Aaron Brown and senior defensive lineman Tommy Blake were named preseason offensive and defensive players of the year, respectively.
The Frogs also had a league-high seven players on the preseason team. BYU and Utah were next with four apiece.
UNLV had two players selected — sophomore wide receiver Ryan Wolfe and senior linebacker Beau Bell.
Wolfe was the conference Freshman of the Year last season after catching 55 passes for 911 yards and five touchdowns. His yardage total led the conference and set a league freshman record.
Bell was on his way to an almost-sure all-conference season when an ankle injury cost him the final five games. He had 76 tackles, including nine for losses and four sacks, over the first seven games.
"It's a compliment, but I'd rather have my team be recognized," Bell said. "I'm nothing without my team."
But can the Rebels make something out of this season?
"It's all about right now what other people's perceptions of you are," Rebels coach Mike Sanford said. "I think we have to be realistic about that, but at the same time, it also shows us we have something to prove."
• NOTE — UNLV junior tailback David Peeples suffered a stress fracture in his foot last week and will miss the first part of training camp, which opens Aug. 3. Peeples is expected to be ready in three to four weeks.
UNLV FootballMountain West Conference Preseason Poll
1. Texas Christian (18 first place votes) — 202 points
2. Brigham Young (3 first place votes) — 178 points
3. Utah (2 first place votes) — 165 points
4. New Mexico — 120 points
5. Wyoming — 110 points
6. Colorado State — 107 points
7. Air Force — 62 points
8. San Diego State — 56 points
9. UNLV — 35 points