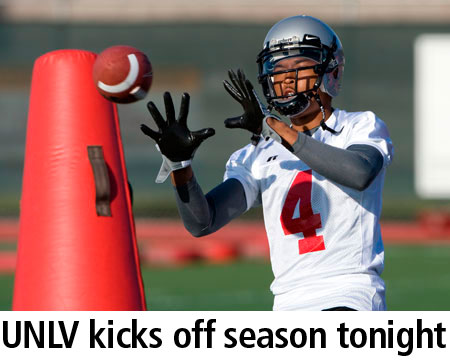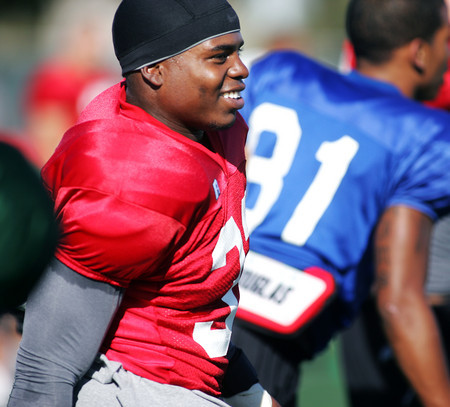 More optimism greets this UNLV football season than any in many years, but some questions remain unanswered.
Those answers will begin to come tonight when the Rebels open against Sacramento State at 7 at Sam Boyd Stadium.
Just how many answers, however, is uncertain. How much can be learned playing a lower-rung Bowl Championship Subdivision school?
"I think every first game of the season, no matter what the situation is, you can learn something," coach Mike Sanford said. "That's going to be a big thing is learning more about our football team."
The Rebels face three major questions entering this game.
1. Will the defense improve?
It looked better in training camp, but playing well against teammates can be deceiving.
"As a defense, we know we're ready," end/linebacker Jason Beauchamp said. "I don't think we need the approval of Sac State, but it will be something to see how they respond to what we're doing. I think this is one of the best I've ever seen of the defense."
There certainly was room for improvement.
Up front, the Rebels made 11 sacks last season and allowed an average of 213.1 yards rushing per game. Both marks were second worst in the Mountain West Conference, prompting UNLV to make changes.
Malo Taumua moved from inside to end, Isaako Aaitui from outside to tackle and Ramsey Feagai from guard to defensive tackle. Beauchamp will drop from linebacker to end in passing situations.
Coaches also addressed concerns in the secondary by signing four junior college defensive backs.
Two DBs, Mike Grant and Warren Zeigler, are backup cornerbacks. One, safety Alex De Giacomo, is listed even with returnee Chris Jones.
Backups throughout the defense are going to play, and coordinator Dennis Therrell said the message to the starters is "we've got another guy that can go."
2. Will UNLV have an effective running game?
The Rebels could have difficulty replacing tailback Frank Summers, who was drafted by the Pittsburgh Steelers. Channing Trotter will start tonight, but he has only 21 career carries. UNLV probably will go with a committee approach with up to five backs touching the ball.
The Rebels also will use receivers around the end, and in the shotgun spread quarterback Omar Clayton is an active part of the running game. But the Rebels also have to be concerned about exposing Clayton to injury.
3. Is there truly hope this season, or will this be another year of disappointment?
That answer might not be known even after tonight, but this game will provide insight.
UNLV is a 22-point favorite, so the Rebels need a convincing victory over a lesser opponent to show the promise of a strong camp was real.
A close game or — perish the thought — an upset loss, and the negativity that constantly seems to surround this program will heat up again.
But history has shown too much can't be gleaned from the first week, and that might be especially true playing an FCS team.
Oregon State's visit next week could provide more clarity. The old coaches' axiom of the greatest improvement occurring between the first and second games often is true.
"I think the second game out of any season shows the most," Jones said. "That very next game, it's a (quick) turnaround. We've got to prepare for a whole other team. Depending on how we play that game, I think that will be the most important."
Contact reporter Mark Anderson at manderson@reviewjournal.com or 702-387-2914. Read the latest UNLV football updates at lvrj.com/blogs/unlv_sports.
GAME DAY
SACRAMENTO STATE VS. UNLV
WHEN: 7 p.m. today
WHERE: Sam Boyd Stadium
RADIO: KWWN-AM (1100)
LINE: Rebels -22; no total