Rebels prepare to tackle No. 25 UNR
October 1, 2010 - 11:00 pm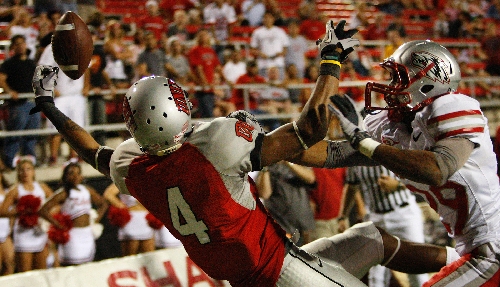 UNLV's players spent all week talking about how badly they want to end five years of losing to their upstate rival, and for the Rebels' seniors, this is their last chance to find out how it feels to beat UNR.
Few outside of UNLV's locker room believe the Rebels have any chance at all.
It's not only that the 25th-ranked Wolf Pack (4-0) are 20½-point favorites tonight, it's that the gap between the programs seems to keep widening.
The question might not be whether the Rebels (1-3) can win, but whether UNLV can be competitive enough to even cover the point spread.
More than 30,000 fans are expected at Sam Boyd Stadium for what could feel like a neutral setting at minimum or a UNR home game should the Wolf Pack once again dominate.
There is good news for the Rebels. This is the final time they'll face Wolf Pack quarterback Colin Kaepernick, who accounted for 797 yards of total offense and seven touchdowns in the two previous meetings.
For the season, the long-shot Heisman Trophy candidate has completed 68.9 percent of his passes for 924 yards and seven touchdowns and has rushed for 451 yards and eight TDs.
But the Rebels' concerns aren't limited to trying to stop Kaepernick. UNR running back Vai Taua has rushed for 453 yards and five touchdowns.
"A team that can run an option-based attack and throw the ball downfield is scary," UNLV coach Bobby Hauck said.
The Wolf Pack defense is making strides as well. UNR's previously porous unit is allowing 18.5 points per game.
UNLV can't even look back to recent history to provide inspiration. The Rebels were blown off their own field two years ago, losing 49-27. Then last year at Reno, UNR lost four fumbles and still won, 63-28.
"We haven't been able to slow them down since I've been here," UNLV junior cornerback Will Chandler said.
Last season's loss prompted UNLV president Neal Smatresk to publicly declare then-Rebels coach Mike Sanford's job was on the line. Sanford was fired with a game left in the season.
Hauck has a chance to make a positive first impression in this rivalry. To make the game competitive, the Rebels need to succeed in three main areas:
— UNLV, averaging only 3.2 yards per carry, must establish the running game. If the Rebels gain some first downs and take time off the clock, they can at least shorten the game and make it more difficult for UNR to pile up points.
— Senior quarterback Omar Clayton must make plays throwing and running, especially on third down, and cannot throw interceptions. He is capable of succeeding in those areas, and two years ago against UNR, Clayton passed for 327 yards and three touchdowns.
— UNLV's defense must create takeaways, which it has excelled in, forcing seven turnovers this season. Five have been by Chandler, who is tied for the national lead. UNLV has done more than take the ball away, the Rebels have scored touchdowns off an interception, a fumble and a blocked punt.
Beating UNR might require a perfect game by UNLV. The Wolf Pack, who average 44.8 points, are coming off convincing victories over California and Brigham Young.
"I think Reno is for real," Hauck said.
The talk up north is big. Bowl Championship Series big.
UNLV has an opportunity to crush such hopes, but Rebels players have yet to see the Fremont Cannon painted red.
"As a senior, I'd like to see that cannon come home," guard John Gianninoto said. "We're going to go out there and do our best to get that cannon back."
Neither team has beaten the other six times in a row, and UNLV twice ended five-game series winning streaks by UNR.
"Knowing how hard these guys work, we deserve to win one," Clayton said. "But we have to go out there and earn it. Nobody's going to give it to us. Reno, for sure, isn't."
Contact reporter Mark Anderson at manderson@reviewjournal.com or 702-387-2914.
UNR VS. UNLV
WHEN: 7 p.m.
WHERE: Sam Boyd Stadium
TV/RADIO: The Mtn. (334), KWWN (1100 AM, 98.9 FM)
LINE: UNR -20; total 62