Rebels QB Stanton comes back to Earth
September 18, 2016 - 2:18 pm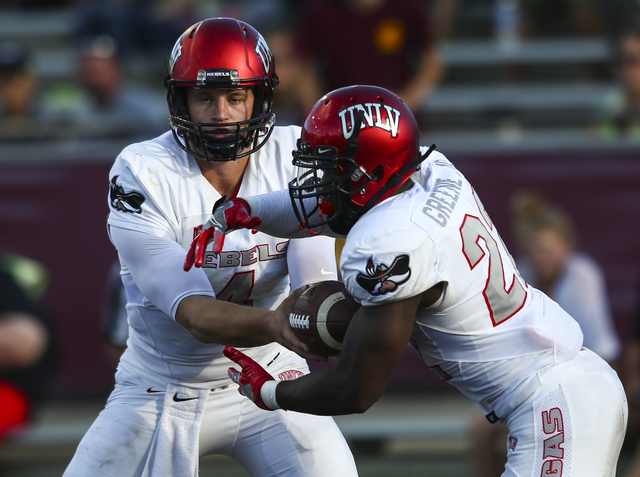 MOUNT PLEASANT, Mich. — UNLV quarterback Johnny Stanton was flying high after his near-flawless first career Division I start, but the former Nebraska player has since crash-landed in lopsided losses to UCLA and Central Michigan.
After completing 10 of 12 passes for 217 yards, three touchdowns and no interceptions against Jackson State, a Football Championship Subdivision team, in the season opener, Stanton has since completed only 26 of 69 passes (37.7 percent) for 284 yards, two touchdowns and four interceptions.
Stanton was 15 for 41 for a season-low 131 yards, a touchdown and two interceptions in Saturday's 44-21 loss to the Chippewas at Kelly/Shorts Stadium. Rebels receivers dropped several passes but Stanton also missed several open wideouts.
"The thing that stinks is when you have a quarterback that's trying to find himself and you have that many dropped balls, it sets him off," UNLV coach Tony Sanchez said. "Having said that, he wasn't real accurate. A lot of those balls could've been caught but they were behind receivers. It's a lack of focus and we've got to get better at it."
Stanton was at a loss to explain his struggles.
"I don't know exactly what was wrong. All I know is I was missing passes and I'll get that fixed," he said. "I'm disappointed in myself. It starts and ends with me on the offensive side and we didn't help the defense out at all."
Boyd blanked
Rebels wide receiver Devonte Boyd finished without a catch for the first time in 28 career games for UNLV. The junior joined several wideouts in dropping passes but appeared to make a 15-yard catch on the sideline in the second quarter. However, it was reversed after a replay showed his foot was out of bounds.
"It was a mixture of them knowing who Devonte Boyd is and me not hitting him," Stanton said. "Even his drops, I didn't throw well. I don't put it on him. I put it on myself."
Special score
The Rebels went ahead 7-0 on their first blocked punt return for a touchdown in six years. After Evan Pantels pinned the Chippewas deep with a 48-yard punt from midfield, the UNLV defense held Central Michigan to a three-and-out. Aaron Borg then blocked the Chippewas' punt at the 11 and Charles Williams recovered the ball in the end zone with 10:32 left in the first quarter.
It was Borg's first play as a Rebel after the junior walk-on from Scottsdale, Arizona, transferred from Utah, where he was a walk-on in 2014 for the Utes.
Central Michigan returned the favor in the third quarter, when Nate Brisson-Fast blocked Pantels' punt at the 11 and it went out of the end zone for a safety.