October 6, 2014 - 6:36 pm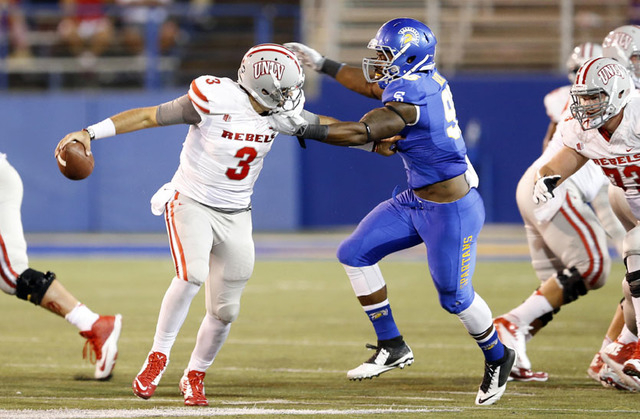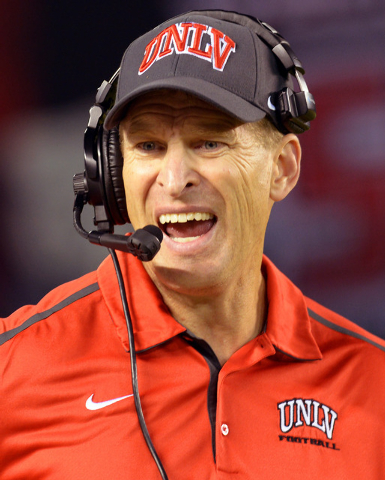 Confidence doesn't come easily, and it doesn't take much to lose it.
Even the greatest athletes experience lapses.
For UNLV, the lack of confidence is directly tied to its results.
"There's not a lot of reason to be confident right now," coach Bobby Hauck said Monday. "We have to maybe have some innate sense of that because we've done a lot of good work, and worked hard to get ourselves ready to go (into) the season and into the week. We've got great effort level. We're a physical football team. So those things are things we can hang our hat on, and we need to go perform better."
The Rebels (1-5, 0-2 Mountain West) hope to find a shot of confidence when they play defending conference champion Fresno State (3-3, 2-0) at 7 p.m. Friday at Sam Boyd Stadium.
UNLV will have to up its game considerably after suffering some of the worst losses in school history.
They are losing by an average of 21.9 points per game, which, if it holds, would be the fourth-worst margin in Rebels history. It's also bad news for Hauck, now in his fifth season and at a point in his tenure when the number shouldn't be close to that.
Three of the Rebels' worst seasons in point differential, including this one, have come under his watch, and they haven't lost this badly under one coach since Jeff Horton was on the sideline and Bill Clinton was in the White House.
In Horton's five seasons, between 1994 and 1998, UNLV lost by an average of more than 20 points three times. That includes the school-record 27.1-point average in 1995.
Hauck's first two teams lost by more than 20 points — 21.3 points in 2010 and 23.1 in 2011 — when he was trying to remake the program after taking over for Mike Sanford, who had made the program more competitive over time.
Sanford's first team in 2005 lost by an average of 15.8 points, and the number decreased to 12.0 in 2006 and 10.4 in 2007. All were two-win teams. His final two teams, which each won five games, lost by roughly a touchdown on average.
Hauck began to show similar improvement in his third season in 2012, losing by an average of 10.6 points, though the team won just twice for the third season in a row. Then last season's team nearly broken even, losing by an average of 1.9 points, and winning seven games overall to earn a trip to the Heart of Dallas Bowl. It was UNLV's first bowl in 13 years.
Before this season, Hauck said this was his best team, but the weekly blowouts show otherwise.
UNLV has lost by double digits in each week except the 13-12 victory over Northern Colorado, and that Sept. 6 game seemed like more of a loss than a win because of the level of the opponent.
It certainly was a warning sign of what was to come, and UNLV now averages 16.8 points per game and gives up 38.7. The Rebels haven't averaged fewer points scored since putting up 14.5 in 1999.
More than half the season remains, however, and the Rebels have time to improve the numbers.
They need to do it soon for the sake of their confidence if nothing else.
"Obviously, you play the game to win," offensive left tackle Brett Boyko said. "So that's obviously our goal, and we're going to continue to play hard and, like Coach Hauck said, be physical and try our best to get a win."
NOTES — Hauck said he didn't know if quarterback Blake Decker, who didn't play in the second half of Saturday's 33-10 loss at San Jose State because of an injured right arm, will be ready Friday. If Decker doesn't go, Nick Sherry will start, but Jared Lebowitz is receiving extra work in practice. Lebowitz is a redshirt freshman who has yet to play. … Hauck said he hoped to have a better idea on Decker and running back Keith Whitely, who had ice on his left knee at San Jose State, by Wednesday or Thursday.
Contact reporter Mark Anderson at manderson@reviewjournal.com or 702-387-2914. Follow him on Twitter:@markanderson65.
Check our GameDay page for all the news leading up to the UNLV-Fresno State game.