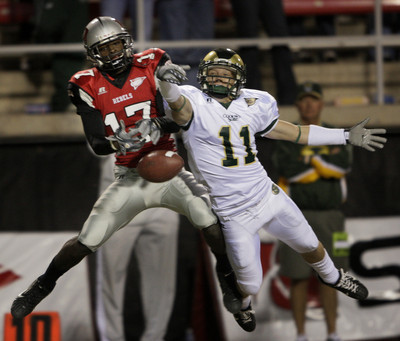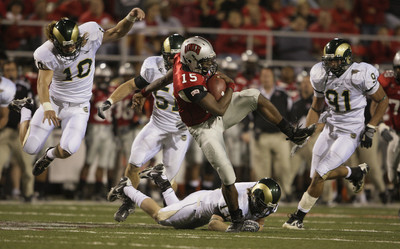 Forget about all that potential, the several losses that could have been victories, a program seemingly headed in the right direction.
It's still UNLV football.
The Rebels reverted to their ugly selves Saturday, not only losing to previously winless Colorado State but getting blown out 48-23 on their own field.
UNLV committed five turnovers, including interceptions that were returned 30 and 99 yards for touchdowns. That wiped out the Rebels' 559-497 advantage in offensive yardage.
"I think we did everything possible to throw the game away," said UNLV wide receiver Ryan Wolfe, who caught 11 passes for 135 yards and a touchdown. "I just think we need to come to the game more prepared, more focused."
UNLV (2-6, 1-3 Mountain West Conference) needs to find that focus before Saturday's trip to Wyoming.
Colorado State (1-6, 1-3) was a team the Rebels were supposed to beat. The Rams had lost 13 in a row before this game. They hadn't won since beating UNLV 28-7 on Oct. 7, 2006.
UNLV, which lost its fourth consecutive game, couldn't even blame this defeat on the 32 mph wind, with 50 mph gusts, that blew trash all over Sam Boyd Stadium. Colorado State went against the wind in the second quarter and scored 17 points to go into halftime ahead 24-3.
For all the good third-year coach Mike Sanford has done in improving the talent level and making some opponents play into the fourth quarter before securing victories, this game only fuels the skepticism of those who wonder about a program that hasn't won more than two games since 2003.
Sanford said Colorado State easily could have a better record, pointing to how well the Rams played against Colorado and California.
"To me, there's no correlation at all," Sanford said. "We are building this program, and we are going to get it done."
Sanford went with freshman walk-on Omar Clayton at quarterback over Travis Dixon, who started the first seven games. Dixon sprained his left knee and ankle late in last weekend's loss to Brigham Young but may be looking on from the sideline the rest of the season.
Clayton was spectacular at times, rushing for 135 yards and completing 23 of 36 passes for 304 yards and two touchdowns. After Rocky Hinds last year and Dixon until now, Clayton showed enough in his first start that UNLV finally might have found its program-making quarterback. He became the first player in UNLV's 40 seasons of football to pass for more than 300 yards and run for more than 100.
"Usually, there are positives in the game, but my effort tonight was a losing effort and that was completely unacceptable," Clayton said.
Indeed, he showed his inexperience, losing two fumbles and throwing three interceptions, though one pick popped out of Wolfe's hands.
"He is going to make a lot of plays, but he is a true freshman, and he made true freshman mistakes tonight, " Sanford said.
A bigger concern than trying to get experience for a new quarterback is trying to solve UNLV's struggles against the run.
Opponents in recent weeks have run right at the Rebels, and Colorado State continued the trend. The Rams racked up 279 yards on the ground, including 162 by tailback Gartrell Johnson, who scored twice.
"It's been embarrassing the past few games," said UNLV linebacker Beau Bell, who made a game-high 10 tackles. "People are running on us like we're nothing."
Contact reporter Mark Anderson at manderson@reviewjournal.com or (702) 387-2914.
UNLV Football
COLORADO STATE – 48
UNLV – 23
KEY: The Rebels committed five turnovers, negating their 559-497 advantage in offensive yardage.
NEXT: Rebels at Wyoming, 11 a.m. Saturday